Chelsea Clinton Visits MVMS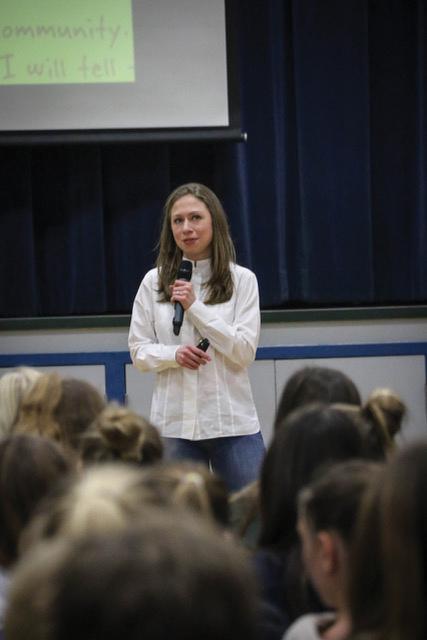 Chelsea Clinton came to Mill Valley on April 19 to give a book talk to the seventh grade class of Mill Valley Middle School (MVMS). Clinton discussed her book, "It's Your World," a New York Times bestseller. Local, independent bookseller Book Passage selected MVMS for Clinton's visit.
"Her big message was that us kids and not just adults need to make the world a better place," seventh grader Ian Somerville said. Clinton talked about how ordinary kids can make a difference by advocating for change, how young entrepreneurs have inspired her as an adult, and that a person's age shouldn't make a difference for students to "Get Informed, Get Inspired, and Get Going," a slogan on the cover of her book.
To encourage student involvement, Zara Kiger, an eighth grader at MVMS, won the opportunity to introduce Clinton. Kiger competed against her fellow students by submitting in advance her proposed introduction. Clinton posted a photo of her and Kiger on her Facebook page.
Clinton began her presentation by talking about what inspired her to write her book. She told a story of about how when she was no older than 11 years old she read the book, "50 Simple Things Kids Can Do To Save The Earth." Now when she looked for a modern version of the same book for her own children she could not find one, so she decided to write one similar to the book she read as a child.
After her speech Clinton opened the floor to student questions, which had been pre-selected through a school-wide competition. Clinton's speech and responses to the questions had a political undertone. Referring at one point to the "people currently in office," Clinton expressed her disapproval.
"I certainly think this is a time to raise our voices," she said. "I hate when people say words don't matter. It matters what words say. It matters what you say. It matters how we treat people."
Clinton also repeated a few key themes: how proud she was to be a mother, her views on today's politicians, and how the women in her family have influenced her throughout her life. "I got very good advice from my mom: It's really important to take serious criticism from serious people seriously," Clinton said.  
Although her responses were thoughtful, some students felt the presentation was too long. Some students became restless halfway through the Q&A portion of the program and fidgeted in their seats.
"It started off interesting, but it got boring at the end. It was interesting because we were hearing from a daughter of a former Secretary of State and of a former President. It got boring at the end because it was a bit long on the question and answer session," said a seventh grader who asked to remain anonymous. Another anonymous student said, "She kept going on and on, saying the same thing."
Clinton's responses touched upon many topics including the Clinton Foundation, poverty, and motherhood.
"You could tell she's a child of a politician because she answered questions indirectly," Somerville said.  
The event was very exclusive and not announced to the public. For weeks the school wasn't permitted to tell staff, parent volunteers, or students any details about Clinton's visit.
"For security reasons, parents and outside visitors were not permitted on campus before and during the event," said Catherine Marhefka, a parent coordinator. Initially, the school told the students that Clinton was coming, however they did not disclose the date or what grade would get to see her.
The police were informed by the school a few days prior to her visit. Before Clinton arrived at MVMS, the police did a security sweep of the surrounding area, including the bike paths. Clinton signed books in a small conference room off the principal's office, where no one was admitted except her assistants.
The event was live streamed to the sixth and eighth grade classrooms and a video link has been uploaded to the Mill Valley School District's website.
"It was an honor to have Chelsea Clinton visit our school, I enjoyed her talk and am looking forward to reading her book," sixth grader Keira Connolly said.
MVMS sold Clinton's book to students and staff for $10 each, and every book was personalized with the purchaser's name and signed by Clinton. The event sold 400 books, raising a gross amount of $4,000; a portion of the money earned will go towards supporting the MVMS  library.
Samantha Ferro, Opinion Editor
SAMANTHA FERRO is a junior at Tamalpais High School and is an opinion editor for The Tam News. Prior to this school year, she was a news and features editor. Outside of The Tam News, she spends her time making graphics and writing. Ferro also likes to play tennis and enjoys fashion.