Reaching Out With Robotics Holds Second Annual Competition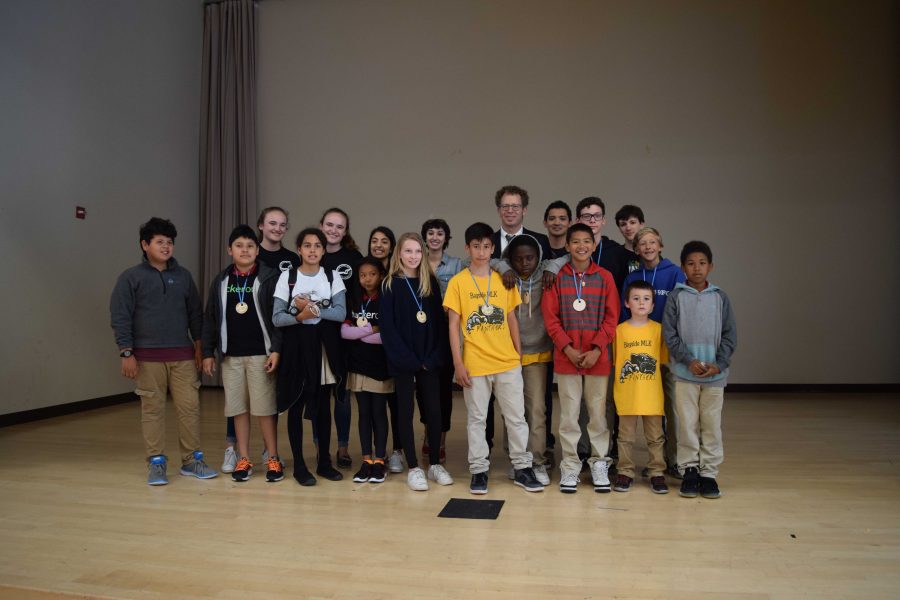 By Marina Furbush, Marina Furbush, Marina Furbush, Marina Furbush, and Marina Furbush
May 17, 2017
Tam Club Reaching Out With Robotics held their second annual robotics competition on April 26 at Bayside Martin Luther King Jr. Academy (MLK). The club pairs its 11 Tam mentors with current MLK students and teaches them how to create and program robots. Senior Sona Dolasia started the club in 2014 as a sophomore. "We started out with just a club at Bayside MLK in Marin City, working with the science teacher," Dolasia said.
Over the years, they've significantly expanded their program. "We have three chapters right now, we have the MLK one, we have a monthly club that meets at the Belvedere Tiburon Library that's an all-girls one in partnership with the National Center for Women in Information Technology and then we teach monthly workshops at the Mill Valley Public Library," Dolasia said. Dolasia estimates that Reaching Out With Robotics has impacted 1,300 kids in the Bay Area to date.
Dolasia was inspired to start the club when she realized that her early exposure to STEM was not universal. "I was first introduced to STEM things…robotics and computer science and everything through my middle school robotics club at Mill Valley Middle School," Dolasia said. "When I came to Tam and I realized that not everyone had those same opportunities….At Bayside MLK they don't have a very strong science and math department and…when I was talking to the science teacher there…we talked about how maybe introducing these kids to different aspects of science and engineering and showing them the different applications it can have…maybe gets them more interested and then they're more attentive in class and more interested in the subjects."
MLK middle school teacher Louis Edney also sees the value of the program. "What I think I love mostly about it is that it's, it's retaining robotics that was going to go away otherwise," Edney said. "What Tam has done is come back in and made sure that this program is robust and it's interacting with these guys, and giving them a connection from here over to Tam, which is a really important factor because when the kids come over there they don't have any contacts over there, they feel really lost." According to Edney, a former math teacher had previously run a robotics program at MLK but the program ended when he left the school.
The club at MLK consists of 13 kids ranging from second to eighth grade. "I think they like using their imagination and creating whatever they want," Dolasia said. "The second graders, they are very interested in just like building…and the really cool part for them is just getting to see their creations come alive when they start programming them cause before that they look like just regular Lego objects that they've made."
The club uses LEGO Mindstorms to build their robots, which use block programming, allowing mentors to show kids how to do simple programming on their own creations.
"[The club is] super fun especially when you build a robot and code–I like coding so it's fun for me. Especially the competition because you get to see everybody else's robots," Anderson Mazariegos, a seventh grader who is in his second year in the club, said.
The competition consists of five different contests: Open, Bowling, TubePush, LineFollow and Sumo—which model the events in RoboGames, a popular Bay Area robotics competition. The kids create a robot that is tailored to the requirements, whether knocking down pins or accurately following a line. The kids had been working on their robots since October,though many have revised their robots since then, and the club meets at MLK every Monday.
"We like build robots and you get to pick like what position you want, like every year you get to pick…last year I did Tube Push, this year I did Line Follow the next year I'm going to do the wrestling," said fifth grader Ruben Palomares, who also is in his second year in the club.
"My favorite thing about the robot is that I can build it and you can tell about it," his younger sister Alayah Palomares said, referring to Open, where students "create a Lego Mindstorms powered robot that demonstrates originality, useful functionality, and aesthetics" according to the RoboGames website, which is evaluated by a panel of judges which included UC Berkeley robotics professor Ken Goldberg this year. Both siblings said that they would do the club next year.
The Reaching Out With Robotics competition started as a warmup for RoboGames. "We started it last year, pretty much as a trial run because we normally enter the kids at RoboGames, which is the world's largest robotics competition and MVMS enters their kids as well. This year we weren't able to attend…[so last year] the kids got to practice with their robotics and see if they're working, but this year it served as sort of the end to our–the finale to our work there," Dolasia said. "So we have the kids compete against MVMS kids which I think is pretty cool because I think a lot of the kids at Bayside MLK are aware of the differences in the middle schools and…they don't think they're as smart as those kids and stuff…but I think when they got to compete and they got to beat some of them, I think that was really exciting for them, and also just like, like seeing that they're doing the exact same stuff as the kids over there."