Tam Girls' Swimming Wins MCALs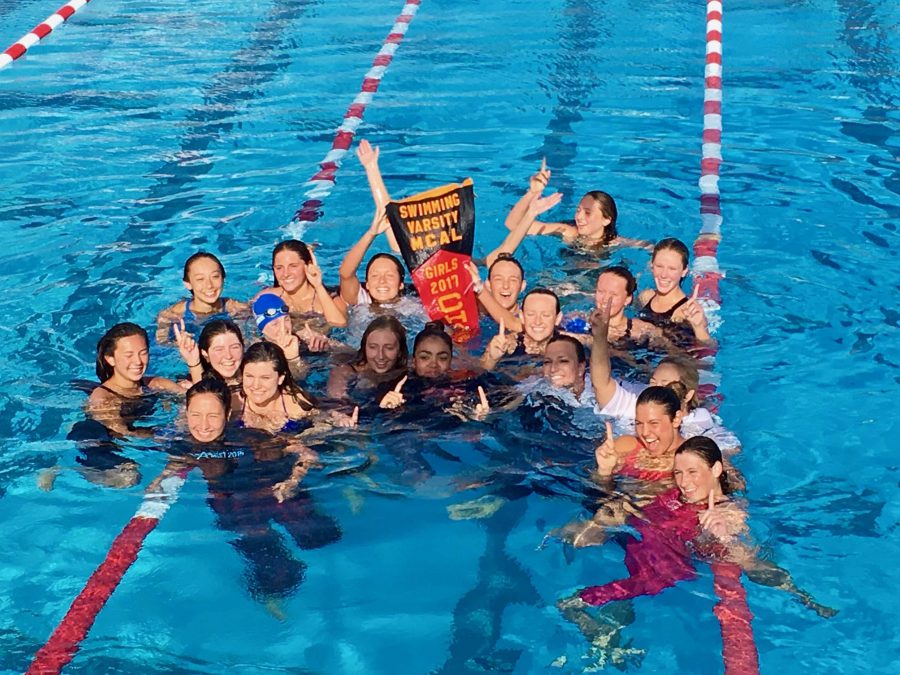 The girls' swim team won their first Marin County Athletic League (MCAL) championship in school history on May 6 and 7. The team, lead by coach Brittney Boyd, went against other highly competitive high school teams in the county including Redwood, Drake, Terra Linda, and Marin Catholic. The victory was an exhilarating and rewarding experience for the whole team, as they have worked hard in the past months to earn it. Sophomore swimmer Kyra Carney said, "It was so exciting, everyone was like, crying because they were so happy."
MCALs is structured so that both Junior Varsity and Varsity swimmers begin competing from each school, with the top 16 swimmers in each event advancing to the final round. The Hawks  faced off  against Redwood and Terra Linda, placing third in the final round for relays, but finishing with more points overall. The victory was close, with Tam beating Redwood by a mere 6 points. Junior finalist Zoe Wortzman commented, "Up until they announced it, it really could have gone either way, so it was really stressful because it was really close, and every single point really counted."
In recent years, Tam has commonly placed close behind their competition, Redwood, Drake, and Terra Linda, according to Wortzman. MCALs have always been challenging for Tam as Marin is a highly competitive county, yet this year, the team had high hopes going into the competition as they stood undefeated throughout the season. Sophomore finalist Kalia Firmage said, "It was pretty difficult, Tam hasn't been the strongest, Tam has sort of been placing third for the past couple of years."
The scoring at MCALs is announced openly, so each team knows whether they are in the consolation round or the final rounds as the competition progresses. As Tam glided into the final rounds, everyone knew that it was going to be close, and the nerves and stress level rose quickly. Freshman relay swimmer Sam Sternfels said, "The last round was a 400 relay… we knew that it was going to be really close and it got pretty stressful, so we knew we just had to swim our hearts out." As the last round came to a close, while many swimmers were still in the pool recovering from their last laps, the scores were announced. Sternfels said, "[They announced it] from tenth place to first place, and then they went straight to the winner, and they said 'by six points, Tam won.' Our coach told us to quiet down and be respectful to the boys because we were all screaming." Firmage also commented
on the victory, "We were all so excited after we won, we got our flag and it was so exciting to carry the flag. Everyone jumped in the pool, even people in their clothes. Pretty much the whole team was there and everyone was super supportive.
While surprising, this win was a well-earned reward for all of the hard work and practice they had put in throughout the season. Firmage said, "We train really hard for [MCALs], we practiced hard all season building up to it… [Coach Boyd] has trained us really hard for this." The girls are all very dedicated, and commit to attending every practice. Many of them have been swimming their whole life, and they understand that in order to succeed, you have to put in the hard work, "I would say that most of the swimmers on the team are very committed, it kind of just depends on how you view swimming and how much it means to you… I take it very seriously and to succeed you have to be very committed and be at practice every day," said Firmage.
However, it isn't without a little extra motivation from their coach, Brittney Boyd that the girls' team won. Boyd has been with the girls all season, pushing them to always do their best and show up to practice because they want to, rather than because they feel like they need to. Carney said, "Britney's really tough about [being committed] if you don't come to practice, you aren't on the bench during meets." Wortzman also commented, "Our coach Britney is really great, she's really dedicated and invested in every swimmer regardless of their speed."
After winning MCALs, the team has high hopes for next season. Part of the reason the win was such a surprise to the team members was because many of the top competitors are young. However this means that Tam girls' swimming have a good few years ahead of them. Sternfels, who is a freshman relay finalist, said, "We are a young team, so I think we can only get better as we go. We do lose a few good upperclassmen, but I have high hopes going into next season." As this year comes to a close, and the team approaches another great season, they are confident that their team dynamic will help push them to success. "We have a really good team chemistry, we all get along really well… so as we get older, I think we'll become closer and that will help us with more victories," said Sternfels.
Emily Spears, Op/Ed Editor
Emily Spears is a Senior at Tamalpais High School and an Op/Ed editor for The Tam News. This is her third year with the publication and has previously been a Lifestyles editor. Outside of school, she is a captain of Tam High Mock Trial and a dancer at Happy Feet Dance School.