Maren Curtis Artist and Entreprenuer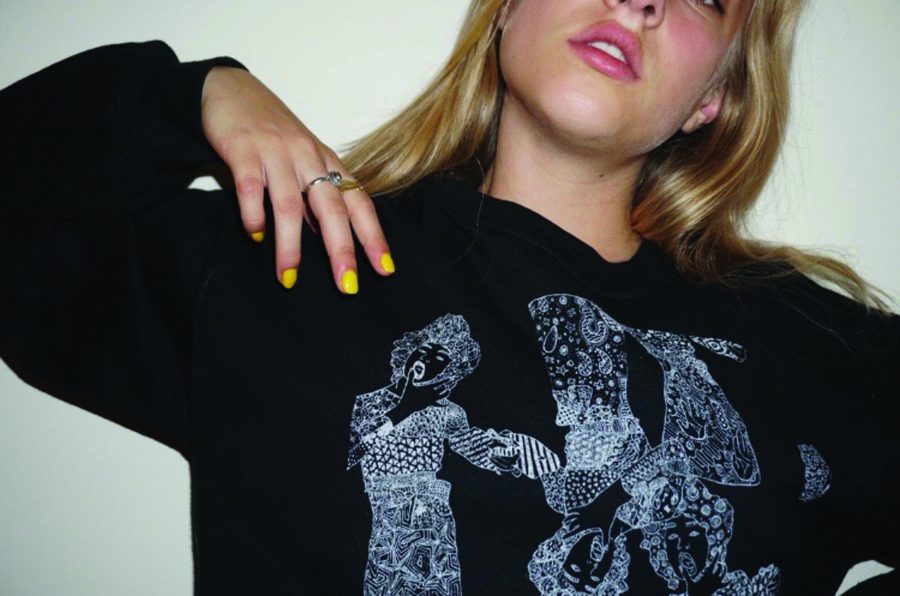 The same everyday events you and I experience are transformed into pieces of wearable art by junior Maren Curtis. From kindergarten on, Curtis's world has revolved around art, whether it be watercolor, pencil drawings, or her favorite: ink drawings.
"I love using ink to draw everyday events and scenes," she said. "If I really like a photo taken of my friend, I'll draw that too."
Curtis carefully chooses which scenes to recreate. "I mostly do places that I either feel very confident in or very vulnerable," she said. "You'll be able to see what type of setting it is based off of the backgrounds and whether or not they have stars or halos." Stars and halos are consistently used in Curtis's art.
"The stars appear in drawings where the subject is comfortable and confident," she said. "It is rare, but there are a few drawings where the stars are missing. I use halos to make the subject seem wiser and more important than anything else in the drawing. Halos are usually a composition thing and don't hold as much meaning."
The smallest details can express the tone of the piece.
"Mostly what's around the subject's head and the direction of their eyes tells whether or not the subject is experiencing a good or bad event. It depends on the scene whether or not it's a sad drawing or a happy one, or maybe a very vulnerable drawing based on my mood in that place at that time."
Curtis began creating shirts with her own designs and drawings last year.
"I started because my family friend has a shirt business and I wanted to make some shirts for Christmas gifts," she said. "I realized I could put my drawings on shirts and it would be kind of fun. I could show people my art unintentionally."
Since then, Curtis's shirt business has expanded dramatically. "I am now with a small company, Epic Sky," Curtis said. "I sell them some of my designs. Otherwise it's completely on my own. I have my press and everything in my garage. I just make them all by myself."
When Curtis first started making shirts, she had help producing them."It was really expensive to have another person make them and also having to give somebody directions for different colors, designs, and shirt sizes was so difficult," she said. "You can't explain it to them unless you're there. Doing it myself means I don't have to write it out for anybody. I know that based off this name and this keyword or acronym means this type of shirt, this color, this size… I deliver everything in person or I ship it in small packages. Having someone else do it—and they would mess up a lot. Not because it's their fault, but because it was just too confusing—it becomes really expensive."
Producing her own shirts has not only saved Curtis money but helped her add a more personal touch to her work.
"I care a lot more about my customers than I would if I [only] sold my designs to a company or I was having someone else make the shirts for me," she said. "I think it improves my quality of work because I want all of my customers to be very happy with what they buy so they will buy my shirts again or they'll tell their friends. If they put it in the wash and the ink fades or they get a rip in their shirt or a piece of ink accidently got cured where it's not supposed to that would be really bad for my business. I literally can't blame any mistakes on anyone else. It's all my production. It holds me responsible."
The transition from hiring a company to do production to producing on her own was not an easy one.
"[It] was really hard at first because I didn't actually know how to use any of the equipment and I had to kind of figure it out by watching lots of videos," she said. "I bought everything on craigslist or Ebay and I didn't know if it was going to work. I didn't know how good the quality of the equipment would be. I got very lucky with it because it could have been a lot worse than it actually was. I could have bought defective supplies and wasted all of my funding. I could have messed up everything. At first, I did. I didn't know that you need an actual heater so I was just using a hairdryer, which does not cure the ink. When I washed everything it was destroyed. I was so upset because I thought that none of it was going to work and I had already taken probably 50 orders. It could've been really bad. I got myself a heater and then it was all fine, but it almost all went downhill really fast."
Junior Connor King, a regular customer of Curtis's, describes her style as "androgynous."
"She draws the human body in a very beautifully abstract way," he said.
Another regular customer, junior Catherine Craig said she would describe Curtis's style as "quirky and fun." "She is able to produce art that evokes certain emotions which can be really difficult to illustrate and I've always been incredibly impressed by it," Craig said. "I think she can be really versatile and at the same time create a series of art that remains cohesive and appealing as a whole."
Craig admires Curtis's business in addition to the final product.
"Maren's products are easy to wear; she was smart to make most or all her products unisex," she said. "She was able to appeal to an extremely wide variety of customers, boys and girls, with her casual yet cool clothing line. "
In addition to making an impact onher customers, Curtis's art has transformed her into the person she is today. "I started making things that were not just a face or a plant once I got into highschool," Curtis said. "I saw all of these other kids that had these really cool original styles that were exactly what they wanted, she said. That experience really affected, not only my art style, but also my personality. Why do I have to listen to what everyone else says about my clothing or my hair or anything else? I think it's helped me find a really comfortable place with not only my art, but with being a happier person because I look at things differently now than I did in middle school or anytime before that because I feel much more confident in myself because of my art."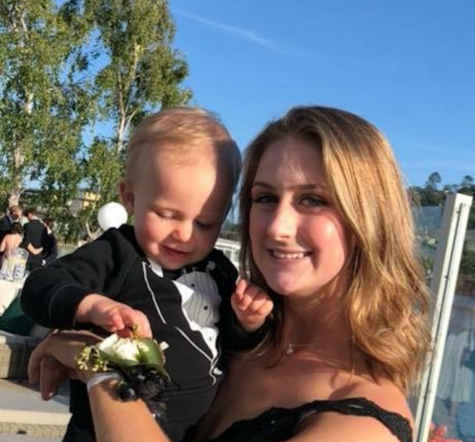 Kennedy Cook, Editor in Chief
Kennedy Cook, senior, is a current Editor in Chief and Design Editor for The Tam News. She was a Features and Design Editor during her sophomore and junior years. Her favorite sections to write for are features and news. Outside of Tam High, Kennedy enjoys working as a nanny and volunteering at AdvoKids and The Milo Foundation. Most importantly, she loves spending time with her family and friends, whether it be baking, road tripping, or laughing over a plate of waffles.