Girls Soccer Wins MCALs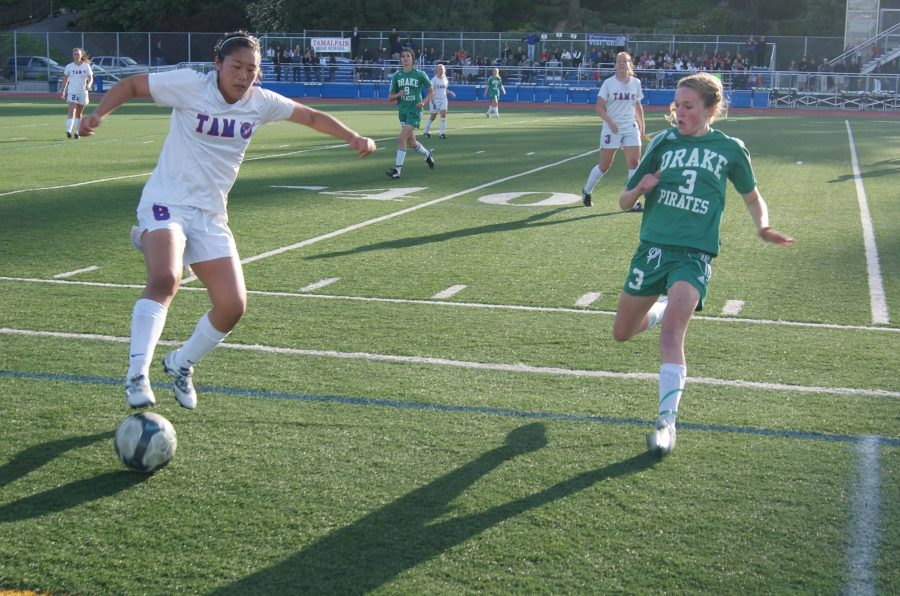 By Katharine Hirata & Joe Laland
June 11, 2011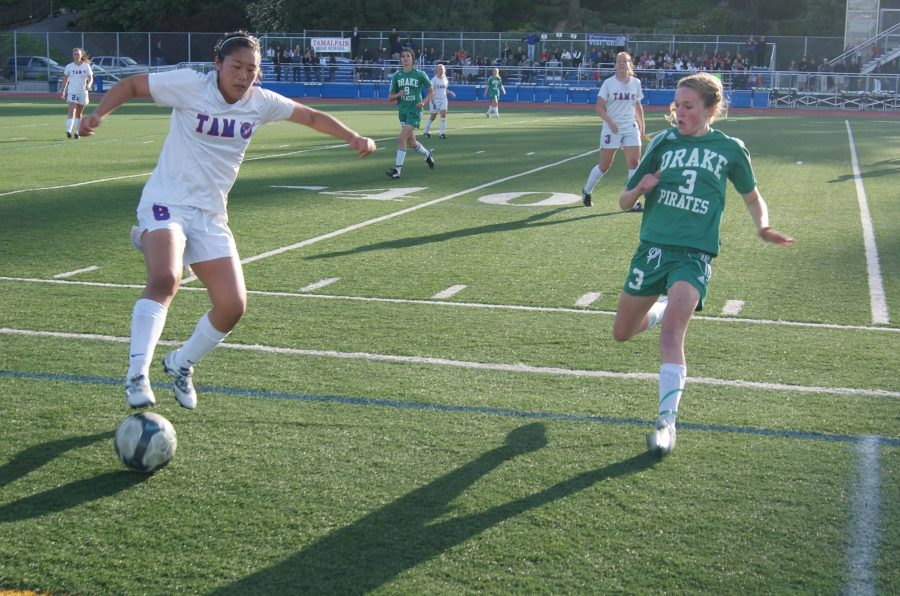 League–leading scorer Storie Ledger came through in the clutch again as the girl's varsity soccer team beat Drake 3-0 to win the MCAL championship at home on May 13. After a scoreless first half, Ledger a senior, struck a penalty kick into the corner of the net. Shortly after senior Danielle Torme also stepped up and finished another penalty kick to clinch the win.
"It's great [to win MCALs], especially since we won everything my freshman year, so it's just coming full circle to graduate," said Ledger, one of the team's captains and four year varsity player for Tam. "I knew it was going to be a tough game because every time we played Drake it's been really close and competitive, so it was great to get a few goals in."
"I could not be happier if I tried to be. Seeing the team pull through, it was a team effort," said junior Jessye Baker Levine.
The Drake win allowed the team to move on to NCS as the #2 seed, and defeat Marin Academy, 5-1 on May 20th the game began positively for Tam, and started aggressively and MA couldn't handle it. Ledger a university of Colorado recruit, placed a header in the corner of the goal, leaving the MA goalie no chance.
Tams Torme extended the lead with a strike that went through a crowd of defenders.
With a large lead Tam decided to shave time off the clock by passing it around the MA midfielders. The key in the clock management was the attacking midfielder and University of California recruit, senior Kalia Rothlind; she successfully switched the ball back and forth from the opposite sides of the field. Tam had one slip up and scored their only goal on a counter attack.
Tam was not phased by the MA attack and experienced Ledger scored her second goal of the match. On a shot that tipped off the MA's goalie's gloves.
There were two more close shot attempts in a row by Tam. In the physical match Tam received a corner kick and two free kicks just outside the 18-yard box, all of which were taken by junior Nicole Henderson, a transfer from Marin Catholic. The free kicks went slightly off the mark.
Freshman goalkeeper Elizabeth was dominant and crushed MA's chances for a comeback.
Senior Phebe Miller scored Tam's fourth goal, off a header that angled into the upper corner. Tam's second goal came from a header and that illustrated how aggressive they were in the air.
Junior, Jane Lee, scored Tam's final goal to complete the dominating performance by Tam.
Tam has always had a strong soccer program and is gaining more and more championship banners at a rapid pace. They have now won two of the last three MCAL championships.
"[The] game went really well. It was great to score so many goals and play a game again, as a team with having a bye on Wednesday," said Henderson.
"It started off shaky but we pulled together as a team and were really competitive at practice which translated into winning games. We began to figure out how to work together and play off each other," added sophomore Kaitie Gillespie.
Written by Katharine Hirata and Joe Laland. This article originally appeared in the June 2011 issue.