Mill Valley Market: An Underrated Lunch Destination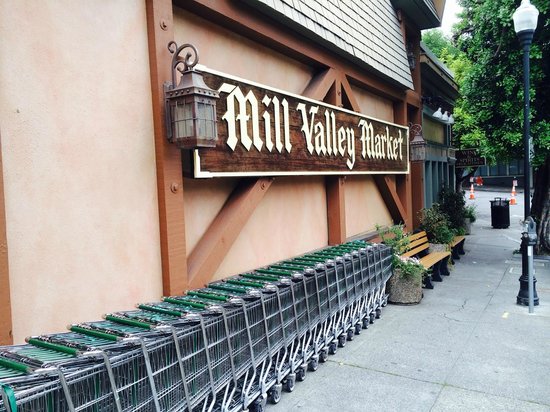 During the school week, Tam students are given 40 minutes of freedom a day: lunch. School would be infinitely more bleak if we weren't given a certain amount of time to do whatever we wanted. Off-campus lunch is pretty much a blessing from the administration. It's kind of like the string that guards give prisoners in solitary confinement to keep them from going insane.
For underclassman, options are kind of limited because they can't drive anywhere. As an underclassman, I spent a majority of my lunch walking to nearby grocery stores and fast food locations. I certainly appreciated the freedom, and it was a big upgrade from middle school, but after a while I got tired of walking and going to the same three places every day (Safeway, Joe's Taco Lounge, or Super Duper).
Then I got my driver's license, and my whole life changed. I was able to drive my friends legally* to Mill Valley eateries that we had never gone to before. In-N-Out, Rocco's, and Lucinda's became routine destinations. Yet once again, I wanted something more. I was tired of burgers, pizza, and burritos. I wanted a sandwich.
Whole Foods has quality build-your-own sandwiches, but both the Miller and East Blithedale stores get too crowded during lunch, and the build-your-own station takes too long. Antone's East Coast Subs are also pretty decent, but they cost more than they're worth, and there's always a huge line. This is where Mill Valley Market [MVM] comes in.
The average price of a MVM build-your-own sandwich is the same as Whole Foods and Antone's, about $8.00 or $9.00, but several factors make MVM the ideal sandwich venue. One, there are next to no Tam students that actually go to MVM during lunch. Most underclassmen can't go because it's too far to walk, and most upperclassmen prefer Whole Foods. Also, there's an online build-your-own sandwich order form, so time is almost never a factor at MVM. You can order in the car, and by the time you get to the store and park, your sandwich will either be ready or almost done. Before lunch is even halfway over, the sandwich is in my hands. MVM has some of the quickest checkout lines I've ever seen as well.
Lastly, MVM just has better sandwiches than Whole Foods. They have more meat, bread, and cheese options, higher overall quality and taste of their ingredients, and bigger portions than Whole Foods. MVM is consistent with the size of their sandwiches, while Whole Foods is kind of a gamble. It's also worth adding that MVM has never gotten my order wrong.