May the Schwartz Be With You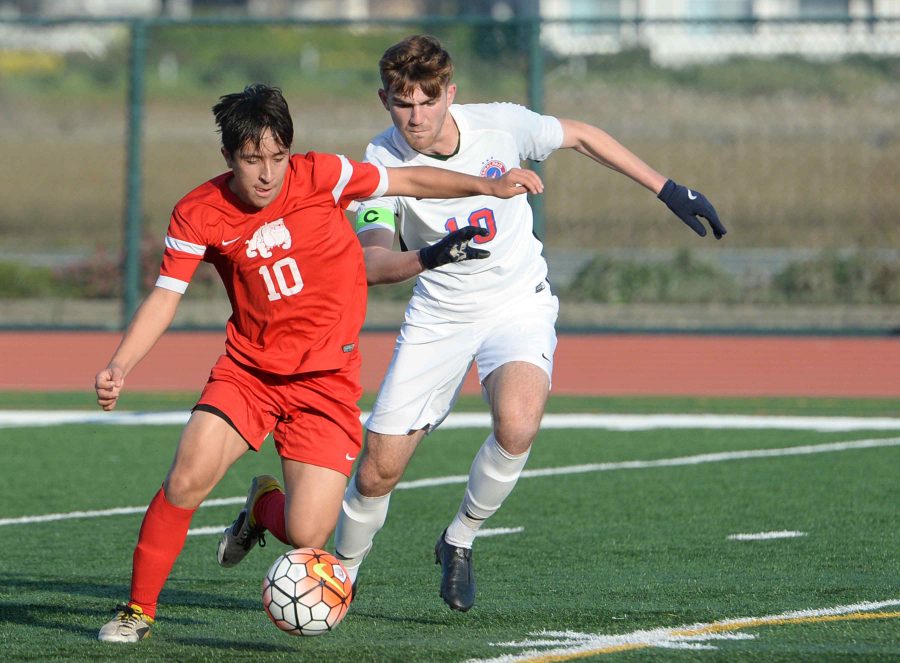 By Dahlia Zail
February 2, 2018
Winning the MCAL championship game was the highlight of Owen Schwartz's soccer career. "It was one of the best experiences of my life," Schwartz, senior and captain of the boy's varsity soccer team, said. "I scored the second goal of that game, I scored a free kick. It was like nothing I had ever experienced before." However, the euphoria of winning the 2017 MCAL championships did not last into this season, and Schwartz was faced with a long comedown because 11 members of last year's team graduated last year.
"I think there's two or three starters from last year that are starting this year… and there's a huge leadership role that had to be filled from last year, and I'm trying to fill that this year," Schwartz said. "It's tough because we don't have a ton of experience on our team and it's hard to be the single person that's trying to lead everyone. Everyone has to step up, and I think some kids on our team are starting to do that."
Spencer Stanton, the boys' varsity soccer coach, sees Schwartz as the connection between Tam soccer's past and future.
"I feel like one thing he brings that's unique is four years of experience," he said. "So I think just by him being in team meetings, him on the field, he's able to kind of… [able to] express what it's like to play for Tam soccer… so it's been good, because [Schwartz has] essentially been a link between what Tam soccer [has been] and then also what it is now."
Schwartz is used to the leadership role, however. He first played soccer at age five, began playing competitively at eight years old, and has been the captain of his club team Marin FC for the past five years. Schwartz has grown to love the unique aspects of soccer.
"[Growing up], I loved the team environment," Schwartz said. "I love that you could have relationships with other guys on your team [and] soccer has the biggest amount of players on the field… And I just love that, going on the field with your team and everybody does their job, but together."
Playing varsity since freshman year, Schwartz has experienced teams that have chemistry and teams that don't, and thinks the level of friendship and team chemistry is what will ultimately make or break this year's team.
"Sophomore year we didn't do too well and I think a lot of that was due to the cliques formed on our team a little bit," Schwartz said. "Junior year, that completely flipped around, not only did we have a lot of talent on our team, but we also were all really tight and we would hang out a lot off the soccer field and everyone had a great time that whole year and we ended up winning MCALs that year."
Soccer has given Schwartz much more than just a strong community. "It's been my stress reliever. I think when I have a lot of schoolwork or I'm stressed about some part of my life I can play soccer and it's kind of a release. I don't think about anything else when I'm playing except for what I'm doing on the soccer field," he said. "I also think it's taught me a bunch of different skills, [like] leadership, teamwork, and kind of how to deal with adversity and stressful situations and that's definitely helped me with my school life and my personal life in general."
The record of the soccer team is 4-5-3 as of January 30, keeping alive hopes to make the MCAL playoffs.
After high school, Schwartz will be attending Brown University, where he will play soccer in the class of 2023. He plans to take a gap year first, and hopefully travel to Europe or South America to play soccer.