Holocaust Survivor Speaks At Tam
The Jewish Student Association hosted Holocaust survivor Lori in room 2020 at lunch on February 1. She spoke about her life to a crowd of around 70 students, showing them various personal items, and then answered questions.
Lori is a part of The Next Chapter, a program run by the Jewish Family and Children's Services' Holocaust Center, which asked that Lori's last name not be used in this article. According to its website, Next Chapter allows high schoolers to learn about genocide, particularly the Holocaust, and build connections with survivors.
"Lori has a really unique story and it was an honor to facilitate her telling her story to Tam students," sophomore and club member Avery Schoen said.
Schoen, who organized the event, is currently an intern with The Next Chapter. She explained how the Jewish Student Association wanted to have the event around the holiday Yom HaShoah, or Holocaust Remembrance Day, which was on January 27.
"[It felt] right to have a survivor come in and speak," Schoen said.
Club advisor and math teacher David Zeeman said, "It's a really great [opportunity for students] because the Holocaust is leaving human memory and becoming history. [The current] generation is the last that is going to actually hear stories from people who experienced it firsthand. After that it is all stories in a book or stories that have been recorded."
The student attendance at the event was the highest the Jewish Student Association has ever had at a club function, according to Zeeman.
Lori talked about her life growing up in Austria leading up to its Nazi occupation. She explained that her mother had placed an ad in a Jewish newspaper asking for a safe haven for her daughter, which led to Lori traveling alone to London at the age of 13. She stayed in London for two years before she traveled to the United States by boat, where, she said, she eventually was reunited with her family.
Lori shared other stories of how her family lived in the various nations they fled to. After her initial talk, she let the attendees ask questions. When asked by a student what a hope she had for the world was, her response was, "You don't say nasty things to people who are different."
"[I think] what's really important [about Lori's story is that] she is the survivor. Her family's story echoes what is happening today with immigrants in the United States and her struggle is their struggle. Her family had to fight to come to the United States and live to survive and its very similar to what a lot of other people have to do today coming into the United States," Zeeman said.
http://jfcsholocaustcenter.org/
Above: Holocaust survivor Lori speaks to a crowd of students; some of her personal keepsakes. Photos by Raffi Baumann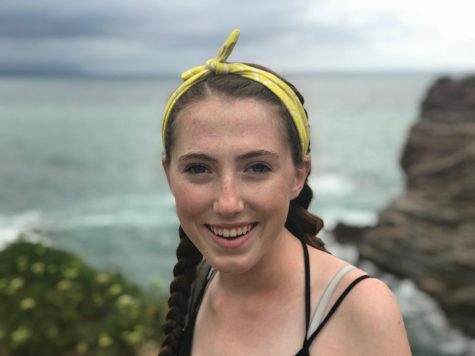 Kara Kneafsey, Editor in Chief
KARA KNEAFSEY is a senior at Tamalpais High School and an editor in chief of The Tam News. Last year, Kneafsey served as a news editor. In addition to The Tam News, Kneafsey is the student representative for the TUHSD board of trustees, an editor of the yearbook, a part of Link Crew, and the girls golf team. Outside of school Kneafsey enjoys baking, volunteering and driving around with no clear destination.