Review: "The Beautiful & Damned"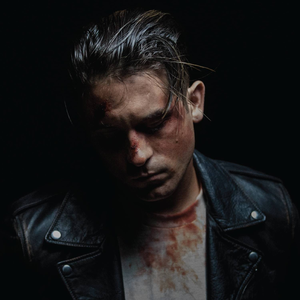 One look at Gerald "G-Eazy" Gillum will give you all you need to know. The effortless attitude– faintly reminiscent of James Dean– the meticulously cut, slick back hair (seriously, he has a live-in barber on tour), the signature faded black skinny jeans, the tall lanky figure, and the smirk makes his female (and male) fans swoon. As Gerald, he's the type of guy you might pass on the street or see in a dark alley in Oakland, his hometown, and not give a second glance. But as G-Eazy, with his bad-boy charisma and rockstar prowess, drowning in sex, drugs, and booze is something entirely different. His self-proclaimed split persona serves as the catalyst for his third studio album, The Beautiful & Damned, a record two years in the making. The 74-minute tirade cleverly collocates Gillum's constant grapple with his vices, with overtly produced anthems that follow the intrinsic hip-hop chart-topping equation.
Coupled with the release of a short film by the same name, exclusively on Apple Music, The Beautiful and Damned begs the question of whether Gillum has succumbed to the coercion of society and fame. It's an age-old concept — the idea that fame, especially when gained so young, can lead to corruption — and it's one that Gillum has struggled with and shed light on since his debut album. However, in the most recent album, Gillum falls short. The album's namesake, a book by F. Scott Fitzgerald, centers around playboy Anthony Patch, living in the early 1900s as the heir to an obscene fortune, who overindulges in alcoholism and partying as an escape in search for societal validation. The album serves as an incohesive string of melancholy songs in which Gillum tries embarrassingly hard to compare himself to the likes of Patch. For every track that gets up close and personal with the intricate workings of Gillum's mind, it's masked by two more that discuss diabolical tales of liquor-flowing exploits.
The first single release off The Beautiful & Damned, "No Limit," featuring A$AP Rocky and upcoming rapper, Cardi B, comes on the heels of "Me, Myself & I," a single which went four times platinum in the US and was Gillum's first taste of chart fame. Perhaps, it is, for this reason, the latest single paints Gillum as a one-trick pony. "F*** with me and get some money," Gillum drawls, over and over again. Cardi comes in for support, repeating the line, "F*** him then I get some money." It is a basic song, with a virtually similar rhythm to every other rap song released in 2017. It is this very song, that, in its essence, perpetuates ideas of prostitution and "piping up," or taking illicit drugs, that also went platinum in the US. The song's success does not come as a surprise — it is your dime a dozen club banger — but it makes Gillum that much harder, right off the bat, to take his music seriously, undermining even the most in-depth songs on the album.
As the album progresses, we hear grandiose escapades of Gillum flushing down condoms to spite women plotting to get his children ("Pray for Me"), partying with a girl who strictly does cocaine ("Gotdamn"), and drinking bottles after bottles of champagne on a jet ("Legend"). Even in the softer-spoken songs, like "But A Dream" and "Sober", which would normally provide crucial balance on an album like this, Gillum cannot refrain from boasting about his conquests and the empire he has built.
He often blames his astrological sign, Gemini (so often to the point of levity), as being the divide behind Gerald and G-Eazy. The concept itself, of considering himself as two different people, and then subsequently versing it, is compelling. And yet, he awkwardly attributes his infidelity and inability to be appreciative of his new life due to his zodiac sign. On the title track, Gillum dives right into maintaining the angel and devil within himself. It takes him exactly 40 seconds before he brings it up ("'Cause I've been this way it's not a new thing/I know a Gemini can be confusing") and doesn't even wait 20 seconds the throw it back in the listeners face ("but to understand a Gemini, angel, devil, it's both him and I") just in case they forgot. This idea is recurring throughout — "Leviathan," a surprisingly pleasant collaboration with Sam Martin, articulates the dark side of Gillum's lifestyle. "I looked her in the eyes she stared back all silent, when I told her I was the devil I was smiling … Lucifer, Leviathan, he is I, girl, and I am him."
The two different people he claims to be makes for a captivating plotline, but can also come off as childish. The album cover itself, which shows Gillum shrouded in shadows, bruised and battered, is supposedly a depiction of the aftermath of his two personas. While Gerald is calm and responsible, G-Eazy is outlawed and impulsive; while Gerald is straightforward, G-Eazy is vexed; while Gerald is beautiful, G-Eazy is damned.
The redeeming qualities of the album come in the form of outspokenly sincere tracks. "Fly Away" is a bittersweet strain, vocalizing the tumultuous relationship between his longtime ex-girlfriend, Devon Baldwin, and wishing her the best, despite it being the end of the road for their relationship ("I wish you happiness, one day you'll find the right one/you're a queen, you deserve to be treated like one.")  His current girlfriend, fellow pop star, Halsey, comes on for the seductive duet, "Him & I," detailing their Bonnie & Clyde-esque relationship. Their chemistry is hot and heavy, as is the accompanying music video, making the song that much more authentic. "Love is Gone" is the mildest of political statements, but shows that Gillum can use his platform for more than what is expected, and has a pulse on the world's current state, both being a refreshing outlook when it comes to hip-hop.
It seems that, perhaps, under the pretense of a "split personality," Gillum is concealing the fact that he is at a crossroads for the type of artist he wants to become — a run-of-the-mill rapper that blends in with the scene or one that can potentially change the genre. On The Beautiful & Damned, Gillum opts to take the backseat on his own album, masked by one of the sixteen features on a twenty track album but, on the few tracks that are distinct, Gillum undoubtedly has something to say, maybe not the audacity to say it just yet. Although, at many times, the albums appears more parts damned than beautiful, perhaps Gillum should not be written off just yet.