Leadership announces new rally MCs
Hang on for a minute...we're trying to find some more stories you might like.
Seniors Logan Zook and Holden Waltz will be this year's rally MCs.
"Holden and Logan show so much enthusiasm and embody the spirit and pride that we hope that the students will feel," senior and rally co-commissioner Tessa Pares said. Auditions were held in the spring and applicants were limited to the current senior class.
"We [gave] all the auditioners a set of rules, a set of announcements, and game rules from previous rallies, and had them present them in Mead Theater to a panel of judges," junior and rally co-commissioner Angelica Zuber said. Auditioners were allowed to try out either in pairs or as individuals, and needed to bring ideas for games and entrances.
Zook and Waltz had their first appearance at freshman orientation during a mini-rally, but their main debut will be at the homecoming rally on September 28.
"I'm excited for some new twists on rally games as well as overall school spirit at rallies," Waltz said.
Photo by Kara Kneafsey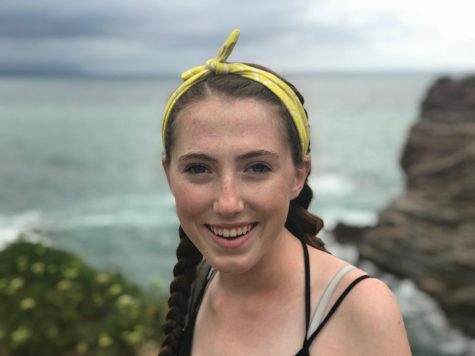 Kara Kneafsey, Editor in Chief
KARA KNEAFSEY is a senior at Tamalpais High School and an editor in chief of The Tam News. Last year, Kneafsey served as a news editor. In addition to The Tam News, Kneafsey is the student representative for the TUHSD board of trustees, an editor of the yearbook, a part of Link Crew, and the girls golf team. Outside of school Kneafsey enjoys baking, volunteering and driving around with no clear destination.