Eminem's Comeback: Kamikaze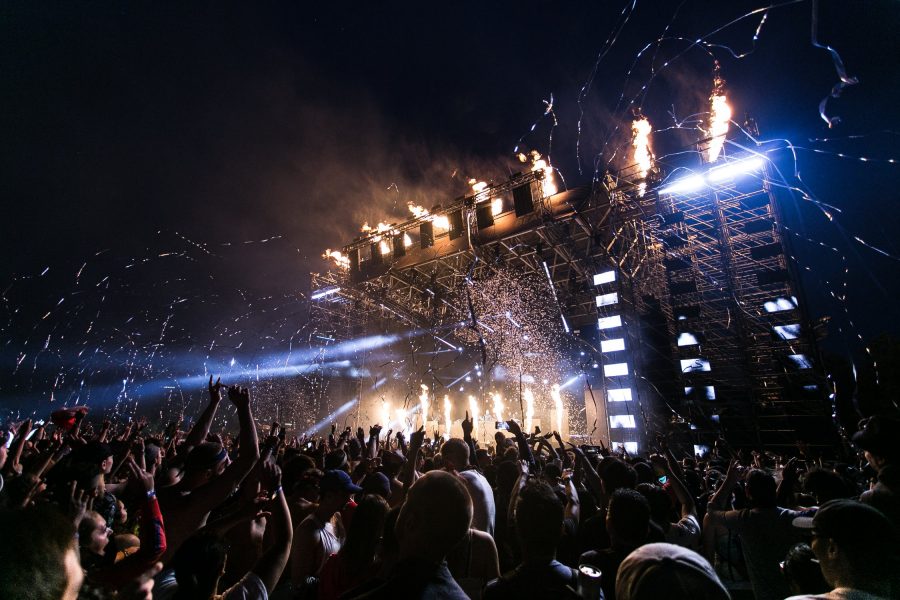 Today's rap is no doubt the era of "mumble rap", where almost every rapper is barely understandable. Many people gravitate toward this new-era rap music, not because of lyrics, but because of it's beat and party-like sound. Many have expressed their dislike of mumble rap, but most have fallen upon deaf ears in the community. However, one rapper has expressed his distaste for mumble rap very clearly; and this time, everyone is hearing his message. This rapper is considered as one, if not the best rapper of all time: Eminem. He has ended the careers of any rapper who has tried to pick a fight with him and because of this, he is feared.
Marshall Mathers, or Eminem, has been in the rap game for over 20 years, starting back in 1996 with his first studio album, Infinite. This album attracted the attention of NWA member, Dr. Dre, who took interest in the rapper and signed him to his record label, Aftermath Entertainment. Eminem keeps producing albums, gaining praise and lots controversy for his use of quick witted humor and aggressive, "no apologies" style of rapping. An example of this is his infamous alter ego, Slim Shady. Eminem, with the help of Dr. Dre, released more and more of his albums, like The Slim Shady LP in 1999, The Marshall Mathers LP in 2000, and The Eminem show in 2002. Eminem has had his fair share of beef with big name rappers at the time, destroying their careers beyond repair. Eminem's threatening reputation was a defining point in his career.
Eminem released his album Kamikaze on August 31st 2018. The release was a complete surprise, with no explicit promotion beforehand. Fans were taken aback by the artist's sudden reemergence. The album is 13 tracks long, with 11 songs and 2 skits. The tracks have features from Joyner Lucas, Royce da 5'9, and Jessie Reyez. The album is a total of 45 minutes long. This album was completely surprising, as there were no singles released prior. On this album, the rap god holds nothing back and goes all out, attacking any mumble rapper and anyone who criticized his last album. His first song on the album, "The Ringer", sets the tone. Eminem's tone is angry, and Slim Shady is back from the dead. Throughout the entire album, he makes his dislike towards mumble rap clear, and he directly disses other big name rappers, including Lil Pump, Lil Xan, MGK, Tyler the Creator, and every "mumble rapper" in the game. Eminem even takes shots at Donald Trump, calling him "agent orange" in "The Ringer". In this album, Eminem is unapologetic, doesn't back down, and sounds ready to kill anyone in the rap game. He goes back to his classic quick witted insults, mixed with rapid fire verses, just further dominating anyone who think they can compete with the rap god. It's a breath of fresh air compared to the traditional "conscious rap".
Even though the overall quality of the album is great, the order of the songs it is odd, as well as some songs themselves. For example, the album starts with three songs attacking the rap game, then switches to attacking Eminem's love interest, then back to attacking the rap game again, then apologizing to D12, then attacking rap game yet again, to his love interest again, and then ends the soundtrack with "Venom". If anything, it is redundant. Also, some of the songs on the album that address Eminem's love interest seems unnecessary. For example, the song "Nice Guy" starts out with Jessie Reyez singing to an out-of-tune piano in the background. She then ends her chorus screaming "SIKE," moving to a section with Reyez's voice distorted to sound deeper and the repetition of profane, aggressive phrases. The rest of the song consists of Eminem rapping at a much slower speed with terrible verses. Eminem has had trouble with women in the past, but even so, the song "Nice Guy" just seems out of place. The only purpose of the track seems to be a lead up to the next song, "Good Guy." However, there really is no connection as "Good Guy" doesn't address any of the topics in "Nice Guy" and vice versa. "Good Guy" is also a great stand alone track, which makes "Nice Guy" seem wildly out of place in the album.
Eminem is certainly a legend, and doesn't seem ready to give up. If his career wasn't enough proof, this album would be. Even at 45 years old, Eminem is surely solidifying his spot in the rap game. Kamikaze is his 10th studio album. Although a great listen, it will never replace any classics of his; but in contrast to his other albums, it does have great replay value. Kamikaze marks the return of the rap god, and the hell he has brought with him. For anyone thinking of taking shots at Eminem, listen to this album.