Vitality Bowls offers açaí treats and paninis in East Blithedale Shopping Center
By Max Moreno
October 17, 2019
Vitality Bowls Superfood Cafe, which opened in August in the East Blithedale shopping center, serves açai bowls, smoothies, fresh-pressed juices, cold brew coffee, kombucha on tap, and a few lunch items, such as paninis and salads. But on two recent visits to this airy café—part of a regional franchise chain—I was left somewhat underwhelmed at what felt like overpriced offerings.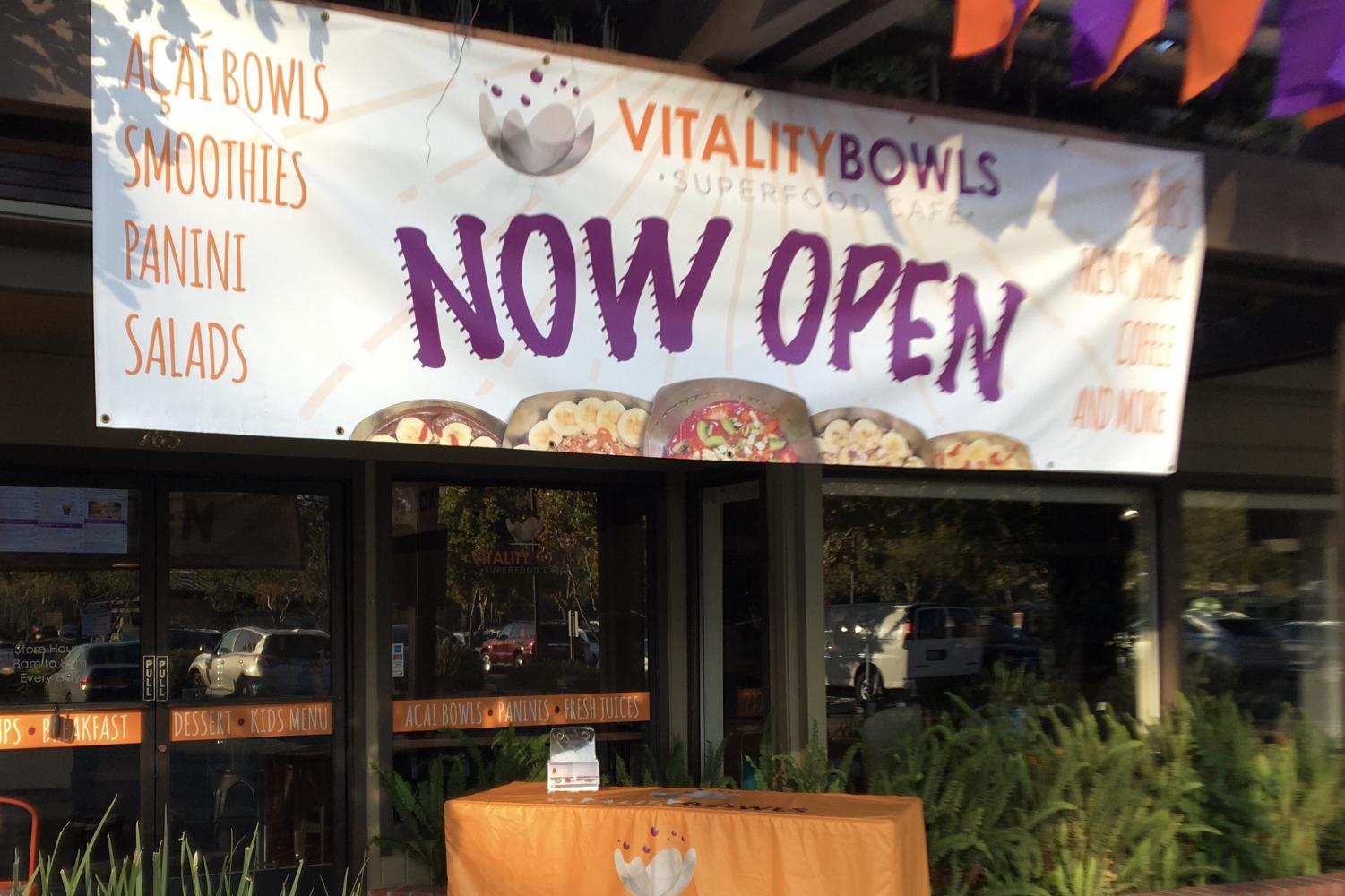 My first visit was on a hot day after school, and I tried the signature Vitality Bowl ($11.99), which includes a smoothie base of açaí, banana, strawberries, flax seed, and their "VB Blend" (a mixture of mangosteen, aronia berry, camu camu, moringa, açai, blueberry and pomegranate). Their menu has a wide selection of different bowls to choose from, and each bowl comes in medium and large sizes. The thick, sweet purée is topped with a few sliced strawberries and bananas, a sprinkling of granola, and some honey, though I couldn't see any on mine. The bowl was pleasant, tasting much like an icy smoothie, but toppings were rather sparse. If you're looking for health food, an açai bowl might not be the best pick; the owner said Vitality uses an açai pulp that's presweetened with organic cane sugar, though they don't add additional sugars. Overall, the medium-sized bowl has around 400 calories. The Vitality Bowl was a great snack, though not very filling, so I'm not sure I'd pay for it again.
On my second visit, on a Sunday, the store was bustling with parents and kids, and I opted for the salami panini with mozzarella, spinach, sun-dried tomatoes, dijon mustard, and pesto ($6.99). The paninis range from roasted turkey to veggie to peanut butter banana and cost between $4.99 and $7.99. The store markets their six different paninis as add-on items to their smoothies and bowls (for $4.99, you can add any panini to another menu item), so I didn't expect the sandwich to be large. My panini was flavorful with melted cheese, a good pile of spinach, and a fair helping of salami, but was more of a snack than a meal. Unfortunately, I had to wait 30 minutes for the panini to be prepared, which was most likely because the new store is still working out service kinks. After 25 minutes, I asked if the panini was still coming and soon after, it arrived, alongside a $3 coupon off my next purchase as an apology for the wait.
With several juice and açai bowl places to choose from in Mill Valley (including Juice Girl Mill Valley and BŌL Superfood Cafe), Vitality Bowls isn't alone in slinging fruit-centric treats to our health-conscious town. Vitality Bowls offers a clean, friendly place to stop in for a snack or lunch. Once the store works out a few service issues, it should be popular among the Jamba Juice 2.0 generation. However, don't expect a low-cost snack.