District campuses closed to minimize impact of COVID-19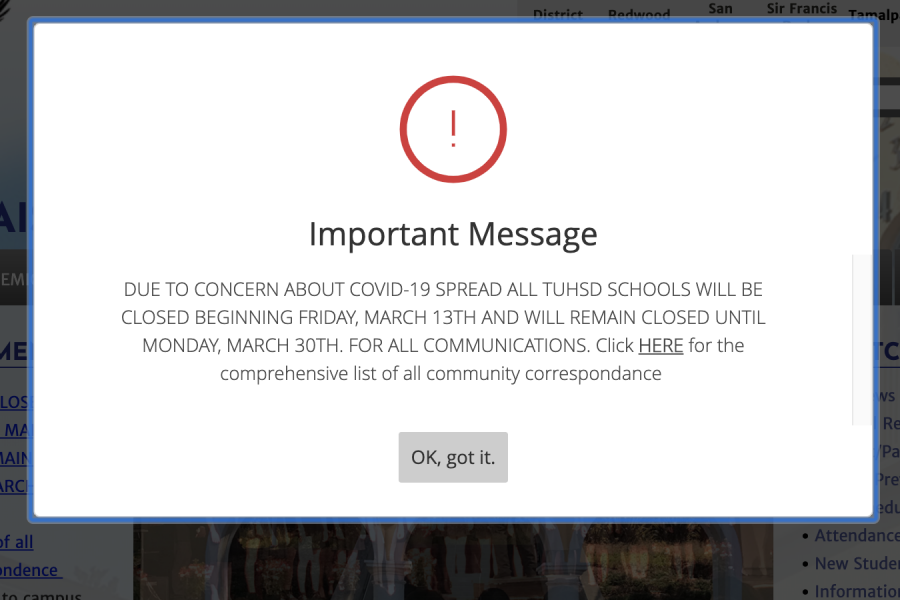 Updated on March 16 to include additional information about hotspot internet connections provided by Comcast. For updated information regarding this evolving story, please visit https://thetamnews.org/tag/coronavirus/
The Tamalpais Union High School District (TUHSD) closed its schools on March 13 as a precautionary measure to prevent the spread of the Coronavirus (COVID-19). None of the five schools within the district are known to be affected by COVID-19.
"It has become clear that the most responsible action, at this moment, is for us to take a proactive versus reactive approach to social distancing and other containment measures," District Superintendent Tara Taupier said in an email to the district. 
Students will return to campus on March 30 after approximately 14 days, the incubation period for COVID-19.
Teachers will email students assignments while students are not at school through EschoolPLUS. The district will provide a digital device and hotspot internet connections during this time for students who request aid by filling out an online form. In an email sent from the district on March 16, the district recommended that students access a free internet offer by Comcast, who is giving families who qualify based on economic need two months of free internet access. 
All campuses will also undergo a deep clean of all facilities during this time. The district did not specify what steps were involved in a deep clean. 
Updates from the district will be sent out nightly by 6 p.m. to students, families, staff members, and the district will also send an additional communication by 4 p.m. on March 27 about resuming classes on March 30.
School campuses will be open March 13 from 8 a.m. to 3 p.m. to allow students to pick up any essential instructional materials that they may need. 
This preemptive measure is a shift from the district's previous prevention plan, which would have gone into effect only after a case was confirmed on campus. 
"We have to weigh the benefits of closing schools, which is a major social disruption to our community, and the risk of transmitting this disease," Marin County Deputy Public Health Officer Lisa Santora said in a community forum.