Cheerleading during the pandemic: Captain Georgia Smith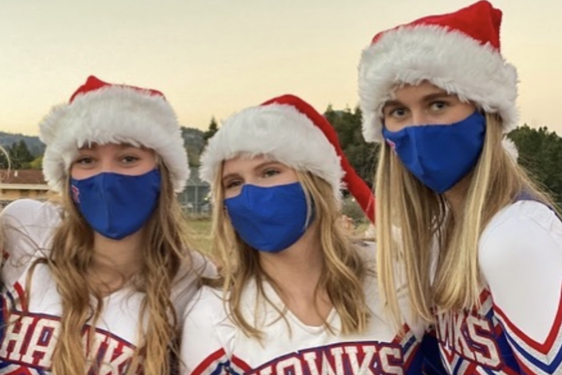 Participating in gymnastics and dance throughout her childhood, senior Georgia Smith dreamed of being a cheerleader for years and has been on the Tamalpais cheer team for all of high school. At the beginning of 2020's cheer season, Smith was voted to be one of the three cheer captains. "I have been looking forward to being a [cheer] captain since freshman year," Smith wrote in an email.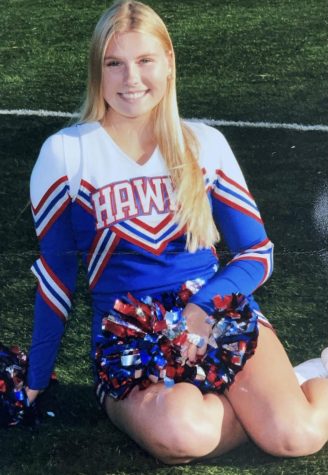 Although, her final year on the cheer team has not gone as expected due to COVID-19.
As a cheer captain, you are required to lead the team in practice, choreograph performance routines, and teach material to newcomers. "It's a pretty big commitment. It's considered year-round since we start try-outs in spring, train over the summer, and then cheer for football season (fall) and basketball season (winter)."
One of Smith's favorite things about cheer has been performing dances during halftime and school rallies. She also has enjoyed bonding with the new members of the team and forming close friendships with her teammates. "[As a cheer captain] you also have to be a good role model," Smith wrote. "I try to be someone that anyone on the team feels like they can come to for things inside or outside of cheer." 
Due to the pandemic, Smith's favorite aspects of cheerleading and leading as captain have not quite met the high hopes she had for her senior year. "It's changed a lot since we don't really have a sport to be cheering for or rallies to perform at," Smith wrote. "We have still been doing practices since the fall, with different pods, masks, and other precautions." The team usually hosts a cheer sleepover and other bonding experiences to connect the team and Smith explained how much easier it would be to get to know one another if they could see each other in the halls of school and talk more often. 
The team was not allowed to practice stunts due to social distancing so they focused more on dancing and conditioning. Just this January, however, the team has decided to stop practices until further notice, due to the severity of COVID-19.
"It is fun being captain but COVID-19 has definitely taken away lots of the good things about it … Now with all of the guidelines, it is much harder to get to know the new girls and make the bonds that we normally do," wrote Smith, "Especially because there are two different pods so I don't get to interact very much with the ones who aren't in my pod."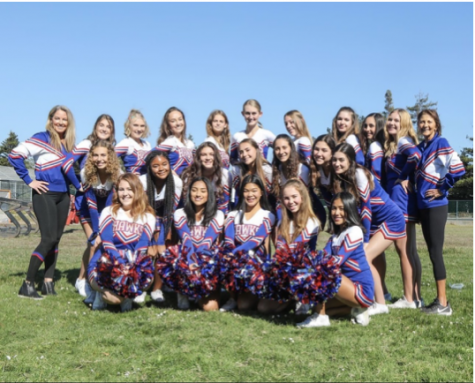 In addition, there are a lot of traditions that the captains look forward to such as being a flyer with the football players at the fall homecoming rally as well as various other special highlights in rally performances that were canceled due to the pandemic. 
"Even though I haven't gotten to experience the normal cheer season this year, I have still enjoyed the practices and activities that we have gotten to do and look forward to watching Tam Cheer grow in the future." Smith wrote. She hopes to be able to perform at the senior rally later this spring, as her last cheer performance on the Tam cheer team.