Tam Boys' Lacrosse Wins it All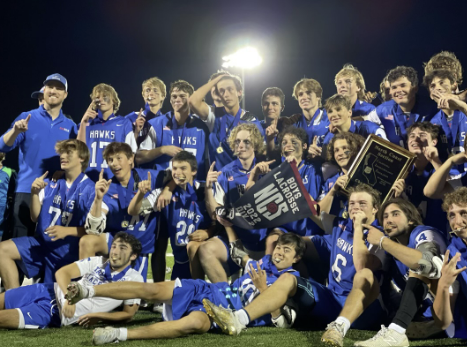 The Tamalpais High School varsity boys' lacrosse team climbed the ladder throughout this 2022 spring season and finally took home its first North Coast Section (NCS) win in program history.
Tam defeated Justin Siena High School and was named NCS Division 2 Champions at 7 p.m. on May 12. The Hawks drove a good hour and a half up to Napa where they played under the lights for the first time this season, and brought with them most of their families and a huge fan base who did not stop cheering once throughout the game. 
The final score was 7-4 with goals by Nathan Palumbo (1), Sebastian Chen (1), Simon Montenecourt (2), Chris Travers (1), Schuyler Hoeberichts (1), and Jamie Boyle (1).
Senior and captain Nathan Palumbo said, "I believe my team won because everyone did their part and stuck with it. We let the puzzle pieces fall into their slots and this program knew we were due for a win like this."
 This team has grown from what once was a developing program to now a powerhouse team with 32 boys.
"In the short amount of time that I have been on this team with these seniors they really showed the motivation and the drive to win a championship title like NCS," varsity player and junior Ben Berg said.
Many of the seniors on the team have been playing on varsity since their freshman year, and had come out from a youth club team called Wolfpack.
Four years ago this team was young, mainly filled with lowerclassmen, and they weren't as focused on winning a championship.  
"When winning I was super happy and emotional because I knew that all of my time and effort had paid off," Palumbo said. "Also knowing that no matter what, win or lose, this would be all of the seniors' last game ever which made me super emotional. I have been playing with these guys since Wolfpack days."
The boys all knew about the traditional rivalry against Redwood and the other MCAL schools, but since this was their final year playing, Palumbo said they wanted nothing other than to win a title.
"The program has changed a lot since I joined, but two examples would be the coaches really stepped up and made each practice super intense this season. Also this year's captains – who are Simon, Wesley, Chris, and I all took part in emphasizing the energy needed in each practice in order to win," Palumbo said.
Having all three of the four 2022 team captains being seniors made a great impact on their success, senior varsity player Wesley King said.
"It felt great to have all the hard work I put in for the four years to all accumulate into one night," King said.