Senior profiles: Juliette Lunder and Tyler Rothwell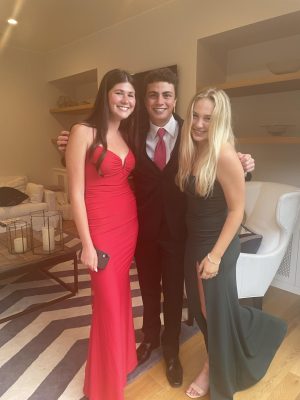 "When getting older you can enjoy the power dynamic a little bit," Tamalpais High School senior Juliette Lunder said. Lunder and fellow senior Tyler Rothwell have spent the last year enjoying the sociality of senior year, but even with all of the fun of being upperclassmen, both have often found themselves looking back on their more difficult years as Covid-stricken underclassmen.
All of the outgoing seniors this year had been dealt a difficult hand for high school assimilation. It is well established that those poor few who had to enter high school for the first time in their lives via Zoom got the short end of the stick. 
"Being an underclassman during covid was weird. We had the first semester but then we were online," Lunder said. "We didn't get to fully meet people, missed out on rallies and spirit and stuff, and it definitely was not a great way to start high school. 
"With covid and how we were constrained to learning in a house, there was no real social scene at school," Rothwell added. 
Covid left many incoming juniors even more nervous for high school than they were originally. These students' high school years were cut in half, which certainly shut so many doors socially for them. Many would assume that made the re-entry more difficult. However, the years as upperclassmen have proven to be more unifying than intimidating. 
"We were all together for the first time in a while and having prom and being able to experience all the rallies and spirit together was refreshing," Lunder said. "Now everyone is really comfortable with each other. We are all gonna be leaving soon and going in separate directions so it's important to try and enjoy it," Lunder said. 
"The silver lining is we were lucky having it happen when we were younger because now we are able to have these experiences," Rothwell added.