Hungry Hawk Snack Review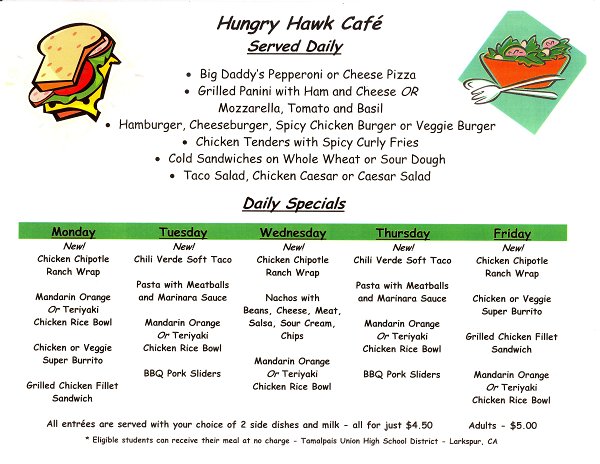 By Morgana Sidhom
June 4, 2012
The bell rings, and there's a demon in your stomach gnawing away at your resolve to keep it together until lunch. You fast walk, eschewing any semblance of nonchalance, to the snack bar to beat the 9:30 am rush. When you arrive, it seems that choices are limited, and those choices that are available should belong on the Fear Factor. You may wistfully glance over to the vending machine nestled in the Student Center, wondering if the 200 percent increase in price for a sports bar is worth burning through your babysitting fund. Don't fear, the Tam news snack review is here to offer a tasty compilation of decent snacks that will soothe the animal inside while still letting you roll in the dough.
The Pizzadilla
$2.50
While some savor the idea of a cheese stuffed treat, others disdain the outlandish idea of melting two different dishes from two entirely separate gastronomical spheres. However the crispy exterior complemented by the creamy interior and topped off with the streak of tomato aroma instantly cleansed my mind of any doubts that I previously had, shepherding my palette into a whole new world of snackery. The pizzadilla is a pioneer of italian-mexican fusion food.Anna Lipman themselves profess an undeniable appreciation of the snack:
"It's like Pancho Villa meets Michelangelo's b**** mother, or old Venetian confetti from a carnival mixed with queso fundido: a savory punch to the face. The only thing I need to wash it down with is a sopping glass of pace salsa," said junior Anna Lipman.
Chocolate Salmonella Chip Cookie
$1.00
One bite out of this snack yields a complex array of flavors that leave your mouth in so much in shock that you have to take three more bites before you can assess that the snack crumpled in your hand is real. The uncooked center of the goodie is its only pratfall, as the consumer risks an intake of Salmonella. However regardless of degree of the treat's doneness, its taste a decisive indicator that this cookie is unlike any ordinary cookie. It'll put old grandma Myrtle's famed cookie recipes to shame.
"This cookie literally sent me on a rollercoaster to food enlightenment. I will never look at a Chips' Ahoy the same way again," said junior Charlotte Kaufman.
Eggcellent sandwich
$2.50 (comes with beverage)
McDonald's Egg Mcmuffin made the egg sandwich a heralded breakfast snack. Ensuant to its creation there were imitators who would dirty the Egg Mcmuffin name with less than savory forgeries. However, I could assure you that Tam High Hungry Hawk has succeeded in making a breakfast sandwich worthy of the name. Tam's egg sandwich is a holy compilation of egg, sausage, cheese, and an English muffin. Cocooned in a silver wrap, the sandwich is a bundle of joy that is every bit as kosher as baby Moses in the reeds.
Put a pin in this list of signature snacks; The next time you're standing in line at the cafe, torn between goodies, maybe it will make your journey to a satisfied stomach smoother.