Science teacher Ms. Tucker wins major award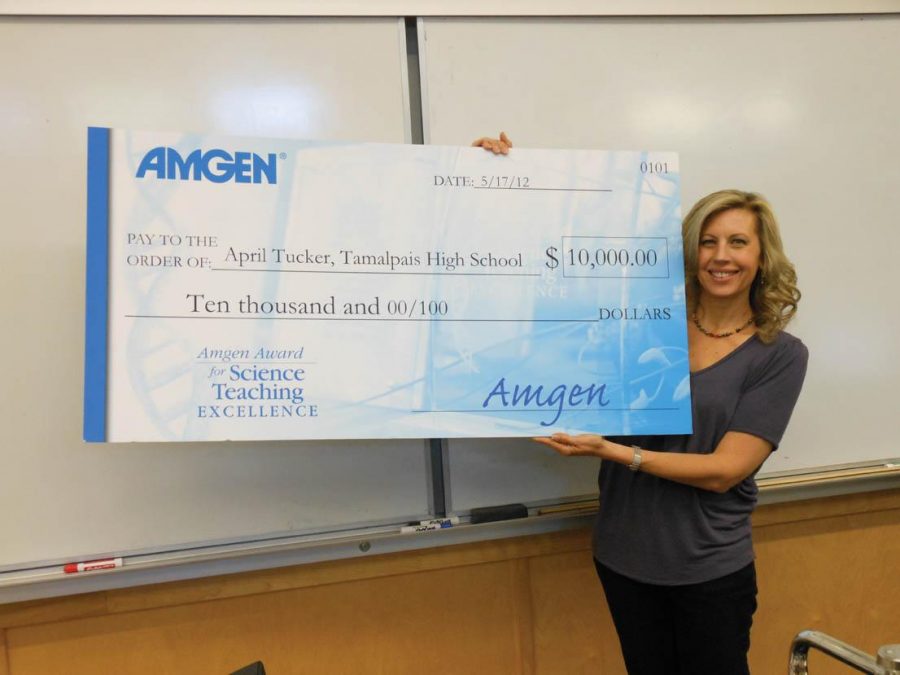 By Cassie Jeong
May 31, 2012
Science teacher April Tucker received the Amgen Award for Science Teaching Excellence (AASTE) from the Amgen Foundation on May 17.
Tucker was one of nine science teachers selected from across the United States, Puerto Rico, and Canada for the AASTE. The goal of the program, as stated on the Amgen website, is to "[recognize] extraordinary contributions by educators…who are elevating the level of science literacy through creativity in the classroom and motivation of students." Winners receive a grant of $5,000 for their school's science department, as well as $5,000 for personal use.
A representative from the Amgen Foundation, along with Principal Drescher, fellow science teachers Ben Matzen and John Ginsburg and a photographer for the Marin IJ, surprised Tucker in the middle of her third period class with a trophy, a giant check, and a bouquet of flowers.
"I was very shocked. At first, I didn't know what was going on," said Tucker.
Tucker recently won the Golden Bell award from the California School Boards Association, and thought perhaps the guests were visiting her in connection with the Golden Bell award ceremony later that night.
"[The Amgen Award] is a very prestigious science teacher award," said Tucker. "The application process is… to say 'involved' would be an understatement!"
Tucker recalled her application as "very thorough," and described how she had to write essays, submit photos and student work, and explain classroom labs for much of first semester. "I'm not a wordsmith, and I just spoke from the heart," she said.
Tucker will use her science department grant for a printer compatible with the classroom set of iPads, as well as more iPad accessories and apps. She believes her classroom, despite being technologically ahead of most high school classes by using "flip teaching" as opposed to traditional lecturing, is still only scratching the surface of how schools can utilize modern technology.
"I can only speak that it's worked well for my curriculum in my classroom, and the way that I teach," said Tucker, addressing the success of her unique teaching methods. "It's time for education to make a huge lift, and I'm hoping we're at a turning point."
Constantly on the lookout for new and better ways to teach, Tucker advocates a system of grading dependent on mastery, opposed to an accumulation of "points". She believes students would benefit from emphasis placed on the understanding of concepts, rather than mere completion of assignments.
"That's what it's all about; students learning in science class, and then becoming excited to learn about the world," said Tucker. "You live science every day."