"Looper" Review: One of the Few Movies This Year to Meet its High Expectations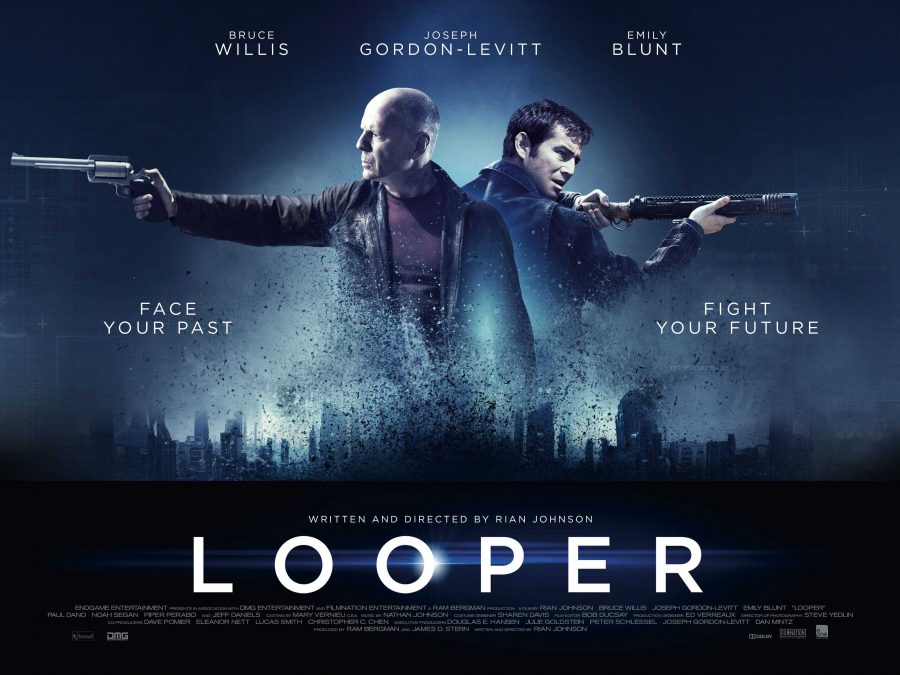 By Wesley Emblidge
September 28, 2012
When one thinks back on great time travel movies, certain movies come instantly to mind. The earlier films in the "Back to the Future" and "Terminator" franchises are great examples, but those were many years ago. Recently, the best time travel movies have been foreign (2007's "Timecrimes") or low-budget and underseen (2004's "Primer," this years "Safety Not Guaranteed" and "Sound of my Voice"). It's been awhile since we got a really great time travel action movie, but "Looper" completely delivers, firing on all cylinders, and manages to be not only one of the most fun and original movies of the year, but also one of the best so far.
"Time travel has not yet been invented," Joe (Joseph Gordon-Levitt) says early on, setting up the premise of the film. "But 30 years from now, it will be." Joe is a looper, a specialized assassin living in 2044, employed by the mob from 2072, to dispose of the people the mob needs gone. They send them back to Joe with his payment, who promptly shoots them and disposes of the body. Being a looper is a good job; loopers lead a lucrative, free-wheeling life, but at a certain point every looper has to "close the loop." Their future self is sent back for them to kill, terminating their employment and giving them the next 30 years to live as they please… until being sent back in time to be disposed of. Clean and simple, with no loose ends.
Unless of course, the looper fails to kill their future self.
This is exactly what happens to Joe, who one day is sent back his older self (Bruce Willis), and is so stunned in the moment that his older self has a chance to disarm him and escape. The plot gets trickier and more intricate from here, but it's better left unsaid, so that if you actually seen in the film you'll be kept on the edge of your seat.
The entire cast is great. Gordon-Levitt has made a clear effort to merge himself and Willis into a cohesive character; the men look nothing alike in real life, but in the film Gordon-Levitt uses a combination of some practical make up effects and an imitation of Willis' mannerisms and voice to create a remarkably convincing young version of him. Willis doesn't help him out much on the other end of bridging the character gap, but he still does a good job in the film, and considering all the terrible direct-to-DVD action movies he's done in the past, it's heartening to see the enjoyable Willis back in a more legitimate film.
Jeff Daniels ("Good Night and Good Luck," HBOs' "The Newsroom") plays a mobster sent from the future to oversee the loopers, Noah Segan ("Brick") is one of the assassins sent after Joe, and Emily Blunt ("The Adjustment Bureau," "The Five-Year Engagement") and relative newcomer Pierce Gagnon are a mother-son duo thrown into the mix. Gagnon is especially impressive here; this kid is likely only five or six years old, and yet he manages a performance on-par with the rest of the cast.
There's one other unexpected thing that makes the film even more refreshing: the violence. In a summer of bloodless (literally) movies like "The Dark Knight Rises" and "The Avengers," where many people die but without blood, for a PG-13, it's really great to see a movie have real violence with real consequences. When Joe kills a target, you see the blood, and you know he's dead. This gives it an impact that is lost when characters in the Batman movies are shot, but just fall over, no blood, no consequences.
The film lags a bit toward the start of the third act, and could have had a little more fun playing around with time travel, but overall that really doesn't matter. "Looper" does so much great stuff that I can't even touch on it all, including some really interesting world-building for the futuristic landscapes and managing impressive effects on a fairly small budget. Writer/director Rian Johnson has done some really good films before this, but "Looper" is his best yet, and hopefully launches him into a successful career to do even more interesting movies like this. "Looper" isn't perfect, but it's damn near close, and might even end up the best film of the year.
5/5 Stars