John Hawkes Shines in True Story "The Sessions"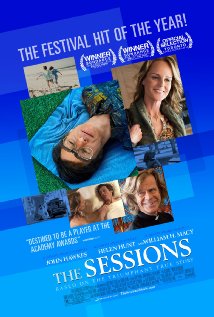 By Wesley Emblidge
October 18, 2012
If there's one thing you can safely call "The Sessions," it's original. It's based on the true story of Mark O'Brien, a man with polio who is confined to an iron lung and decided he wanted to experience sex before he died. Mark, after consulting his therapist and priest, hired a sex surrogate to reach his goal. Writer/director Ben Lewin ("Georgia") adapted his story into a surprisingly normalized movie. A subject that could have been creepy or just plain strange ends up making a heartwarming crowd-pleaser, thanks to Lewin's screenplay and the exceptional performances from John Hawkes, Helen Hunt and William H. Macy.
Hawkes ("Winter's Bone," "Martha Marcy May Marlene") is phenomenal here, managing to realistically portray Mark and his disease, but also making his character relatable and likeable enough for the audience. Mark is a writer, but because he's paralyzed everywhere but the neck up, he has to type using a pencil held between his teeth. So, he usually just writes poems. He's been paralyzed since six, the age he got polio, and now at the age of 38 he's very used to the routine of his disabled life. After a failed attempt to be with one woman, Mark realizes his condition mean he'll probably never be married, never have kids, never have sex. After consulting his therapist (Blake Lindsley), she suggests he work with a sex therapist. He asks his priest (William H. Macy) about his thoughts on sex outside of marriage in this situation, who says "I think He'll give you a free pass on this one."
The bulk of the film then focuses on the relationship of Mark and the sex therapist Cheryl (played also really well by Helen Hunt). Her character is grounded too, sure she has a job that revolves around having sex with clients, but she's married and has a kid too, just like anyone else. At a certain point the movie does go into somewhat cliché and predictable territory, but it's not as annoying or drawn out as I've seen in other films.
The highlight of "The Sessions" is clearly the performances; the movie will likely be big contender in acting categories come awards season, and it deserves it. What it may lack in being too simple or predictable, it makes up with heart and surprising humor.
4/5 Stars