More Than Just "Roll Over"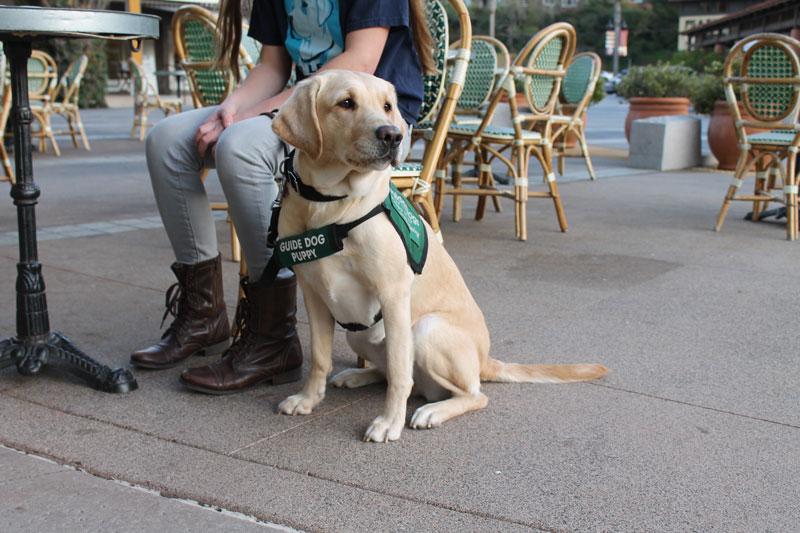 By Chris Yip, Chris Yip, and Chris Yip
February 14, 2013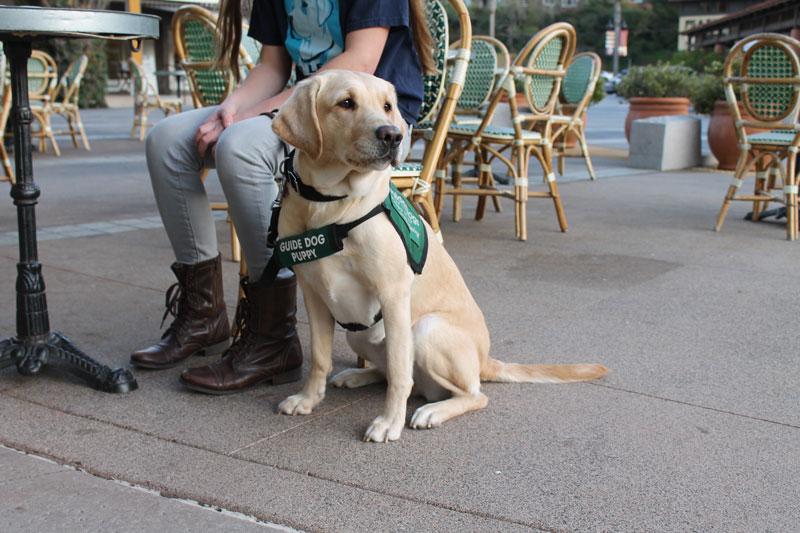 Meet Katrina, a one year old puppy who will grow up to have a bright, altruistic future. Junior Lauren Killingsworth knows this firsthand; she has spent 13 months training Katrina to qualify her to become a guide dog for the blind. "It's definitely a very fulfilling activity. With guide dogs you directly impact one person or you see other [trainers and volunteers] do that. I think a lot of people don't realize a kid or student can do that much," she said, "Seeing [my dog] grow up and potentially going on to change someone's life is really powerful."
"I remember [first] going to Guide Dogs for the Blind for a veterinary internship in sixth grade," said Killingsworth. "Guide Dogs for the Blind said I was too young to work in kennel, but old enough to be a puppy raiser."
The use of guide dogs began at the end of World War II with Lois Merrihew and Don Donaldson. According to the guide dogs website, "they recognized the need to help wounded servicemen who would return from World War II without their sight. They believed in the potential of dogs to serve as guides for the blind." In 1947, the Guide Dogs for the Blind set up an 11-acre headquarters in San Rafael. Another campus opened in Boring, Oregon in 1995.
Killingsworth is one of many volunteers who raise puppies for a year and a half as preparatory training. In seventh grade, Lauren began raising Don, a Labrador bred for Guide Dogs for the Blind. She trained Don's obedience including going to the bathroom on command, walking on a loose leash, and waiting to eat until commanded. She also taught him house manners and socialization skills, receiving tips and giving advice at meetings with ten dogs and their teen raisers every other week.
Part of Don's training consisted of socializing and behaving in real world environments, including stores, restaurants, and class at Mill Valley Middle School. "At school I was surprised at how well people listened to the rules I set up. They treated my dog like it was some kind of celebrity," Killingsworth said with a laugh. "A lot of people felt like they were part of the training. They had to sit quietly and not make noises at the dog because it might hurt the dog's training. Everyone loved him."
The dogs must complete the basic training provided by the puppy raiser, then a two-month training session at the guide dog headquarters in San Rafael. The dogs that complete the tests are coupled with their blind partners at the graduation ceremony, where they can exchange contact information with their puppy's raiser. Some dogs, like Don who was too distracted during training to become a guide dog, "go on to impact the community in many ways: as companions for blind youth, as search and rescue dogs, as dogs who can detect hypoglycemia in diabetics and cancer," according to a PSA created by Guide Dogs for the Blind.
Don was adopted by the trainer he worked with in his final testing at Guide Dogs for the Blind. Although she was disappointed, Killingsworth understood why Don did not become a guide dog. "You have to realize at some point there are some [instincts] you can't change."
This, however, did not stop Killingsworth from fully participating in puppy raising. "In the beginning I just really wanted to have my own dog but now if I was offered a pet dog or a guide dog, I'd definitely choose a guide dog. It's sad because you only have them for a [year and a half] but it's really neat to see what they go on to do."
She recently took on the challenge of raising another dog, Katrina. The Tam district will not allow Katrina to shadow Lauren at school, so caring for Katrina is a team effort amongst her family at home. This will most likely be the last dog Killingsworth raises for now, as she begins her transition towards college. She hopes to find a career in veterinary medicine, as it has been her dream for "as long as I can remember."
"Right now I definitely think I'm happiest. Every day I know this dog is going to go on to help someone," Killingsworth said. "No matter what job I do, I'd like to do something helping animals or people. That's the best part of having a job."
Raising dogs has helped Lauren develop as well; she has become more outgoing due to the amount of teaching and speaking she has done with Guide Dogs for the Blind. "[Raising guide dogs] made me much more aware of people with disabilities and how it's best to treat those types of people like anyone else but at the same time be aware of how to interact with someone – things like that that you wouldn't normally learn."
"A lot of people will look at a blind person and shy away, but if they have a dog they're much more inviting to talk to," explained Killingsworth. "A lot of people see guide dogs as this mystical kind of creature because it's hard to believe that they do the things they do. People start smiling when you walk by and they start asking questions. There are some really appreciative people."
Killingsworth had never met someone who is blind before her experience with Guide Dogs for the Blind, let alone conversed with them. But once she got the opportunity, she was impressed. No less than a month ago, she met a blind 16-year-old boy who started an organization that has raised thousands for Guide Dogs for the Blind. "You meet very resilient, motivated people [through Guide Dogs for the Blind.] You realize that they can do anything anyone else can do," she said. "A lot of them have done more than I could ever imagine myself doing. It's pretty incredible."
By enhancing the existing capabilities of the blind, the dogs changed their lives forever. Many describe moving with a guide dog like "flying." In fact, Killingsworth met one woman who would choose her guide dog over her sight due to the bond the two had. "You can tell they really love each other and it provides them with companionship that they might not otherwise have," Killingsworth said.
Killingsworth invites other to participate in Guide Dog activities, whether it is attending a guide dog graduation –"It's a really neat experience,"–puppy sitting while a raiser is on vacation, volunteering at their headquarters in San Rafael or even raising a puppy of their own.
"Have a really open mind," she said. "Don't underestimate [your] power to [make a] change."