Boys' Varsity Basketball Heats Up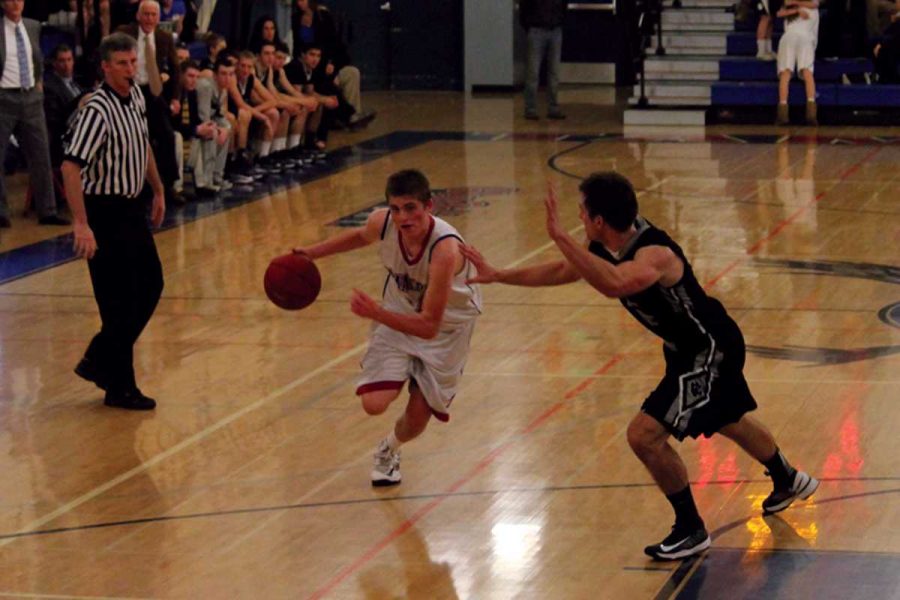 By Zack Tolpen and Zack Tolpen
February 13, 2013
The boys' varsity basketball team exploded this year with a record of 16-9 and a Marin County Athletic League record of 5-8 as of February 5. After only two wins in the last two seasons, there has been a huge improvement in the chemistry between the coaches and players, and the team's ability to move the ball up and down the court. The team has been working harder in hope of an MCAL championship.
"We have been practicing hard and we don't have anyone who is our primary scorer," senior point guard Ethan Rosenberg said. "Almost every game someone different steps up to help."
The team credits their success to hard work. "We have had a lot of guys working harder in the off season," said senior center Michael Thomas.
By working hard and staying largely injury free, the varsity team has improved drastically. With key player Jackson Floum injured for almost the entire 2012 season, the players are happy to see him healthy and working hard again.
"Team chemistry is much better off the floor and that helps practice run more smoothly, and Jackson's arms still work," Thomas said."He is a great leader who gets everyone on the same page and focused." Floum, a senior leads the team in average points per game with 10.6, and blocked shots with 28 (almost two per game).
Another key player on this year's varsity team is junior forward Lorenzo Jordan. Jordan has scored 8.8 points per game, which is more than anyone else on the team. He also leads the team with 140 total rebounds.
"Lorenzo has been a great threat on the offensive end of the floor," said senior shooting guard Darien Miller-Gowan. "He doesn't stop playing the game hard even if his offensive game is off."
"At the beginning of the year, I was just trying to figure out my role," Jordan said. "I started by coming off the bench and would rebound the ball a lot and not really look for my shot. But as the year progressed I started being more aggressive and eventually became more involved on the court. I haven't necessarily changed anything with my game, I just became more and more involved as the year went on."
Miller-Gowan also has been a key member. He currently averages 40 percent behind the three point line and is a contributor on the boards with 71 total rebounds. Even when Miller-Gowan doesn't have the ball, opposing players closely guard him.
"Darien is very important to our team," Rosenberg said. "He is the kind of player that is dangerous even without the ball because of his shooting ability."
Standing at 6'1," Miller-Gowan is able to use his height and athleticism to his advantage.
"I have begun to use my jumping ability to my strengths this year by driving to the basket," Miller-Gowan said. "Also I have been contributing as a big man by rebounding and blocking some shots to help out the team in any way I can."