Mock Trial Wins County For 18th Time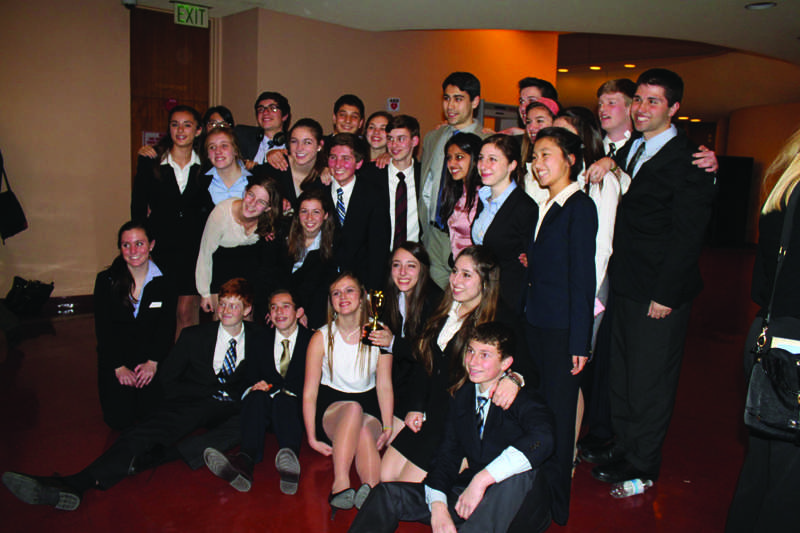 By Billie Mandelbaum
February 11, 2013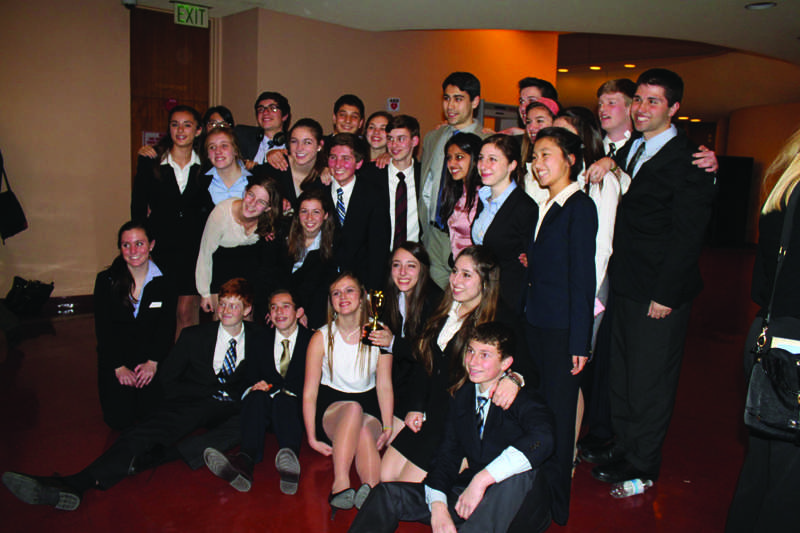 Tam High's Mock Trial team gathered in the parking lot of the Marin County Civic Center on the evening of February 2. The team surrounded coach David Vogelstein's black Ford Mustang as Queen's "We Are The Champions" blasted from the stereo. That evening, the team won its 18th consecutive Marin County Mock Trial championship title, defeating Novato High School in the competition's final round to defend the title they've laid claim to since 1996.
"This is such an incredible feeling," said junior Rachael Ferm, one of the team's defense lawyers. "We had a thirst for victory and we were reckless out there."
After going undefeated in the preliminary rounds and defeating teams from Branson, Drake, Redwood and San Rafael, Tam learned that they would face Novato, who had also gone undefeated, in the final round. Novato's strong performance came as a surprise to some Tam team members, considering that in the five previous county competitions Tam had faced Terra Linda High School's team.
During the final round, in trials presided over by the Honorable Paul M. Haakenson and the Honorable Roy O. Chernus, Tam's prosecution and defense teams argued the case of People v. Vega. The case concerned Adrian Vega, an 18-year-old boy accused of felony hit and run, after allegedly failing to stop after hitting a bicyclist. Pre-Trial motions surrounded Miranda Rights and the Fifth Amendment.
However, the details of the case were tamer compared to those of the murder case the team argued last year. "Usually the cases are a little juicier," said senior Sander Lutz, the team's co-captain and defense lawyer (and a Tam News editor). "This is really just about a bicyclist who broke his knee."
According to Lutz, the Constitutional Rights Foundation, the body in charge of California's mock trial program, provided teams with less information and evidence this year than in cases from prior years.
"It's bad because you have less to work with, but it's good because not every team has that much information so it's easier for teams to set themselves apart," Lutz said.
The team put in many hours to prepare its case. Since the beginning of the spring semester, the team has been practicing four nights a week, while also participating in various scrimmages and invitational tournaments.
English teacher Michael Krause, the team's teacher-coach, also pointed to the team's hard work as a key to victory."We were poised and adapted to the trial," Krause said. "We put together a performance that was an accumulation of everything we've been practicing all year."
Despite their hours of preparation, team members felt pressure to maintain the program's success going into this year's competition."The program has such a tradition," senior Miriam Lester said. "We have a legacy to uphold." Lester pointed out that with this victory the team has now been winning for longer than any of it's current members have been alive.
In addition to the championship title individual awards were given to: Lester, Rex Chinchilla, Thibault de Saint Phalle, Alexandra Cabana, Lindsey Sloan, and Russell Wirth for their performances in their respective roles.
With the victory, Tam will continue on to the state championship competition, March 22-24, in Riverside.