Senior Begins Rap Career as MC Kramis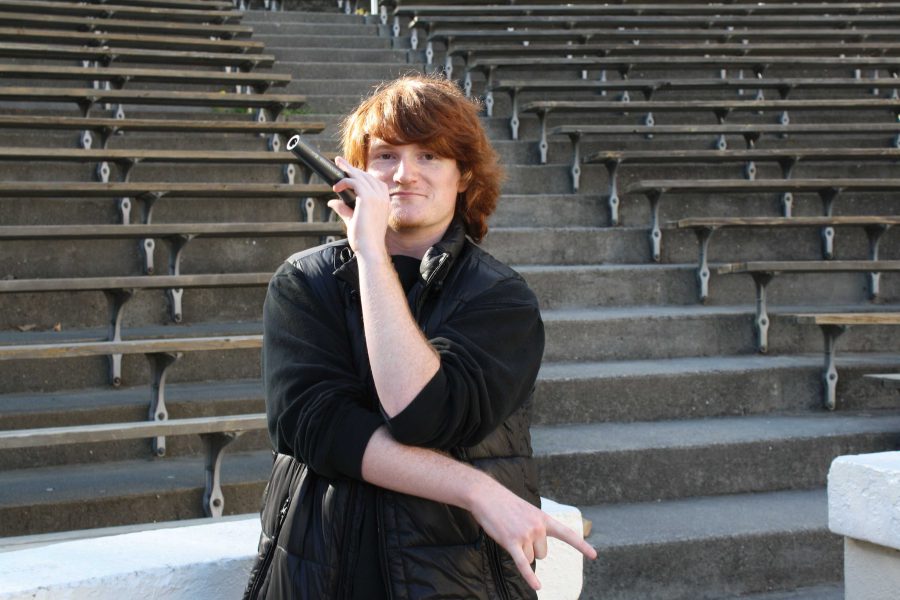 By Maddie Elias
March 21, 2013
Despite his family's involvement in its Scottish heritage, you won't find senior Kel Mandigo-Stoba engaging in many traditional activities. More likely, you'll find him with a microphone in hand, rapping his original songs.
Mandigo-Stoba was inspired to start writing when he first heard music by Mac Lethal, a rapper from Kansas City. In the summer before his junior year, while in Germany, he wrote his first collection of lyrics.
"They were about the girl I had been dating at the time, and it was made up of letters I wrote to her while I was in Germany, because I wrote her a letter every day," he said.
At the beginning of his senior year, Mandigo-Stoba started recording songs and posting them on YouTube. Recently he rapped an original song in front of an audience for the first time on February 9 at the Tam High Valentine's Day concert.
When questioned about his interest in the genre, Mandigo-Stoba animatedly answered, "I like rap because you can tell a story with it. I mean, you can do that with, say, singing as well…but I can't sing," he deadpanned, referencing years of choir and the occasional voice lesson. "I've still got something to say, though, so I might as well rap. I've taken all the technical stuff I've learned from singing, though, and put it into my rapping; it makes a pretty good combination."
Normally an observer, Mandigo-Stoba's thoughts ring out through his songs. "If I have a problem, I have to just sit down and write it out. The blessing in it is that I can get the bad emotions out of my system right there. The downside, though, is that I have to go back and try to perfect what I've written; so I have to go back and relive those bad emotions," he said.
Mandigo-Stoba is in the slam poetry club, and performed with the club at the winter sports rally. The club plays a certain part in his raps. "I can use it as a sort of playground for new material I write; a testing ground," he said.
Mandigo-Stoba wants to take his rapping to college and beyond. "This is what I want to do with my life," he said. "I've never found anything else that I've felt so blessed to be able to do."
After high school, he plans to move to Portland, where he will try to jumpstart his music career while studying electronic music production or business management in college. Mandigo-Stoba has his own Facebook page as well, where he goes by the name of MC Kramis. "Kramis" is composed of Mandigo-Stoba's initials punctuated by vowels.
"At some point in my life, I would love to start a record label or to get signed to a record label. If I made my own record label, I would manage it and do some of my own work on it, and I would love going out and finding new artists to sign and give a chance to show what they have to say. That would be the pinnacle of my success, to start my own label," he said.
When asked about the downside to rapping, Mandigo-Stoba said, "My songs are never clear-cut, never telling a straightforward story; there are always undertones to why I write a song. If another person listens to one of my songs and misunderstands what I'm trying to say in it, there's not much I can do about it."
He was quick point out the best parts of rapping as well. "I'm the ginger kid with long hair and weird clothes," he chuckled. "You don't expect me to rap. But I'm not trying to be anyone but myself. Rap is something I do, and I've never written a song that didn't have a little bit of me in it. To perform and put those parts of me out there, and have people be surprised and impressed by it…that's crazy."