Classified Staff Petition for Raises and Benefits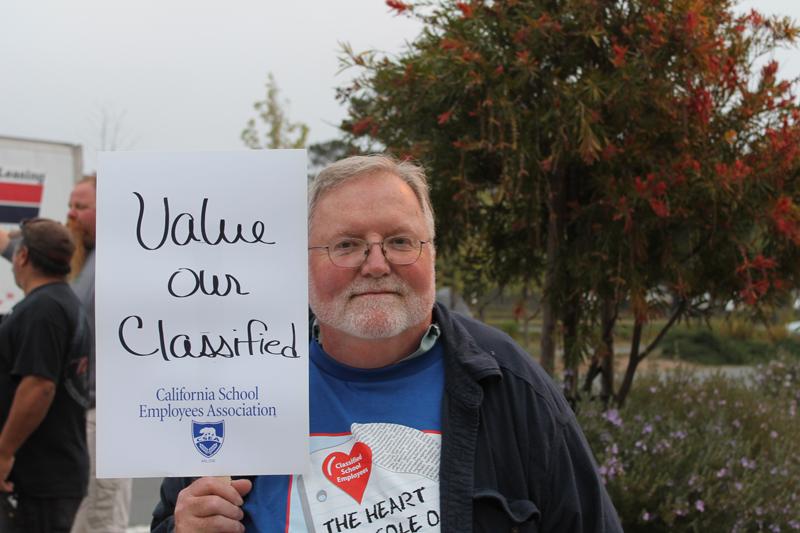 By Emma Boczek
April 5, 2013
The Tamalpais Union High School District (TUHSD) chapter of the California School Employees Association (CSEA) remains at an impasse with the district regarding contracts for the 2011-2012 and 2012-2013 school years. The CSEA is a labor union that serves over 150 classified staff members in the district, including non-teaching employees such as custodians, secretaries, technology specialists and food preparation workers.
The CSEA held a rally outside Tam on the evening of March 27, preceding a 7 p.m. School Board meeting. Over 70 classified staff members and supporters attended the rally, many wearing bright blue CSEA t-shirts, holding signs and blowing whistles to garner support from passing cars. "We're kind of shocked, because this is the first time this has ever happened," Tam's CSEA chapter president Laura Ibanez said of the demonstration, which was also attended by members of various other CSEA chapters.
A petition posted by Ibanez on Change.org, which had collected 511 signatures as of April 3, stated that in negotiations the classified staff "no longer are in an atmosphere of mutual respect and consideration" with the district and requested that readers in the community promote the group's "four-year struggle for equity."
Supporters of the cause crowded into Classroom 2020 during the School Board meeting, continuing to display signs throughout and singing "We Shall Not Be Moved" during the designated 15 minute break.
At the end of the meeting, several union supporters spoke, including teacher union president and social studies teacher Aaron Pribble. "You're the glue that keeps our schools together, and you're the grease that keeps it moving smoothly," he said to the classified staff. "We're very grateful for what you do."
As reported previously, the district has offered what the classified staff consider to be insufficient salary increases and health benefits.
"We have been denied salary increases for the past four years while Management and Teachers have continued to receive annual growths in their salaries," the petition stated. "Now we are offered a very small percentage of what has been given to all employees in the district and only if we give up yet another concession from our retirement health benefits."
The district has offered a two percent one-time bonus and a two percent increase on salary retroactive to July 2012, giving an average classified staff member $2,000 more this year. In addition, the district proposed to move eligibility for retirement from age 55 to 60, using grandfather clauses to exempt some long-time district employees.
The union is requesting that the two percent salary increase be retroactive to 2011, amounting to an average increase of $3,400 per employee this year. Additionally, the union is requesting that the suggested age increase apply only to those employees hired from 2013 forward. The total financial difference between the two plans is approximately $600,000 per year, according to the Tam District website.
"What we're asking for is the same things that the teachers have already gotten," administrative assistant Mary O'Leary said of the salary raises. O'Leary is the public relations officer for the CSEA chapter. "It seems like that's been disregarded in the negotiations," she said.
TUHSD teachers agreed in 2011 to raise their retirement age from 55 to 60, using a grandfather clause that exempted employees who were over 50. However, the classified staff are unwilling to do the same for existing employees. "They have not shown any inclination to make that concession," said Assistant Superintendent of Human Resources John Carroll.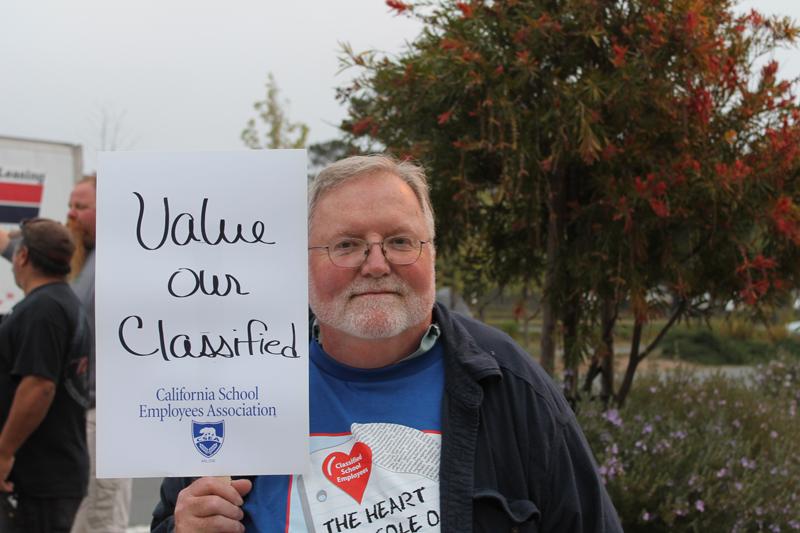 The ongoing conflict may have partial roots in the layoffs of recent years, in which 18 classified personnel were laid off district-wide, including five from Tam. "All the workload from those five people has to be absorbed, it doesn't go away," O'Leary said. "So the remaining people pick up the work." She added classified staff have also lost workdays and been denied raises in the years following the layoffs.
Tam's lead custodian, Patrick Gannon, attended the rally as well. "We're out here trying to say: we're important, we think the community thinks we're important, and we want to work with the district," he said. "Every custodian is important, every secretary is important… It's been a long time since I've picked up a sign like this."
Gannon said he was "starting to see a separation. The people at the top are getting a lot more money," he said. "We need a proactive school district that's interested in the main thing, which is [the] kids."
Ibanez said in the CSEA chapter's March President's message that the district's unwillingness to concede to classified staff requests was worrying "when we have a $24.5 million dollar reserve as stated by [Assistant Superintendent of Finance and Facilities] Lori Parrish during a mediation session," she wrote.
"It's necessary in a district like ours to have what looks like a gigantic reserve compared to other districts," said Carroll. "We're at the mercy of whatever our taxes are doing." He said the fund isn't meant for continuous spending. "To use that for ongoing positions is really dangerous, because it's one-time money. It doesn't keep coming like taxes do," he said.
Superintendent Laurie Kimbrel shared her thoughts on the impasse in a March 8 news release published on the TUHSD website. "Our classified employees are valuable members of our community. Their work as individuals is vital to the operation of our schools, and they are well respected by district administration, staff and the community," she said. "It's not a question of whether our support staff will get a raise; it's a question of what is prudent, competitive, and fair at this time."
The district "believes that we've made a good offer," said Carroll. "[It includes] one of the highest raises in the area to an employee group who are already the best compensated in the area."
Ibanez said she wants to "negotiate in good faith" but intends to stand her ground for the CSEA.
"I would not be doing my job representing the hard work of the classified staff if we settled for less than equity," she said. "This really isn't about money. It's about social justice and equity. Isn't that what we are all supposed to be teaching our students and practicing in our daily lives?"
As the next step in negotiations, a process called "fact-finding" will begin during the week of April 29. Representatives from both parties will present their cases to a neutral and mutually agreed-upon third party who will make a recommendation to the School Board on the best course of action. A fact-finding report is expected by the end of the school year.
"We'll all be relieved when this is over," O'Leary said. "It's not good for morale."