Tam Breaks Into A Capella Scene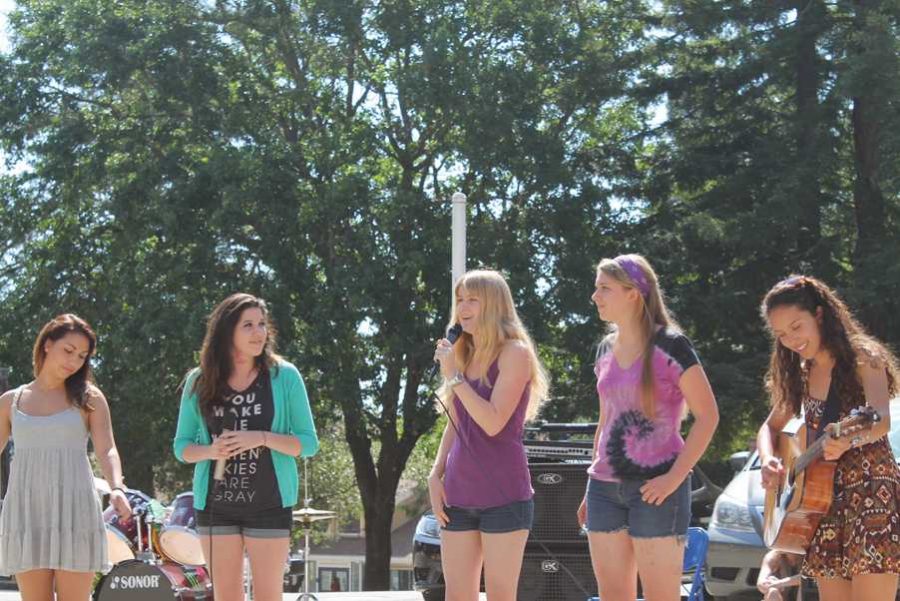 By Holly Parkin
May 23, 2013
At some point, everyone has thought about what it would be like if their school was like the musical settings depicted in popular movies and TV shows like "Pitch Perfect" and "Glee." Now, that dream has become somewhat of a reality, in the form of a new a cappella music group at Tam. The group, created and led by sophomore Kiana Melendez and junior Ali Demers, is comprised of fourteen students, and goes by the name of the Hawkapellas. Though the Hawkapellas were only established in late March, the group's progress is already well underway. Melendez and Demers, both part of Tam's choir, are close friends who had the idea to put together their own music group.
"Me and Ali both do a lot of music, and we weren't satisfied with the amount of music that we were able to do in choir class," Melendez said. "A lot of it was classical, and we didn't get to experience doing modern music… We thought that if we put a group like this together, we might be able to do more of that kind of stuff, and also give other people the opportunity."
Melendez and Demers are very focused on music and expressing their passion at school.
"Kiana and I started being friends last year. We were really close through our music, through the music department… We both had the idea that we would like to do a music group, but we weren't really sure what direction we wanted to go with it," Demers said. "We talked to Mr. Tsingaris in the beginning of the year… The music department has been so great about adopting us into their circle. It's been wonderful."
Spiro Tsingaris, Music Director at Tam, was instrumental in assisting with the establishment of the new a cappella group.
"[The Hawkapellas are] this hybrid of choir students and other folks who are interested [in a cappella]," Tsingaris said. "I give [the group] a little bit of feedback here and there, but [Melendez and Demers] are both really strong musicians and singers, and they wanted to lead this themselves."
The Hawkapellas began with a series of auditions held among prospective students who were interested in joining.
"My friend's in the music program, and she said I should join, and I know Ali… I sing and do a lot of musical theatre," freshman Carli Alexander said. "For me, this is another way I can get music into my life, since music is something that's really important to me."
The final group, selected by Melendez and Demers, rehearses together on school days and sometimes on the weekend, and has its own Facebook page to keep in touch.
The Hawkapellas' set list is comprised of modern songs ranging from pop to ballads, and even rap; and contains twenty songs, such as "Carry On" by fun. and "Mercy" by Duffy.
"We do everything. We're doing stuff by fun., Sara Bareilles, and then there's jazz and modern pop and country… anything that [the other members] want to do… it works kind of like a democracy," Melendez said.
"[The Hawkapellas] really like this popular style of music… but there's a lot of different genres. They have a good time, and seem to really like working together," Tsingaris said.
Each song is arranged by Melendez and Demers, and taught to the rest of the Hawkapellas by playing the chords on the piano. Each member has a different role to play in every number, whether it be a solo, a duet with another student, or acting as part of the harmony that fills out the song as a whole.
"Ali and Kiana do an awesome job of heading [the group], and arranging the songs, and making sure there's an even distribution of solos and group numbers," sophomore Erin Butt said.
group?'" Butt said. "There are some parallels you can draw between the two… But with a cappella, there's so much more freedom."