Boys' and Girls' Swimming Defeated in MCAL Championship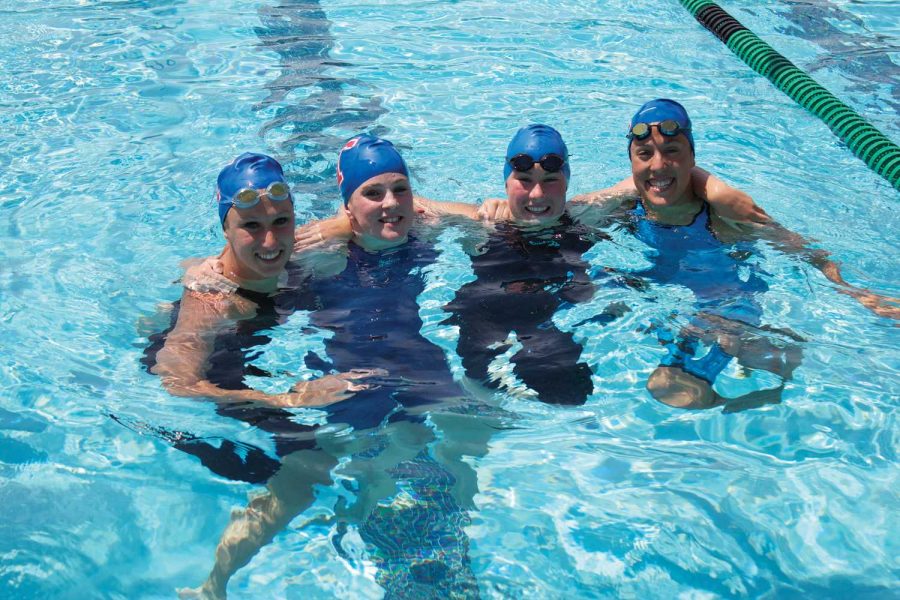 By Sander Lutz
June 6, 2013
On Friday, May 10th, and Saturday, May 11th, Tam's Varsity swim teams both entered the MCAL Championships with heavy burdens lying on their shoulders: the girls were looking to, with a particularly competitive team, finally dethrone rival Redwood from a nine-year consecutive victory streak, while the boys had their own record to defend: an undefeated MCAL Championship streak spanning back to 2009. On both counts, the Hawks were ultimately unsuccessful in the pool; yet there were certainly enough bright spots on both teams to compensate, including several placements in NCS (North Coast Sectionals). After fifteen events (in which points were allotted to individual competitors based on their placing in each race), Tam fell short to swimming rival Terra Linda by eleven points out of the 339 it took Terra Linda to win- or, comparatively, 1.6% of the points allotted to both teams. Girls' Swimming placed third, behind Redwood and Marin Catholic.
Senior Miguel Mattox, an integral swimmer on the last three MCAL Championship teams, who will be swimming competitively for Fordham University next year, had some thoughts on the boys' general performance. "Overall, it was a disappointment. We went into the meet knowing it was going to be the most difficult win out of the last four MCAL wins, and we just didn't have enough. I'm proud of everyone on Tam for swimming their balls off, but TL just had more talent." Mattox stated that he felt the TL (Terra Linda) team has been getting consistently stronger every year he's met them at MCAL's. But like many Tam swimmers, Mattox did spectacularly individually; he won the Men's 500 Yard Freestyle for the third year in a row, and set a school record with his 200 Yard Freestyle time of 1:43.98.
Senior Brigitte Winkler, an equally valuable asset to the girls' team, who will be swimming competitively for UCLA in the fall, felt positive about her team's performance. "As a team we were much closer with each other this year. Going into the meet we all knew it was a long shot to win so we went out there to have fun and enjoy the sport. I was very excited and emotional before and during the meet. I have now spent four years on this team, and seeing the remarkable success of these girls is so rewarding, knowing what hard work they have done." Winkler was a part of the Girl's first-place 200 Yard Medley Relay, won the Women's 50 Yard Freestyle, and won the Women's 100 Yard Breaststroke (which Winkler herself set the MCAL record in, in 2012).
Both Mattox and Winkler felt positive that their teams' successes would continue, and be improved upon, thanks to the strong quality of the younger swimmers on both teams. "I am confident that we will win again within the next three years," said Mattox. "Even without me and Elliot [Tam senior Elliot Ordway, the other graduating de-facto team leader, who placed second in a Men's 100 Yard Freestyle dominated by year-round swimmers], Tam will have great freshman like Theo Andrews and Jackson Hettler swimming and improving [on the team's successes] for years to come."
Andrews had a positive outlook on his first year on the team, and was eager to continue on the path that seniors like Mattox and Ordway had paved for him. "This year was a lot of fun, it helped me learn a lot, and I made a lot of life-time friends. It also has inspired me to push myself harder to my college swimming career. 
I'm looking forward to taking first at MCALS and breaking some Tam pool records."
Winkler felt similarly about the state she's leaving the team in. "Each year this team has evolved and I know that next year with the help of freshmen Annie Whalen, Alexa Zener and Miki Dahlke along with countless others, this team will continue to thrive. These girls are the future of the team and we can expect to see great things from them."
Freshman Mikki Dahlke reflected on the team's performance at MCAL's, and the girls' squad's future. "The whole atmosphere of the MCAL meet was amazing. As my coach said, 97% of the swims were best times! That is incredible. Our team was really great with cheering people on if they were not swimming. At the end of each Tam lane there was always at least one person cheering their teammates on. Some say swimming is an individual sport, but without a team, no one could go as far. Personally I cannot think of something that our team could have done better. We all tried our best and that's what really counts. This year served as a great learning experience. I learned a lot from the more advanced swimmers like Kim Baca [first place and MCAL record-holder in the Women's 500 Yard Freestyle, and member of the first-place Women's 200 Yard Medley Relay] and Brigitte Winkler. I am very excited to help the younger high school swimmers as I get older, as they did to me."
While the future of both teams look bright, Seniors still reflect on the last four years they've had on the team, and the impact they've had on their lives. "Tam swimming is the best high school experience I could've asked for," said Mattox. "I'm going to miss it. I'm going to miss being a part of such a terrific team that is always hungry to win."