The Price of Pets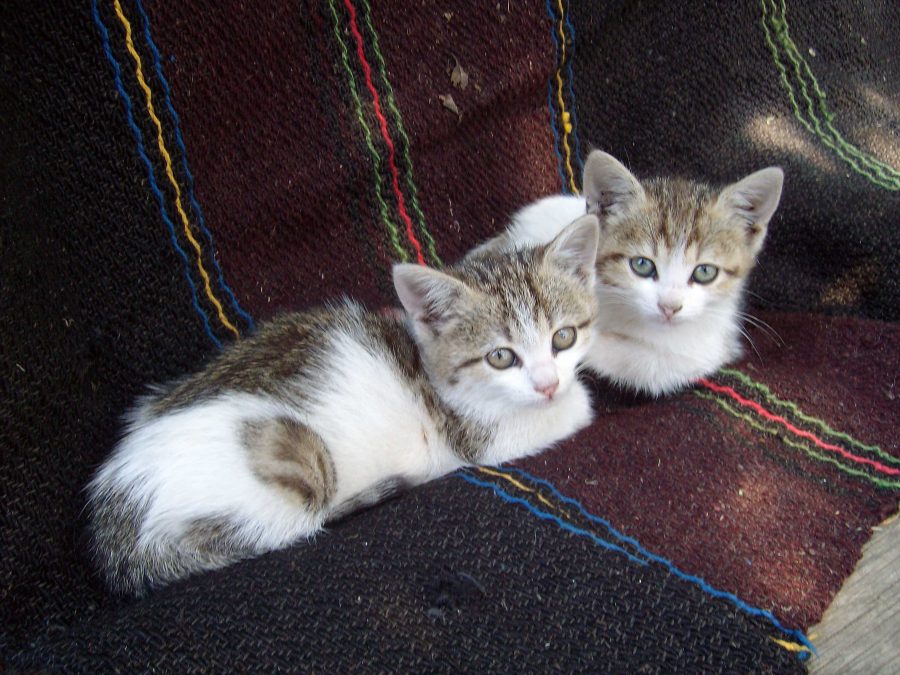 By Liz Archer
November 10, 2012
It was storming the day I sprinted up my front porch steps to the sound of wailing fire engines, two trucks parked outside our house. To my surprise, I didn't hear the screams from broken bones or see the splatter of bloodstains, but instead smelled the aroma of spaghetti and meatballs cooking on the stove, my mom passing out dishes to firefighters gathered around our kitchen table. I stood in the doorway, puzzled by our unexpected guests. Previously that morning, my dad had tried to rescue Elmo, one of our two white kittens, who decided it'd be best to hide in the smallest corner possible in our house, have a seizure, and roll around until he broke his hind leg. Attempting to rescue the trapped kitten, my dad had been viciously bitten and was currently in the emergency room awaiting his tetanus shot. I looked around at the ever-growing party in our family room, watching as neighbors and friends filed in through the doorway to see what had happened.
Pointing his thermal-detector at our unpainted kitchen walls, a firefighter stood on our Persian rug, explaining with utmost sincerity that in order to rescue the trapped kitten, he'd have to cut a hole through the ceiling, and remove him from above, since trying to get the cat out by methods of "grabbing" just ended up in hospital bills (500 dollars). My mom dialed my dad who was waiting in the emergency room, asking if it was okay that the firefighters cut another hole through our newly remodeled kitchen and living room. My dad's panicked-stricken voice was heard loudly through the phone, "There is no way we're having anyone cut a hole anywhere." Especially since we've been in the process of remodeling our house for the past seven years, we couldn't afford to sacrifice more construction on the only finished room in our home.
This wasn't the first time Elmo had gotten into trouble. He'd had a history of running away and getting rescued. Within the first weeks of his arrival to our house, he and his twin brother Ernie had gotten lost in our bathroom cupboards. The following month, the two went missing for week to spend a nice vacation alone on the roof. During both incidents, I had sobbed until my eyes grew bloodshot and puffy, wondering why I didn't just buy a couple goldfish in a stationary glass bowl.
And thus began our third operation, "Free the Feline," which no one was motivated to begin. Our only incentive was to get Elmo out of the attic before he started to smell, which would create a rotting stench that would circulate throughout the vents for weeks. Unfortunately, the cat hadn't died yet, and eventually my dad courageously returned from the hospital to battle Elmo for round two, this time fully prepared for the wrath of claws and screeching meows. With a newly bandaged hand, he successfully rescued Elmo and took him to the vet (250 dollars), bringing him home with medicine, and a heart patterned leg cast. The second time we took Elmo to the vet (250 dollars), was due to his increased seizures, and he again came home with new medicine. The last time we took Elmo to the vet (250 dollars), we decided it'd probably be best to donate him to a nice home for disabled and mentally impaired felines. However, Elmo was offered a full ride to UC Davis on an experimental basis scholarship, but he respectfully declined and instead enrolled himself into the vet full time for a twenty-four-seven crime watch, where he was surprisingly loved, petted and fed by veterinarians of all ages.
Astonishingly, a year ago, an older woman (who had no idea of what she was getting into), adopted Elmo from the vet. Surprisingly, she could afford all his seizure medication and had the heart to tolerate the diseased cat. This left the Archer household with Ernie, who had taken after his brother by enjoying long walks on the roof, playing fetch and throwing up underneath the piano.
In total, the cat bill doubled more than my dad's emergency room bill, and our family learned our lesson about spending money on pets. A hamster is a man's best friend, but is it really worth to spend 3,282 dollars on his intervertebral disc disease? However much you love that furry feline or slithering lizard, spending your last couple months' paychecks to have your pet go through extensive surgery is flat out ridiculous. The costs of medical pet bills are more expensive than humans going to the emergency room. In a society where we have to watch our pennies and keep an eye on the economy, spending those extra bills to send Thumper or Mr. Whiskers to the vet to operate on their ruptured bile duct is worth neither the time, nor the money.
After the fire department had left, along with the humane society, family, and friends, there wasn't a better way to end the night then watching our tall redwood tree crash across the backyard, flattening our newly planted gardenias.