Jaden Smith's New Single Creates Controversy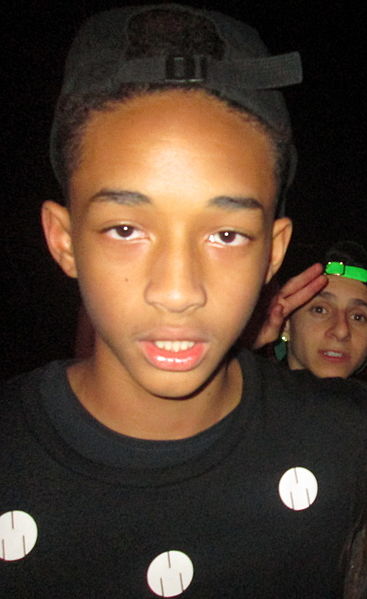 By Morgana Sidhom
June 9, 2013
Former star of "The Karate Kid" and seed of Will Smith, Jaden Smith came from a place of greatness. The 14-year old movie star recently started dabbling with the music industry, releasing his hit single "The Coolest" which foretells the exploits of an unabashed 14 year old with everything right going for him ("I'm the leader of the leaders on the leaderboards.") His rhymes are smooth like black velvet,  but cleaner than a radio edit ("I wasn't tripping/ I just listen/ To these women when they sipping on them juices/ They say 'Jaden yeah he's too legit'; Man I doubt that we gon' settle it/That's because lately/I've been sipping on a soda/And I'm chilling with a hottie and she's really into yoga"), gearing his audience appeal towards a younger fanbase. His videos waffle between a luxurious montage of select styles from his clothing line, MSFTS (the word "misfits" without the vowels), and footage of him performing tricks on his skateboard. The rising star is destined to become the voice of the tween generation.
Despite his juvenile approach to verse and video, Jaden Smith undeniably has a hypnotic pull on anyone with two ears and a heart."Realistically, he's the leader of the leaders on the leaderboards," senior Jack Brown said, "and I see him going places."
"He's got this charm that's irresistible to women of all ages," said junior Paul Fuchs. "It's no wonder he's the coolest."
However there are some who remain impervious to the Jaden Smith charm. "He's just this little kid who thinks singing about nothing is a legitimate song," senior Luke Shepherd said, "and his clothing line is positively heinous."
The fresh quality of "The Coolest" can be accredited to Smith's glaring self-confidence that is unique to super rich tweens who have flawless skin (I mean, does he even have pores?). He slings rhymes like "And they be drooling cause I'm super rich/I might be tripping but I'm living how I'm living/I'm fourteen I'll be forgiven" reveal the thought process behind founding this pet project of his; he's got all this money and he's young. The world is his oyster and he's a lion,  ready to take what's his. MSFTS doubles up as Smith's clothing line and the moniker of Jaden Smith's entourage. Smith lives and breaths MSFTS, speaking true to his flaming alternative spirit.
Although audiences have to applaud Mr. Smith for having the chutzpah to kickstart his own trend, and to perform a rather vapid yet tuneful video that went youtube platinum, one has to question Smith's motives. Is it just some sort of ethereal whimsy that people with time, money and power can afford to undertake? Or is it something hidden beneath the surface; some sort of inclination to differentiate himself from his super famous a-list celebrity family, with star of the Fresh Prince of Bel Air, Will Smith as his father.
My expertise hints at the latter. And if Jaden's recent projects are a product of his desire to stand one in a million, he is failing miserably.
Let's go back to a 1980s America. The music scene is booming and a seemingly innocuous rap/hip hop duo was just stepping into the limelight. The group called DJ Jazzy Jeff and The Fresh Prince, with Jefferey Townes as the turntablist and Smith acting as resident MC, were just becoming a force to be reckoned with when one of their songs won a Grammy. At that moment, Smith knew that his career success was written in the stars.
One could make the argument that "The Coolest" was Jaden trying the make a name for himself while his father's shadow loomed over him. Continuing with that trend, we can start to look at lyrics such as "I don't care how you be getting all offended/ Cause I'm taking all the women/Well I'm sorry bro I do it big" just being Jaden to compensate for the grand fame divide. At second glance, Jaden's lyrics are less of an attestation of a tween's hubris and more of a frustrated attempt at painting himself as the man who he's always wanted to be, but hasn't been able to embody just yet. In the end, "The Coolest" seemingly is a never ending stream of posturing that sounds clear cut and nearsighted, but digging a little bit beneath the surface reveals that the song has layers; the listener sees the emotional turmoil with which Jaden must wrestle as he tries to make his own place in the world. If you give it a chance, you'll see the story of an artist's struggles interwoven with the lyrics, and know what it truly feels like to appreciate art.