Woody Allen's Latest Hit: "Blue Jasmine"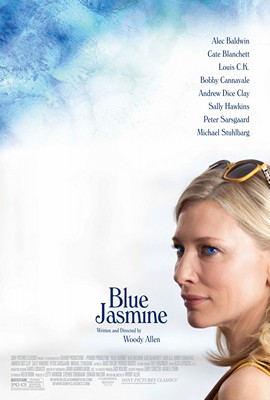 "Blue Jasmine," the latest film from cinematic master Woody Allen, is a whirlwind of emotion. After watching the movie, I felt as if I had completed a grueling session of therapy; I had found myself wanting to laugh, cringe, and scream on many occasions.
Allen loves subjecting his audience to such episodes of emotional upheaval. Many of his movies feature characters driven to madness by love or society. His subjects are usually exaggerated, either in their personalities or in the challenges they face.
However, the one thing that holds all of Allen's characters together is their relatability.
As viewers, we feel a little uncomfortable watching characters such as those portrayed in "Blue Jasmine," because their problems and dysfunctions seem to mirror our own. Because of the extent to which their personalities are exaggerated, we are able to see the intricacies behind these characters' identities.
"Blue Jasmine" is the story of a former wealthy New Yorker named Jasmine Francis (Cate Blanchett). Like the aforementioned prototypical Woody Allen character, Jasmine is a hailstorm of personality. She is neurotic beyond description, and we see her unravel slowly as the film progresses.
The film follows Jasmine's story after her husband, a businessman named Hal (Alec Baldwin), is discovered as a financial fraud and loses his entire estate. Jasmine, penniless, is forced to move to San Francisco to live with her sister Ginger (Sally Hawkins).
Ginger lives in a shabby apartment in the Mission District. Jasmine can hardly stand her new living space, which she is forced to share with Ginger's two children, dogs and lowlife boyfriend, Chili (Bobby Cannavale). She is used to lavish Upper East Side apartments and expensive cars, and can hardly believe that she has sunk so low as to have to live in San Francisco, a city she thinks is far beneath her.
She begins to unravel, guzzling pills and sipping vodka with alarming frequency.
With this story arc, Allen shows us a very grim picture of what it means to be alive in America in the 21st century: the rich are either obviously unhappy and pretending not to be, or are so disillusioned that they are unable to see the emptiness of their own lives.
Members of the middle class are portrayed as wry, jaded, and resigned to lives of what they see as mediocrity. As viewers, we laugh at the scenarios that
Allen puts his characters through, but this absurdity is based on reality and blown out of proportion, as all of Allen's settings are.
What stood out the most to me about this film was the superb quality of the acting. Cate Blanchett puts on the best performance of her career; Jasmine is complex and dark, to say the least, and Blanchett fills the role with as much vigor and realism as I have ever seen.
The movie would not be nearly as good if not for the work of Blanchett's supporting cast, namely Baldwin and Hawkins. They, along with well-known comedian Louis C.K. and Andrew Dice Clay, give the movie its rich, energetic pace. Dice-Clay in particular is fantastic as Augie, an ex-boyfriend of Ginger's who reappears throughout the film to relay information and warning.
"Blue Jasmine" represents Woody Allen's best work since "Annie Hall." With its incredible cast and superbly-crafted script, this film will be remembered for years to come.