Tam Holds Memorial for Attendance Clerk Johnnie Daniel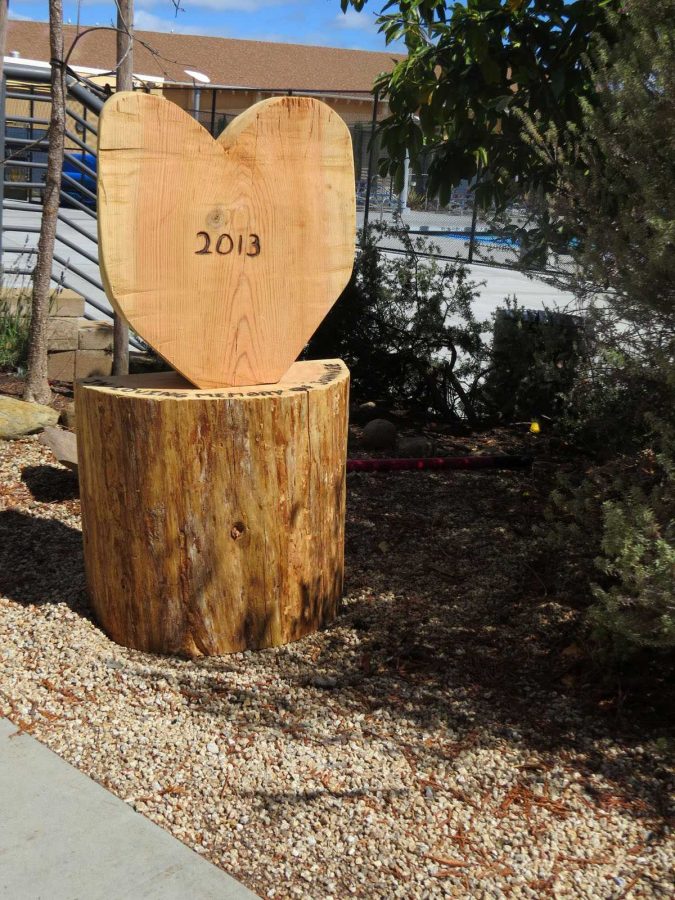 By Sonja Hutson
September 23, 2013
A memorial for attendance clerk Johnnie Daniel, who passed away this August while hiking in Sequoia National Park, was held in the Memorial Garden (outside of Palmer Hall) on Friday, September 20 during lunch. The student-run event, organized by senior and leadership student Rachael Ferm, marked the erection of a monument and planting of an olive tree in Daniel's honor.
The monument consists of a wooden base and heart engraved with "2013" and the words "In Loving Memory of Johnnie."
The service included an introduction by Principal Julie Synyard, a performance of "Amazing Grace" by senior Devon Lawrence and numerous comments and memories from the audience.
Applied Technology teacher Geo Monley remembered Daniel as "the only one who would sing along with me" at the staff Christmas party.
Several of Special Education teacher Michael Lovejoy's students spoke at the memorial. They had the unique opportunity of working with Daniel last year. Junior Mirabel Castro wrote a poem for Daniel which paid tribute to her smile.
An appreciation of Daniel's smile was a common theme throughout the memorial. "Her smile is what sticks with me," science teacher John Ginsburg said at the memorial before reading a poem entitled "A Smile."
Social Studies teacher Sharilyn Scharf enjoyed that Daniel made Tam more than just a school. She made it "more of a culture and a community," Scharf said.
"[The memorial] was very heartfelt," senior Rachael Ferroni said. "It was very informal, but nice…I liked that it was student run."
The service also included the signing of a guest book with a picture of Daniel at her wedding wearing a
veil under a motorcycle helmet. Students and staff member signed the book
which will be gifted to Daniel's family as a display of how loved Daniel was at Tam.