$8,000 Statue Donated by the Tam Alumni Association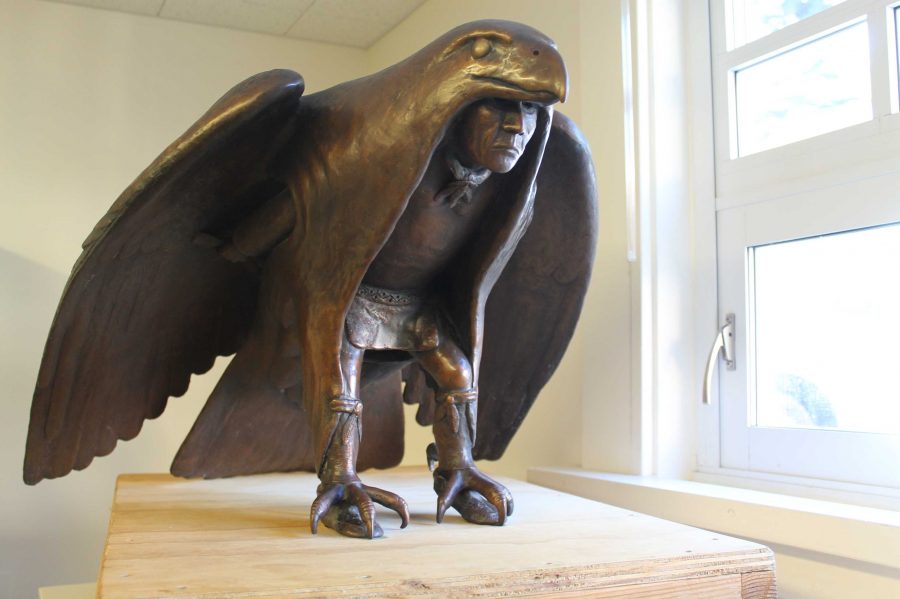 By Sammy Herdman
October 3, 2013
A few weeks ago, the Tam Alumni Association donated an $8000 bronze statue of an Indian disguised as a hawk to the school. This carefully crafted two by two foot bronze piece is considered by some faculty to be "odd" and some to be "interesting," and is for the time being, hiding out in the Budget Office. Tam librarian, Ms. Crowe speculates that the Tam Alumni Association expected the statue be placed in the library, because they visited the library for a reunion on September 14. However, due to the statue's weight and size, it cannot be placed in the library without damaging the counter tops, and faculty is worried about the statue being stolen if it is placed outside.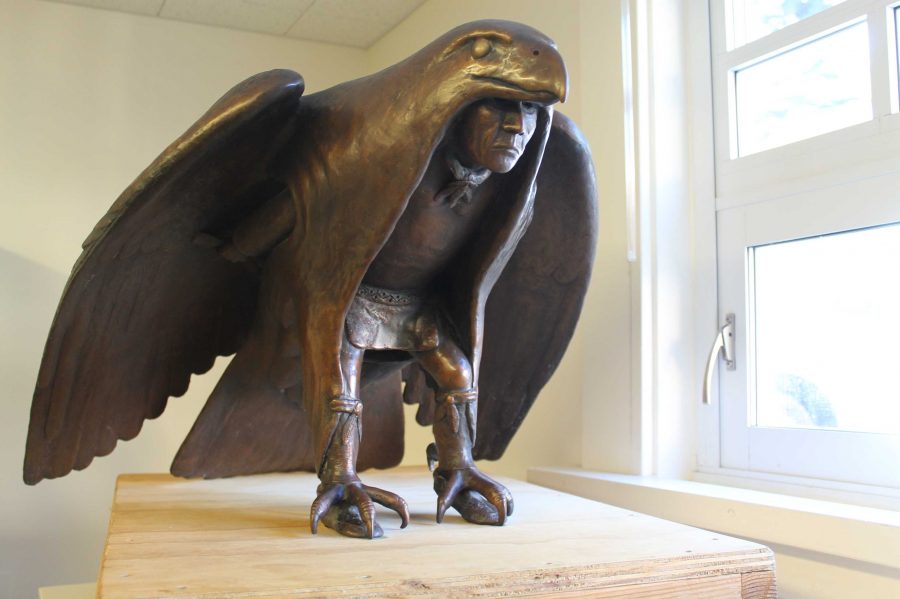 The statue was found in the library without a note or explanation, one Monday after the Tam Alumni Association had held a meeting. Although the opinions on the statue vary, and ideas for its destination differ, everyone who has seen it has a distinct impression. "My first thought was… what is that? And why?" said social studies teacher Dr. Ernst.
"I thought it looked expensive," said Ms. Crowe.
"I think it would look cool in the lobby at the theater," said drama teacher Ben Cleaveland. "I love it." Others think it should be placed in the gym, and still others think that there should be a spot allocated in the library. One thing people can agree on is that it should be moved out of the budget office.
At a distance, the statue appears to be a giant gold hawk. Only up close can viewers see the Indian tucked underneath the head and wings. The topic of our school's mascot has been controversial ever since its change from the Indian to the Red Tailed Hawk in 1989. Many of the alumni who attended Tam when they were known as the Indians, still strongly believe that the original mascot should remain. Ms. Crowe believes that the school "did the right thing in being respectful to the Indians by changing," even though she can sympathize with the alumni. "[The Indian] was part of their identities," she said. The statue may represent an "interesting balance" of the old and new mascots, according to Cleaveland, who identified as an Indian when he attended Tam High.
Some may consider the statue insensitive. "A human culture is not a mascot, it's degrading," Anacita Agustinez, a Navajo Indian, said of the former Tam High Indian mascot in an April Tam News article. As of now, it's not clear as to whether this statue will be put on display, or where.