Cheerleaders Fundraising for Trip to Pro Bowl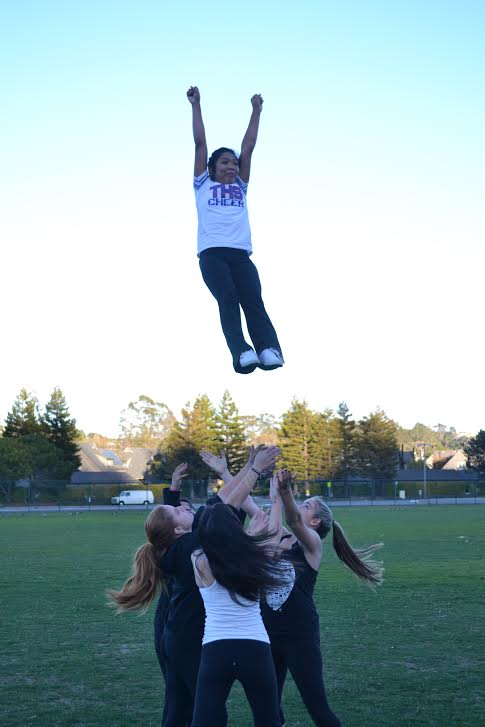 After winning the Superior Award at a United Spirit Association cheer camp last summer, Tam High's cheerleaders were one of the teams invited to perform in the half-time show at the 2014 Pro Bowl on January 26 in Honolulu, Hawaii. The United Spirit Association camp is specifically designed for high schoolers, and teaches new cheer routines, dance routines, stunts, chants, and rally ideas. The Superior Award, which is the highest achievment given, was one of the accolades that Tam's cheerleaders left with, along with a Spirit Award, and Most Improved Award.
"I was incredibly proud of our team," senior and cheer co-captain Brissa Teodoro said. "Going to cheer camp with a ton of other teams there can get tough. [They] are way more experienced than us and more advanced so it's hard to get noticed."
The Pro Bowl is the National Football League's all-star game, which will take place at the Aloha Stadium in Honolulu, Hawaii. The game will be televised nationally by NBC.
Every team that received the Superior Award was invited to perform during the Pro Bowl halftime show. Tam's cheerleaders will arrive in Hawaii the Thursday before the game and practice throughout the weekend so they are ready to perform Sunday. They will also have some free time Friday and Saturday for sightseeing and relaxing. After the Pro Bowl, they will be treated to a Polynesian dinner and a magic show before flying back to California on Monday.
"This is an amazing opportunity and pretty incredible, when just a few years ago Tam didn't offer cheerleading," cheer coach Sheri Ivory said. "I think the experience will be one [the cheerleaders] will always remember, and may bring more interest to Tam cheer."
The cheerleaders were thrilled with the opportunity, but the trip to Hawaii is not cheap.
"At first we kind of just brushed the idea aside because we didn't expect traveling to Hawaii to even be an option," cheer captain and junior Haley Fretes said. "When we learned that it was actually possible we were ecstatic. It will be a little devastating if we end up not being able to go due to costs or non-approval from the board, but we're hoping for the best."
In order to reduce the cost of the trip, the team held many bake sales, raffles at home games and a car wash, along with a fundraiser in which the La Boulange bakery and cafe in Strawberry donated 20 percent of their sales to Tam Cheer. The team also created a "go fund me" page on gofundme.com where anyone interested can make a donation.
Unfortunately, not all of the fundraising has gone as well as the team had hoped. At the homecoming football game, the cheerleaders planned to sell programs to the crowd. The programs included varsity rosters and cheerleading rosters. The team also sold ad space inside of the program. However, the crowd was not very interested in purchasing the programs.
"Our big fundraiser for this year was supposed to be the homecoming [program]," Fretes said. "Unfortunately, it wasn't as successful as we expected it to be, so we are having to work a lot harder for it than we thought."
Even after that bump in the road, the team hasn't given up. They continue to brainstorm ways they can make the trip possible.
"Fundraising is a big part of making this trip happen," Ivory said. "And the girls have done a great job to ensure they are able to go"
In the end, the cheerleaders are most excited to learn new things that they will be able to use during their performances here at Tam.
"I'm sure that the overall experience will help us," Teodoro said. "It's something new and if we do any stunting then that's just one step closer to improving our stunts and bringing that technique back to improve our routines for our audience at school.