Kanye: The Best of the West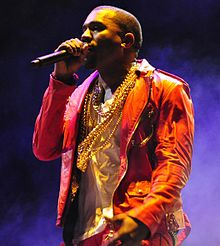 By Daniel Carroll
February 11, 2014
"I am a God," raps Kanye West on a track titled "I am a God" that lists God as a featured artist. This track, off of his latest album "Yeezus," is just another moment in the last five years that has the media calling Kanye a "self-absorbed lunatic." Besides maybe Miley Cyrus or Kanye's better half Kim Kardashian, no one has stirred up more controversy in the last few months than Kanye.
After watching all of the TMZ reports and the "Sway in the Morning" radio show interview, it can be easy to forget that there is more to Kanye than just the man who fights paparazzi, argues with interviewers and interrupts acceptance speeches of blonde country singers on TV award shows.
Kanye himself claims he doesn't care what others say about him and insists that he is a "creative genius." Personally, I couldn't agree more. He has won 21 Grammys and I think he has deserved every one of them.
The following is a list of the most brilliant music in Yeezus's career, showing there is more to Kanye than what the media would have you believe.
1. "Jesus Walks" – The College Dropout
Although Kanye often resorts to simply boasting on the mic, sometimes he really has something to say. On this track Kanye raps about his close relationship with Jesus and his frustrations with the lack of Christianity in pop culture. "Jesus Walks" is what established Kanye as a serious rapper and more than just a producer.
2. "All Falls Down" – The College Dropout
Here Kanye speaks about the pressure of conforming to societal expectations, like going to college and having a steady job, topics that few other artists rap about. Kanye even claims to be "the first to admit [being self-conscious]."
3. "Heard 'Em Say" featuring Adam Levine – Late Registration
With a beautifully constructed piano sampled beat created by the man himself, Kanye and the lead singer of Maroon 5 team up to make this song about the struggles of growing up in poverty. The result is a tender piece of hip-hop/R&B.
4. "Gold Digger" featuring Jamie Foxx – Late Registration
Possibly his most popular song (even though he claims to dislike it), "Gold Digger" quickly shot to number one on the Billboard Hot 100 and is a classic. On the track, Kanye discusses the widespread problem of gold diggers in the hip-hop industry with wit and mockery. "[Prenup] is something that you need to have," Kanye explains. "'Cause when she leaves yo a** she's gonna leave with half."
5. "Dark Fantasy" featuring Nicki Minaj – My Beautiful Dark Twisted Fantasy
Kanye couldn't take his fans much higher after "Dark Fantasy." The song's production, executed by Kanye and the RZA from Wu-Tang Clan, is masterful. The track transitions from a piano power ballad into a gritty buzz of hip-hop beat perfection. Kanye makes several clever personal statements, including "I draw bravery from my bravado."
The list of great songs by Kanye goes on, and hopefully it will continue to do so. Perhaps "Yeezus" wasn't Kanye's best, but it sure was original. Even though he may have been shunned due to the media's representation of him, he still remains talented. I believe it's only a matter of time before Kanye pulls out the genius in himself and strikes gold once again.