Softball Makes History With NCS Title Win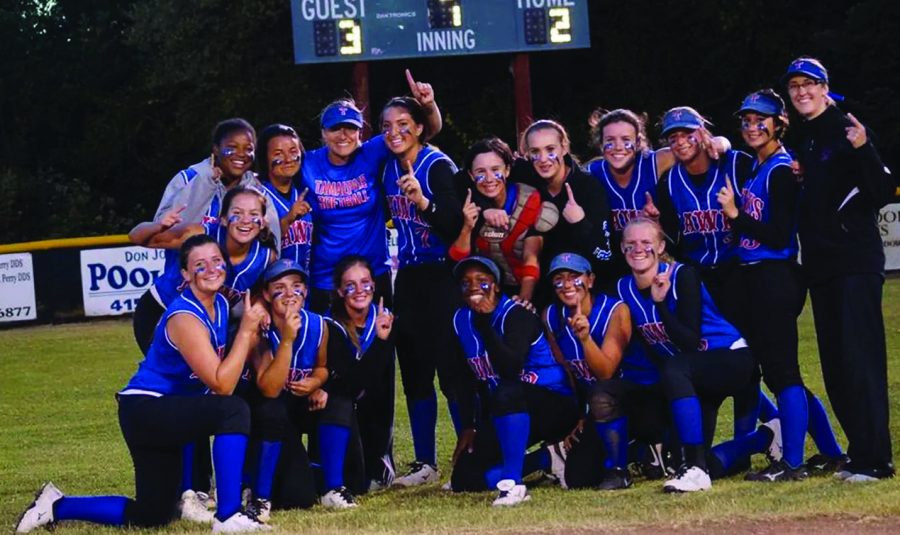 By James Finn & Jordan Blackburn
June 12, 2014
The softball team defeated Terra Linda 3-2 at San Marin High school on May 31 to claim the 2014 NCS softball title. The win marked Tam's first-ever NCS softball championship and occured on the same day that the Tam baseball team won the school's second-ever NCS baseball title.
Head softball coach and P.E. teacher Erin Lawley cited the team's stellar defense, and the pitching of sophomore Jessie Scarsella, as the deciding factors in the low-scoring contest.
"Our defense really held…they were amazing," Lawley said. " Jessie did a great job of preventing too many runners [from getting on base]."
After outscoring their opponents by a combined 34-9 over their three previous games, the Hawks were forced to grind it out in a defensive stalemate against the Trojans.
"We were really surprised that we [weren't] hitting well," senior Chloe Jacobs said. "I think that we hit enough to win and then held them off well in the bottom of the second."
Scarsella pitched the entire game and was instrumental in holding the Trojans to two runs.
"It was really nice to have the defense backing me up, as well as [sophomore] Elodie Townsend getting a double early on in the game to give us the 2-0 lead," Scarsella said. "It was a great feeling to not only win, but to be the first team in school history to ever win a section title. I'm so proud of my teammates."
Aria Pogni, Tam's number four hitter who led MCALs in home runs this season, was walked repeatedly during the course of the game. "Aria didn't get many pitches, which is what we expect at this point because she's such a phenomenal hitter," Lawley said. "She had a single and… a couple walks, but it was great because the girls behind her contributed and knocked her in."
With the score tied at 2-2 for much of the game, Tam took the lead in the top of the seventh and final inning after one of Pogni's walks. Freshman Kendall Lafranchi pinch-ran for Pogni from first and was able to score eventually on a shallow fly ball to right field that wasn't deep enough to score Lafranchi, but after the ball got past the catcher she eventually score. Tam's defense recorded three straight outs to close out of the seventh inning and seal the win as fans rose to cheer.
Lawley said she was "ecstatic," at the result of a season's worth of hard work. "I'm so proud of each and every one of the girls on the team….It's been phenomenal," she said. "This was a team win. Everybody contributed, which was fantastic to see."