The Grind Matters: Baseball Wins NCS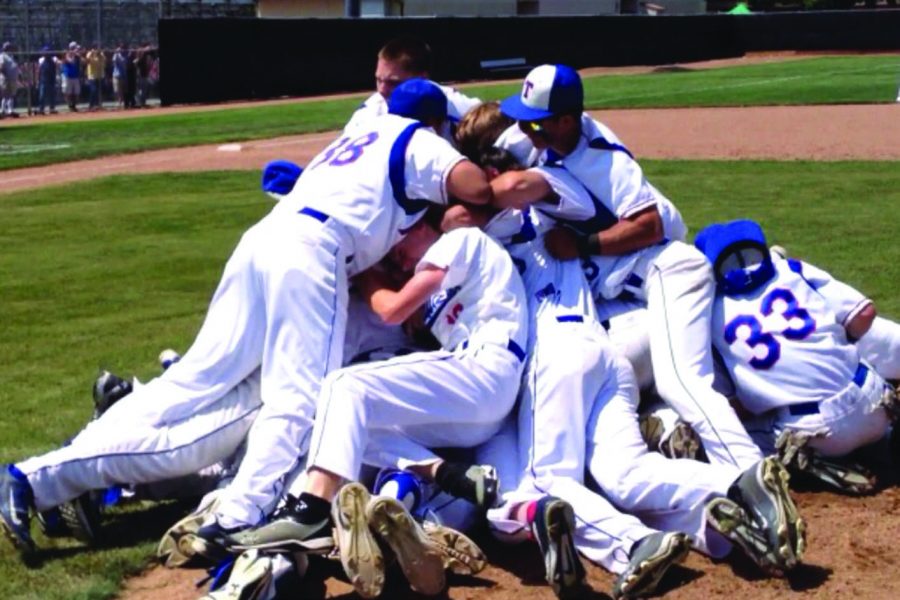 By Riley Kuffner
June 12, 2014
The varsity baseball team won the North Coast Sectional (NCS) championship 3-1 in a tense title game against Alhambra High School at Diablo Valley College on May 31.
Senior Max Gamboa took the mound to start the game for the Hawks. He had been one of their go-to men all year and did not disappoint against Alhambra, pitching a complete game with seven strikeouts and allowing just one run. After Gamboa shut out Alhambra in the top of the first, Tam leadoff batter and senior center fielder Geoffrey Mohn, hit a triple to start off a three-run inning, with runs scored by Mohn, junior Mason Collins and senior Alex Davis.
From that point on it was all about tight defense, and Tam came through only letting up one run in the fourth inning. When Gamboa threw the last pitch for a strikeout, senior catcher and captain Pablo Feldman threw off his glove as his team stormed the field to celebrate in a dog pile on the pitcher's mound.
After the game, Gamboa touched on what was going through his head on the mound in that final moment, "It felt great. I was shocked when I first struck him out and then I saw Pablo throw his glove up and he was running toward me. It was great."
The medals ceremony consisted of each player receiving a medal handed out by Tam principal Julie Synyard and athletic director Christina Amoroso, while the team as a whole received an NCS championship banner and plaque. Earlier that day, the Tam softball team had received their first ever NCS championship.
As head coach Scott Osder held the plaque high above his head after the game, he explained that this was the first NCS Championship victory for the Tam baseball program in 85 years.
Tam's execution in that final game sealed the deal on their NCS victory, but what really won them the championship was their preparation. "Our modo all year was, 'The grind matters,'" said junior player Colin Galeste. "And all the work we put in throughout the season really paid off in the championship."
Not only did it pay off this season, but the tremendous work ethic of this team will hopefully set a president for the future of Tam baseball. The varsity squad has quite a few returning players next year including Galeste and Dickson alongside juniors Mason Collins, Jack Elias, Jake Ferm, Patrick Shore, Sam Dorfman, and Ben Harris, in addition to sophomores Ethan Lawrence and Tevor Bukowski. They also have a solid JV squad to pull from.
The grind matters, and will continue for this Tam Baseball team.