Girls Soccer Takes NCS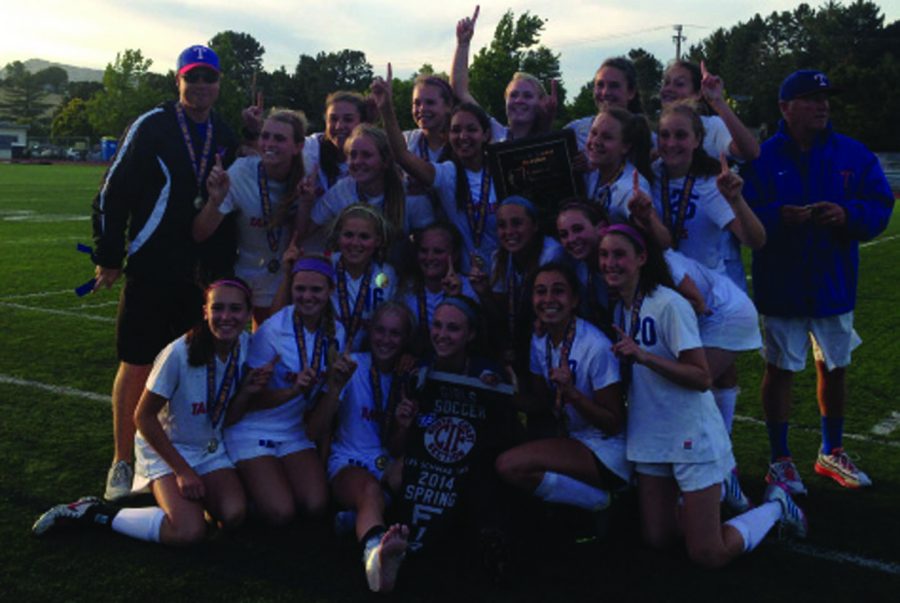 By Nic Mosher
June 12, 2014
Much like their MCAL championship victory in the previous week, the girls' varsity soccer team came from behind to defeat Marin Catholic in penalty kicks, on May 23 at Terra Linda. Marin Catholic struck first in the 30th minute after a foul was called in the 18-yard box, awarding Marin Catholic senior Alexis Tye a penalty kick. Tye scored, giving Marin Catholic a 1-0 lead.
However, Tam's senior captain, goalie and Tam News reporter Elizabeth Archer, did not allow a goal for the rest of regulation. The Hawks were able to control possession for the remainder of the game, but weren't able to produce an equalizer until late in the second half.
Senior Captain Olivia Heitz dribbled through a mass of Marin Catholic defenders with two minutes left in the second half, then passed the ball off to junior Bella Amyx, who then sent a cross in to sophomore Emma Schnee, who vollied the ball into the back of the net.
The Hawks promptly entered overtime with plenty of momentum. Yet, neither team was able to find the goal, and overtime ended in a draw. For the second time in two weeks, the two teams entered a penalty shootout for a championship title. Tam scored first, and Marin Catholic answered. After a few more strong finishes by Tam's experienced upperclassmen, Archer was able to block MC senior Claire Renk's shot, giving the Hawks the upper hand.
Tam's freshman Kali Hukari then drilled her kick into the bottom left corner, winning the game for the Hawks.
After the game, Heitz said, "We were resilient, able to come back twice against a great team in Marin Catholic, because of our trust in each other and our ability to play great soccer.
There was no star on our team, we always had each other's backs and were one cohesive unit."