Varsity Football vs. Hercules: Full Broadcast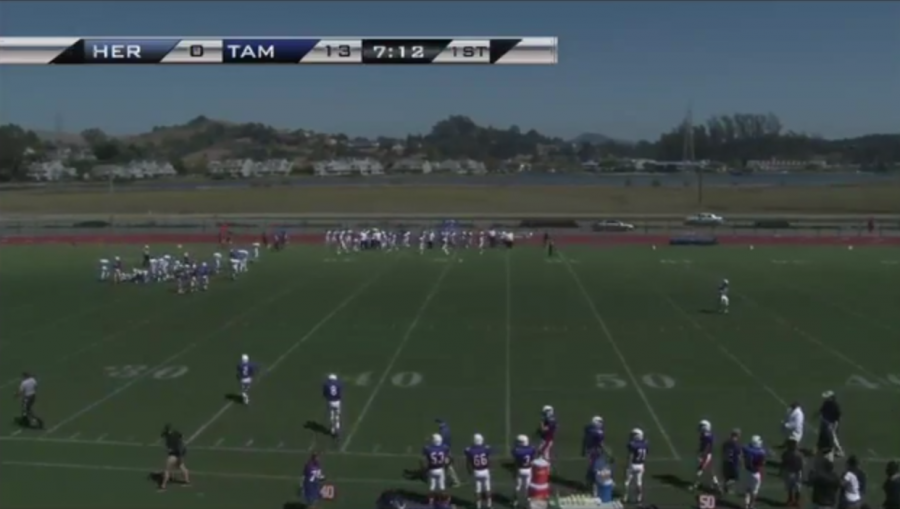 By TBN and Jessica Hudson and Ben Harris
September 8, 2014
Riley Kuffner and Asher Wenig provide commentary as Tam varsity football takes on Hercules in their 2014 season home opener.
The varsity football team defeated Hercules 33-8 behind junior wide receiver Kimo Karp's two catches for 112 yards and two touchdowns, in the home opener on September 6.
"We did a great job, especially the offensive line, who really did their job holding their blocks, which gave Jack [Harris] a lot of time and made big holes for the running backs," Karp said.
Karp scored on a 22-yard pass from sophomore quarterback Jack Harris on the second drive of the game, putting the Hawks up 14-0.
Pablo Salinas led the defense with five tackles and two assists, including a big hit on third down, forcing Hercules to punt late in the third quarter.
"The defense did great," Karp said. "We let up our first touchdown of the year, but we came back really strong. Pablo Salinas did a great job tackling and as a team we played like a unit."
With the win, the Hawks moved to 2-0 on the season and are looking to stay undefeated this Saturday at Piner.
Story by:
Jessica Hudson and Ben Harris