Evening Escapes: San Francisco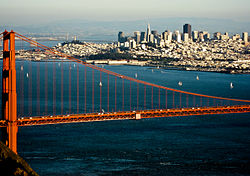 By Claire Donohue
October 2, 2014
We've all experienced those Saturday nights spent driving around complaining about how boring our town is. We're too young to get into bars or nightclubs, but what people seem to forget is that we often have the freedom to venture beyond Mill Valley city limits. There's a whole other world just 15 minutes away. Across the Golden Gate lies a field of affordable nightlife adventure.
1. The Rocky Horror Picture Show
Price: $9.75
Contrary to popular belief, this cult classic hasn't quite died out yet. Beginning at 12 a.m. on the last Saturday of each month, the Rocky cast takes the stage of the Clay Theater (2261 Fillmore St.). The outrageous dramatization of the 1975 sci-fi musical is something everyone should experience. Audience participation is required, costumes and props are optional but highly recommended.
2. Roller skating
Price: $10 entry plus $5 skate rental
Have you ever dreamed of gliding across the smooth floors of an abandoned church? Church of 8 Wheels (554 Fillmore St.) offers an array of themed roller skating events from LGBT pride skate to roller discos.
3. Cozy music venues
Price: $10 – $20
There's no need to shell out hundreds of dollars to see Paul McCartney play at a football stadium. San Francisco is home to countless small-scale, all-ages music halls. Bottom of the Hill (1233 17 St.) is a personal favorite. The living room feel and affordable ticket prices give you a chance to see up-and-coming bands in a personal setting. Music events range from rock, to punk, to alternative. Shows coming up here include performances by "Ghost Parade" and "Steakhouse."
4. Classic movies
Price: $11.00
Rocky Horror isn't the only vintage film you can catch in the city. The historic Castro Theater (429 Castro St.) shows everything from sing-a-long Grease marathons to three-day silent film festivals. Coming up at the Castro Theater is Frozen sing-a-long, Eternal Sunshine of the Spotless Mind, and Jaws 3D. The beautiful theater seats over 1,400 people.
5. Twin Peaks
Price: Free
Prefer a quieter evening? The serene view of the city lights from Twin Peaks Lookout (501 Twin Peaks Blvd.) serves as the perfect spot for a romantic date night, or an opportunity to take your next profile picture with some friends. The 925-foot tall hill offers a beautiful 180-degree view of San Francisco.