Hostess for the Grossest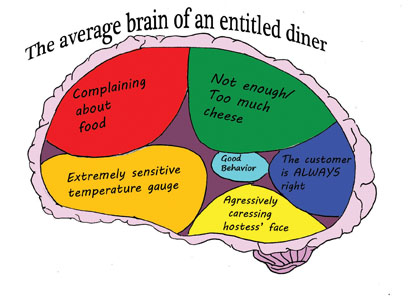 By Camille Morgan
October 24, 2014
"We're looking for someone who's good with people and a solid multi-tasker."
These were the words uttered by John, my new manager, a six-foot tall middle-aged man with extremely white teeth sporting a blue button-down.
At the time of this job interview, I distinctly remember thinking to myself, "How difficult can this hostessing thing be? After all, aren't hostesses really only expected to look pretty and memorize table numbers?"
How very, very wrong I was.
I didn't expect hostessing to be too difficult, given the fact that I knew dozens of high school hostesses who made pretty decent money. After a few training sessions I was set loose, and to my naive surprise I was pretty much instantly eaten alive by the raging elderly ladies and rich, entitled, middle-aged men, who I soon found were regulars at the restaurant and bar where I worked. They seemed to muster up every complaint possible.
I soon became an outlet for their personal problems. I found that these snobby, all-too polished customers weren't really yelling at me about the bar being too noisy or the glare of the sun being too bright through the windows, but were in fact unhappy with their sad, suburban lives and were simply utilizing the immobile teenage hostess as a venting opportunity.
Let me provide you with a concrete example. A couple of weeks ago I was standing at the hostess podium organizing brunch menus with unwavering concentration, when I felt someone jostle me by the shoulder, forcing me to turn around. There stood a 40-plus-year-old woman. After I greeted her with a smile, she proceeded to yell at me about how the toilets in the ladies bathroom were not flushing.
I am a 17-year-old who gets paid an hourly wage of $8. I am not by any standard, a plumber. I kindly tried to articulate this to the woman, but she continued to yell at me about toilets as people began to line up by the lectern to be seated.
She was relentless as she waited for me to whip out my handy, non-existent portable plunger and go marching into the ladies bathroom in front of her very eyes.
Another time, I was approached by an elderly lady, about 70 years old but, believe me, fully mobile and energized. She came huffing and puffing up to the lectern, and started screaming about the temperature in the building.
I believe the words "meat locker" were used. At one point, she raised her hand as if to slap me, but instead proceeded to aggressively caress my face so I could feel how cold her bony fingers were. This occurred in front of about 10 waiting customers.
What is it about the Marin environment that makes people so rude? Surely nobody could be that upset about faulty plumbing or air conditioning. Is it too hard to put on a sweater?
After some contemplation, I realized that these people clearly have other sources of stress that push them beyond the boundary of reason, allowing them to act with such hostility towards an innocent teenage hostess who is a complete stranger to them.
I know various hostesses my age, a few of whom go to Tam. Often, my fellow hostesses and I will compare stories at the beginning of each week to see who was treated in the rudest manner. Though our incidents vary in severity, they usually match up to each other when averaged out.
I've had an infinite amount of customers complain to me about their food, as well. This, my friends, is a phenomenon I will never understand. Do they not understand restaurant etiquette? Do they not realize that the hostess has no relation to the kitchen?
I once had a man come up to me and aggressively request that they add "asagio" cheese to the chicken sandwich. If you can't pronounce the word "asiago" correctly, then you certainly can't complain about the lack of it, especially to a hostess.
Of course, I understand the value of excellent customer service; it's important that any client feel welcomed when they're paying, in this case, for a pretty expensive meal.
But it seems to me that such clients seem to regard restaurant employees as punching bags, knowing that there is little we can retaliate with since "the customer is always right."
I can't even begin to articulate the amount of dumb complaints the waiters have to deal with on a daily basis, but I've been unpleasantly surprised by how much the hostesses have to withstand.
As a general plea to the public, I ask that pity be taken upon the hostess. Though we are neither constantly running around transporting dishes nor breaking a sweat in the kitchen, we have our own important duties.
Such duties become difficult to carry out if elderly ladies are stroking our faces and yelling at us about toilets. Which, may I say lady, you probably clogged yourself.