Friday Night Lights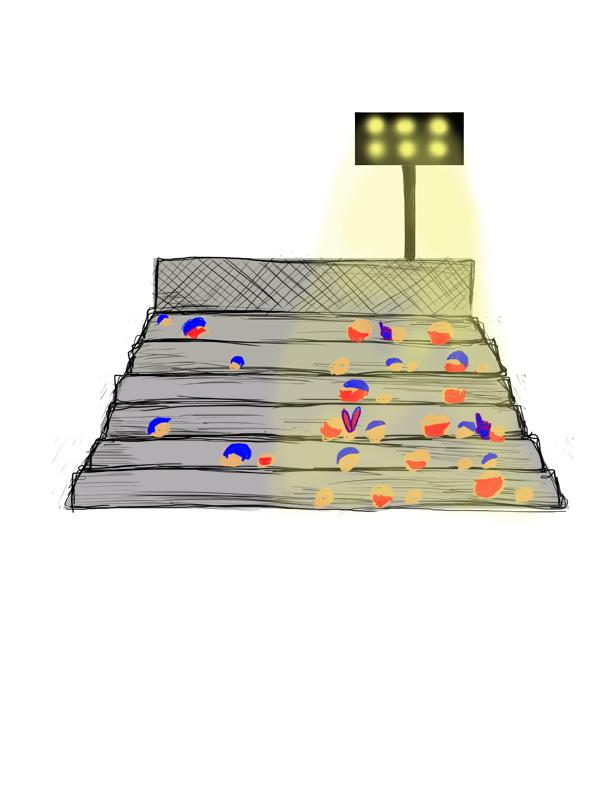 By Asher Wenig
December 10, 2014
Another football season has come and gone, and if you are like 90 percent of Tam's student body you probably never went to a game. Despite the team putting up record point totals and qualifying for the North Coast Section (NCS) play-offs, the attendance at the games seemed to barely outnumber the roster size. Aside from the homecoming game, the lack of school spirit and support surrounding the team was surprising. As the cornerstone of high school athletics, the lack of fans and enthusiasm at the football games does not bode well for our sports culture here at Tam. There's no passion at the games, no juiced up fans. Despite the best efforts of the cheerleading team (and Deion of course), we will never truly capture that high-school atmosphere without getting people to the games. It's not that people dislike the football team, they just dislike showing up to school at 2PM on a Saturday. There is only one way to fix this issue: get Friday Night Lights going at Tam.
Football on a Saturday is just a game, but Friday Night Football? That's an event. As senior wide receiver Kiefer Dickson explains, "As players, we get to play under the lights in some of our road games and the atmosphere is just so much more exciting. You can tell the fans are juiced to see their team play instead of just showing up to show up." The closest that we ever get to a Friday Night Football is our homecoming game every year (i.e. the only time people do show up to the games). Games would be a few hours after school on Fridays and serve as a great lead-in to the weekend. As Dickson says, "Students would rather stick around after school to watch the game then to go in mid-saturday. Friday Night Lights does not screw up anyone's weekend."
Here at Tam, we are consistently criticized for a lack of school spirit and that's mostly our own doing. Leadership runs events like rallies and provides incentives to bring people to the games, and yet outside of homecoming, the stadium is mostly empty. It's not like we have that many seats to fill anyways —the stands extend on only one side of the stadium. Tam will never fill a 20,000 seat stadium like some high schools in other parts of the country, but each empty seat is lost money. Our football team has to fundraise a lot because the revenue earned from attendance can not make up for their expenses. At other schools however, football teams are able to create enough revenue through Friday night football games that they can use that money to fund all other sports teams.
The influence of the empty stands extends beyond the football team to the cheerleading squad as well. For a sport that is dependent on fan involvement, the dwindling numbers are not a welcomed sight. Senior cheer captain Haley Fretes said, "It's really difficult for us to do our jobs when there are not a lot of fans there. As cheerleaders we want to pump up the crowd and get people to feel like they are part of the game. When no one shows up, we really don't feel motivated to do that and in turn people don't think that we are very good at what we do."
Now clearly there are obstacles to Friday Night Football: we'd have to rent the lights, the neighbors hate the noise, it can get rowdy out at the field. But for every one of those neighbors who hates the lights, there are plenty of students and alumni who would swing by to catch the game on Fridays and support their school. Why should we let the neighbors dictate what we do here at Tam High School? We need to what what is best for the school, and if we can get Friday Night Football going we would boost school spirit, reduce the money that our football team loses, and maybe, just maybe, people would start going to the games again.