Tam Boys' Varsity Basketball Stays Undefeated at Home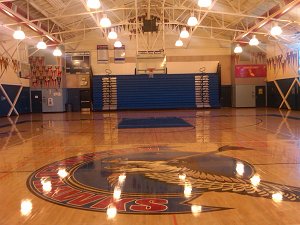 The boys' varsity basketball team stole a 51-49 win against the Branson Bulls on January 13, when captain and senior Anthony Mazzini, scored in the last 30 seconds.  "To be honest I had no idea what was going on," said Mazzini, who is also a Tam News reporter. "I was completely focused on the next play because we had to make a stop, so it wasn't really a buzzer beater." Mazzini explained that he didn't even realize he made the winning shot until people congratulated him after the game. "This was a pretty big win for us considering this was the first time we had beaten Branson in eleven years," Mazzini said. "This was a game where we were challenged and we rose to the occasion."
Coach Tim Morgan said he wasn't worried. "I'm always focused on their effort and there energy levels and as a coach I'm always calm. I believe in my guys and what we do," Morgan said. "If I start to get frantic, then the team does too, but if I'm calm, then they look at me for the leadership and they really rally around what we preach." Down at the half 28-29, the boys won the third quarter, ending it with a 40-39, and staying strong until the last buzzer rang.
Going into the game, the Hawks were 2-2, tied with the Bulls for fourth place, but this win pushed them ahead. "Coming into this game we all thought this was a game that we could take, and beat this team," captain and senior Jack Elias said. "We worked really hard in the pre-season and I think we know we can compete against any team in this league, and especially in our own gym."
According to Morgan, he knew coming in that that game was going to be close, "Branson is a tough and smart team and they play extremely hard so during practice we worked on executing and making plays and that's exactly what we did," he said.
Junior Lejon Jones said the turnaround of the game for him was the fourth quarter with a minute left. "We came down, set up our offense and we got a good look," Jones said. "When Mazzini finished at the rim, that pretty much turned the game for us."
The boys play at San Marin on January 16 at 7:30 p.m. and at Redwood on the 20 at 7:30 p.m. The next home game is against Novato on 23 at 7:30 p.m.