"McFarland USA" Strikes a Positive Note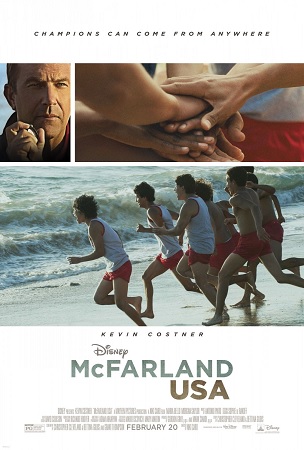 By Calvin Rosevear
March 12, 2015
"McFarland USA" is a fun, feel-good movie based on a true story about teacher Jim White who moves to a poor town in California with his family in 1987. The town, McFarland, is filled with Latin American fruit pickers. White is there to coach football, and to teach PE and life science. White notices the residents of McFarland running in the intense heat, and basically relying on running as their main mode of transportation from school to the picking fields and to their houses. Motivated by that, White gave himself the challenge of organizing a cross country team and inspiring the kids with dismal ideas of their futures. "McFarland USA" shows how White breaks his boundaries and the boundaries of the runners to create the team.
"McFarland USA" is not a perfect movie. The racism theme and the victories of the cross country runners are slightly formulaic and cliche. The movie does, however, open the American dream idea up and exposes its flaws, and how far away that dream seems in McFarland. Despite the clichés and the formulaic plot, "McFarland USA" still remains a happy movie that shows how relationships and community can thrive if given the chance.
The director, Niki Caro, has some experience directing movies like "McFarland USA." She directed "The Whale Rider" (2003) and successfully used her experience to create "McFarland USA" which works as a fun family movie as well. Veteran actor Kevin Costner starred as the main character, Jim White. Carlos Pratts and Ramiro Rodriguez co-starred. For Rodriguez, "McFarland USA" was his debut appearance. His acting was exceptional for his first movie and extremely believable as he played the slowest runner on the McFarland cross country team who pushed himself to really become successful and help the McFarland team. Pratts has acted in several TV Series' and other miniature acting appearances as well as several movies, including "Paranormal Activity: The Marked Ones." This is his first lighthearted movie and he portrayed his character (Thomas Valles) very well and made his character seem very caring as well as troubled. Valles was the fastest runner on the team, who started out convinced that the team was a waste of time and he knew that he'd "always be a picker." He was convinced there was no escaping the way his life was going. Thomas Valles (Pratts) slowly opened his mind to the potential of the cross country team. Pratts did an excellent job of making the character believable.
"McFarland USA" puts together a fun story for the family with an experienced director and talented acting. The humor and heart-lifting moments outweigh the slight annoyance of the uncreative and regular plot.