Lacrosse Coach Returns to Tam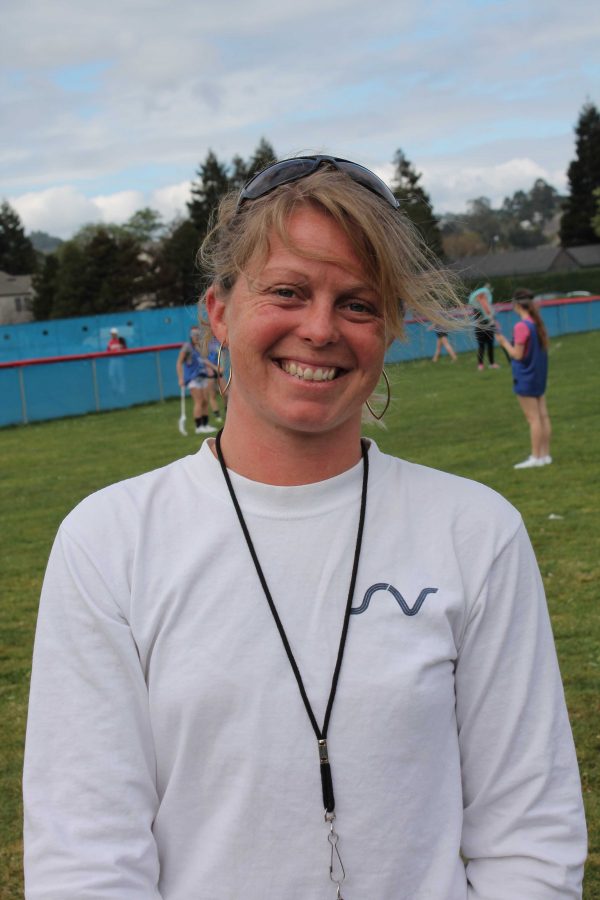 By Holly Parkin
March 24, 2015
This year, the girls' lacrosse team sees the return of coach Natalie Butler to lead them along with co-coach John Vreeland. Butler is not only a Tam graduate with experience coaching the girls' lacrosse team in previous years but was also an integral part of establishing the girls' lacrosse program in the first place across Tam, Redwood, and Drake High Schools.
Butler was first exposed to the sport during middle school, during which time she played in the Marin Wolf Pack League. "We loved it," Butler said. "Lacrosse was such a new sport on the West Coast then, but those of us who played in those first few years knew it was our sport."
When it came time to transition to high school, Butler and her fellow lacrosse players were disheartened by the lack of a public high school lacrosse league in Southern Marin. With help from their parents, athletic departments, and local community members, Butler and her Wolf Pack lacrosse teammates established Tam's first girls' lacrosse team, on which Butler was a member for all four years of high school. Little did Butler know that she would one day return to Tam's turf to coach the team she founded.
"I was the assistant coach at Tam in the spring of 2010, and in 2011 I was the head coach," Butler said. "I moved to New Zealand for a few years and now that I'm back and settled in Marin, I couldn't stay away from the field."
This season, Butler will be coaching alongside John Vreeland, who has coached the team for the past four years. "We make a good team," she said. "His strengths revolve around really breaking down the mechanics of the game, teaching players how to get comfortable with their sticks and explaining the fundamentals in an easy to understand way. My strengths are more seeing the big picture on the field, teaching girls how to respond to game situations and work cohesively as a team."
This year, the lacrosse team is made up of girls of many different experience levels, with players from every grade rising to the challenge – some of whom have never even played the sport before. Senior Lilah Yob is optimistic about what Butler will bring to this diverse team during the spring season.
"Our goal this season is to teach [the younger or inexperienced players] the game and hopefully have them fall in love with the sport," Yob said. "I am so excited […] to have a coach who is going to stick with the team and really work to build the program."
Butler is also hoping to make the best use of the team's less experienced players, especially underclassmen who can continue with the lacrosse program throughout high school. Through team building and focus, Butler and Vreeland could help take Tam girls' lacrosse to the next level.
"The program has changed in that I have never seen so many girls want to try the sport so late in their athletic careers," Butler said. "We currently have about 20 girls on our team who hasn't touched a lacrosse stick until four weeks ago and the progress they've shown so far is outstanding. I'm incredibly excited to take these freshman and sophomores into their upper years as they learn and progress in their skills and passion for lacrosse." ♦