Off the Mainland: A Look into Student Life on Angel Island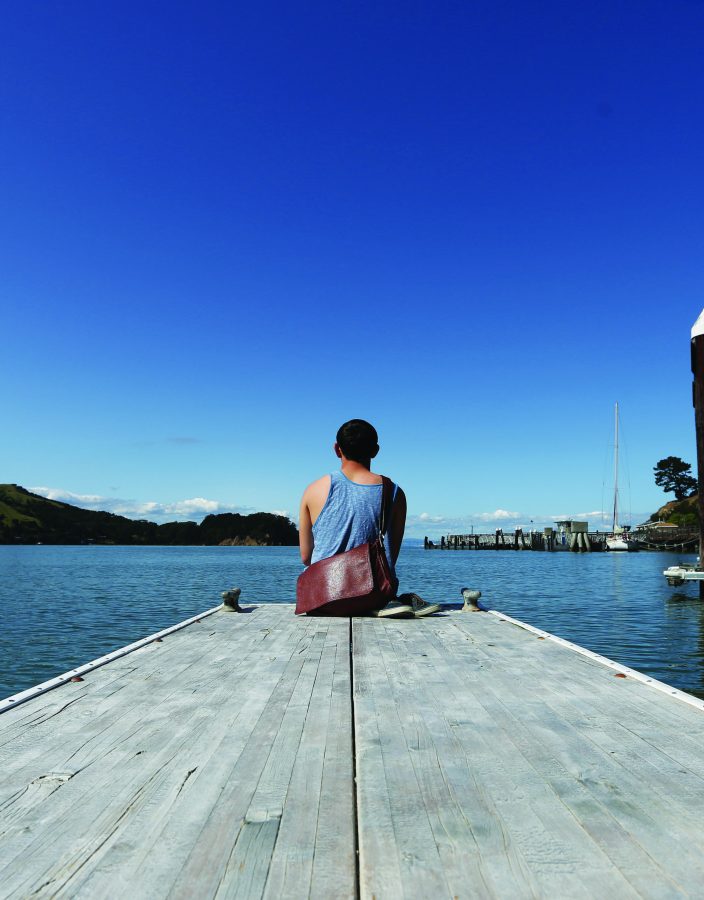 By Claire Donohue and Jordan Blackburn
April 23, 2015
Every morning, senior Jordan Sherman wakes up at 6:30 a.m., rushes through his shower, and feeds his cat. If he has time, he'll eat some breakfast, then he jumps into a van with his dad headed towards the harbor in order to make it to the 7:15 a.m. ferry. Sherman has to make sure he's early, because his dad is the boat operator so they can not be late. There, he meets sophomore Ian Shory and boards "Ayala," a state-owned motor boat. Sherman takes his regular seat in the front right table, the engine begins to roar, and salt water splashes against the windows. From there, it's a 10-minute boat ride through Raccoon Strait, a choppy stretch of bay water, to Tiburon, where Sherman and Shory disembark and walk to a car waiting in the Bank of America parking lot.
Sherman and Shory have the rare opportunity to call Angel Island State Park, a small island located off the shore of Tiburon in the San Francisco Bay, their home. Sherman and Shory are the only two high school students that live on the island. "[Sherman] lives on the north side, I live on the east side," Shory said. "There's a mile and a half between our houses."
Many Tam students see Angel Island as a tourist spot or a place to go hiking rather than a place to live, and Angel Island has a long and storied history as a feature of Marin's naturescapes. The island initially served as an immigration facility in the early 1900's. Tens of thousands of new American citizens entered the West Coast through the Angel Island Immigration Center, much like an Ellis Island of the West. In the 1940s, the center briefly was used as an internment center for Japanese Americans and prisoners of war during World War II. From 1946 to 1970, the site was abandoned and was then rediscovered by Alexander Weiss, a California State Park Ranger in 1970. Weiss advocated for the preservation of the buildings and the history that they carried. Finally, in 1997, the station was declared a National Historical Landmark.
Just over one square mile in size, Angel Island currently hosts a small community of about 30 residents, all of whom work, or are related to those who work, on the island in some capacity for the state.
"It's like a small town where everybody knows each other and everybody knows each other's business. It's kind of cool but also kind of annoying," Sherman said. "There are only two other families. [The kids] age from preschool to high school."
The island has no schools, full-sized restaurants or grocery stores. The closest thing to a restaurant or grocery store is a small cafe mostly for tourists. Residents of the island must take the ten-minute boat ride to get to many of the facilities mainlanders take for granted. Without access to these facilities, even daily household tasks become difficult. "Grocery shopping is a pain. Something so simple shouldn't be such a process," Sherman said.
Angel Island is one of the largest tourist destinations in the Bay Area. People from all over the world are drawn to the island's breathtaking views of San Francisco, miles of hiking trails, and dense history. Hundreds of tourists pass over the island each day. Most visitors do their best to leave the island undisturbed, but some bother the residents. "It's really annoying when they talk to you," Sherman said. "Sometimes people will come up and ask where an [electrical] outlet is, or like if they can use the bathroom or what there is to do on the island."
The long and varied history of the Island also features a darker side. Angel Island is currently featured on both Wikipedia and Haunted House Tours of America's lists of reportedly haunted locations in the San Francisco Bay Area, and ghost stories based around the abandoned hospital and military bases have been passed down by residents and visitors for generations. "In the hospital near my house, [there's a story about] this guy in the hospital who went insane and killed his family," Shory said. "Occasionally campers will see a light in there. It's really creepy."
Because Angel Island has been named a National Historical Landmark, its original structures remain largely undisturbed. The island is still home to two abandoned hospital buildings, an old church, and countless military housing units. Shory and Sherman's homes were constructed in the early 1900s.
"My house is actually a hundred years old," Sherman said. "It used to be the house of a surgeon. That cove [where I live] was actually used for containment of diseases like chickenpox and malaria. That's kind of cool."
Despite the isolated location, living on Angel Island can be seen as a rare privilege. Sherman has been a resident since the summer of 2010. Shory has lived there for over two years. "We moved there so [my dad] could work for the state and get better benefits," Sherman said.
Shory's father works on the island aswell as a park ranger. "I'm kind of forced to live on the island because my dad's a ranger there," Shory said. "I don't hate it but I don't necessarily like it. It's isolated."
Another establishment the island lacks is a school, which is why both Sherman and Shory commute to Tam each morning. "Getting to school is the same routine every morning," Sherman said. "We get ready, we drive down to the dock, we get on the boat, take the boat to the mainland. And then we usually carpool together with either my parents or Ian's."
Living on the island gives families a chance to work and attend school in Tiburon or Mill Valley without paying high housing prices. "My dad is also a preacher," Sherman said. "We moved [to Angel Island] because we couldn't support our family with a preacher pay. We get to live there for really cheap. My house is a two story really close to the beach and it's only like $300 a month."
Not only does the water separate the island from shopping and school, it also creates distance from social gatherings, sports, and extracurriculars. "Being isolated from the mainland [is the worst part of living on the island]," Sherman said. "I see kids walking home together and just hanging out, but we can't because we have to make [it to the] boat."
Shory agrees that living on the island sometimes makes navigating the social world of high school difficult. "I would definitely say it affects [my social life]," Shory said. "I'd like to [do extracurriculars] but I can't. There's [only] a three-thirty boat and there's a five-thirty boat. It's difficult."
Junior MJ Alves works on the Angel Island Ferry and through his job he has become close friends with Sherman. "It's very hard [to have a good friend who lives on the island]," Alves said. "It's not like I can just walk or drive to his house and sometimes our plans have been cut short because he has to catch the boat. Sometimes it's just impossible to make plans with him."
The tight boat schedule can also interfere with Sherman and Shory's academics. With rushing to get to the boat on time there is little time left to meet with teachers and complete homework assignments. "There's definitely a loss of time," Shory said. "On Tuesdays and Thursdays [when] we have to make the five thirty boat [we] can't really take out all [our] homework and do it in the car. [We] have to do it when [we] get home which is [around] six. [In addition,] if you're disorganized and leave stuff at home, you can't really call your parents to bring it."
Although there are downsides of living a boat ride away from civilization, Shory and Sherman believe that living on the island gives them the chance to experience beautiful things that most high school students won't. Sherman spends clear afternoons exploring the densely forested hills of the Island, his only distractions being the rustling of leaves and the faint singing of camp songs from young students on their outdoor education programs.
"Not many people get to see the city at night from a distance," Sherman said, "And it's really quiet, which is nice, and I love falling asleep to the sound of the waves and the hooting of the owls."