Mock Trial Takes Fifth at State Competition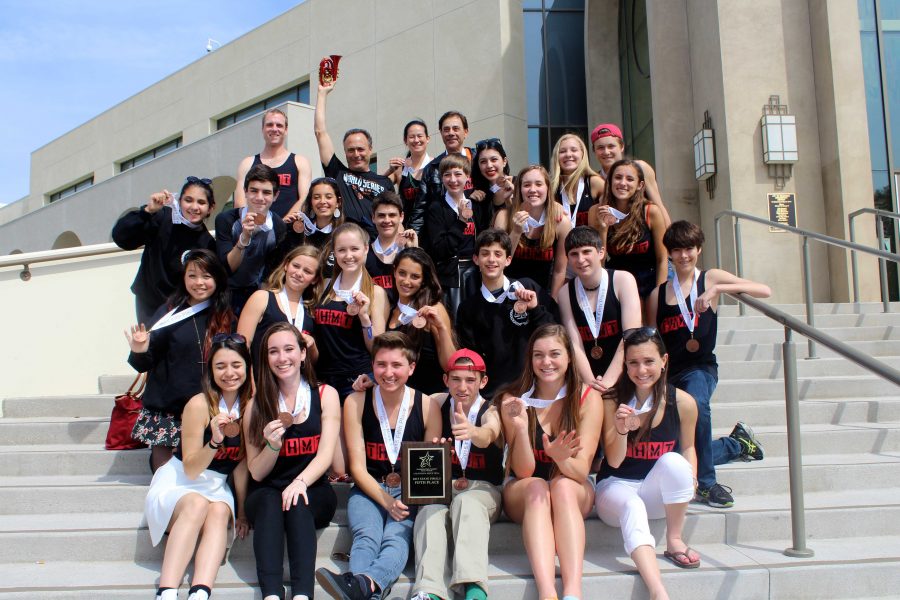 By Camille Morgan
April 10, 2015
The mock trial team took fifth place in this year's Mock Trial State Championship competition in Riverside, California. The competition followed the team's 20th consecutive win at county and was met with a great deal of excitement.
"I couldn't be more proud of the way the team performed at the state competition this year," said senior Russell Wirth, mock trial co-captain with senior Sam Allen. "It was awe-inspiring to watch the team take over the courtroom with such precision and power down in Riverside. Every team member, without a doubt, stepped up to the plate and delivered their best performances of the season."
The team is comprised of 24 members this year, and is led by coaches Dorothy Proudfoot and David Vogelstein. Vogelstein, who has been with the team for 17 years, was also proud of the team. "This team overcame major adversity and really became a family," Vogelstein said. "They were elegant, tough, nice, and funny. I have the utmost respect for them. They were truly a joy to watch."
Senior team member Annapurna Holtzapple echoed that sentiment, and pointed out that the team did especially well considering the challenges of state competition. "The state tournament is incredibly difficult in terms of both competition and organization," Holtzapple said. "To get to the final round on Sunday, a team must win every single round by the largest 'margin of victory.'"
There can be four teams at the end of the first two days that have all been undefeated, but two of them won't be given the chance to compete simply because they did not score enough points. "State is just as much about the luck of the draw as preparation and skill," Holtzapple said.
Although six seniors are leaving the mock trial team next year, Wirth believes that the team is primed for continued success. "I can't wait to come back as an alumni to seem them all as they prepare for their county competition."