How to Not Pay $1,000 for Snacks: The Art of Smuggling at a Movie Theater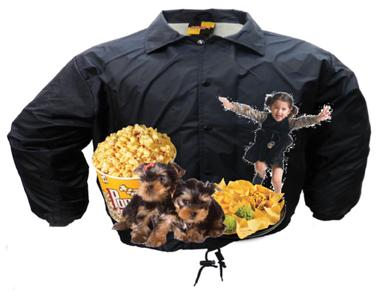 Hang on for a minute...we're trying to find some more stories you might like.
Concession stand purchases make up 20 percent of a theater's revenue. Those same sales are responsible for 40 percent of a the theater's average profit*. According to the author of "Why Popcorn Costs so Much at The Movies," Richard B. Mckenzie, movie theater popcorn is marked up 900-1,200 percent.
Drawstring Gathered Bottom Jacket
‌• Perfect for concealing: popcorn, chips 'n dip, a very small child/pet, or early onset freshman 15
‌• Theater popcorn: $5.00
‌• Popcorn your mom/dad made at home: "Is your room clean?",  "Can you walk the dog first?", "When are you taking the SAT?", "See you at 9:30!"
‌• $5.00 – "See you at 9:30!" = I'm not that good at math
Money saved – maybe just skip this one…
Baggy Old P.E. Shorts
‌• Superior soda sneaking spot
‌• Theater soda: $4.25
‌• Local Corner store soda: $1.00
‌• $4.25 – 1.00 = 3.25
Money saved: $3.25
Tall Socks
‌• Mid-calf to thigh-high depending on level of candy craving
‌• Higher socks = more alternative look + more candy
‌• You will possibly have melt prone substances very close to your skin so remain very calm and consider packing an ice pack or two
‌• Theater candy bar: $3.75
‌• Local Corner store candy: $1.00
‌• $3.75 – 1.00 = 2.75
Money saved: $2.75
Total Money Saved – I am a journalism student not a calculator. Sorry.
Of the $7 to $13 that we generally spend on a movie ticket, just a small fraction of that goes to the theater. The theater's money is left to be made from the only profitable saleable entity, snacks. In his book McKenzie states, "A lot of theater owners tell me, 'I consider myself working in concessions, not movies.'"
Maybe it's up to us to keep theaters in business by way over-paying for cheap snack foods that are slowly killing us. But hey, let's pretend it's not, and leave it up to someone else, maybe someone with an income that isn't dependant on when your neighbors with kids decide to have a date night.