CTE Produces "Julius Caesar" With All-Girl Cast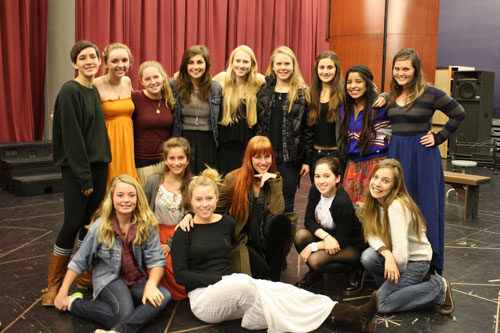 In the rehearsal studio behind Caldwell Theater, it feels as if everyone is holding their breath. Senior Taylor Seebold lies crumpled on a set of impromptu stairs where she's just been stabbed to death by a group of friends. We just watched as Seebold was cruelly passed among the conspirators, and each one stabbed her with an imaginary dagger. Finally, she barely choked out, "Then fall, Caesar," with her last breath.
This is the warm up and final scene performed during rehearsal for CTE's all-female production of Shakespeare's "Julius Caesar," and both times I watched it gave me unshakable chills. "It's really intense," said junior Devon Lawrence of the death scene, in which she is one of the murderers. "It takes a lot out of you."
According to Lawrence, in order to prepare for the pivotal scene the cast worked with director and CTE guest artist Kitty Thompson to create a murder which would be dramatic and realistic. "We talked about it to the point where we were all squirming," said Lawrence.
The result is a physically and emotionally tense scene for audience and cast members alike. As they take the stage for a run-through, Thompson reminds the actors to keep their motions strong and dramatic, and hold the conspirators' emotions in mind. "because it's scary to be the ones doing it," she said. "You're afraid."
Fear and tension is a theme throughout the production, according to junior Austenne Caproni, who plays Brutus in the play. "There's a lot of lurking around and [Kitty] wants it to be very frantic," said Caproni. "A lot of it is about being predator and prey."
Appropriately, then, the cast begins many rehearsals with one of Caproni's favorite drama warmups, a game of "Hunter and Hunted," in which two blindfolded cast members must search for a designated object and then each other in the confines of a circle of their fellow actors. The high-energy game is a mirror for the themes and tenseness of "Julius Caesar."
"This play is a superb metaphor for power struggle, control and compassion," said Thompson. "'Julius Caesar' has been produced for hundreds of years because it appeals to the human lust for power, vengeance and justice." These themes are particularly evident in the stabbing scene. Also deeply apparent is the cast's comfort in approaching the difficult themes in the play, possibly in part because of their comfort with each other. Thompson begins and ends the rehearsal in an informal circle, where the cast discusses the material, as well as anything else on their minds.
"I feel very comfortable sharing basically anything," said junior Emily Burke. Burke and several other members of the cast attribute the open atmosphere to the unique all-girl environment. "There's less pressure," said Burke. This sentiment was echoed by many, including Lawrence. "The cast is closer," she said. "we're able to go out of our comfort zone faster."
There was a time when Caesar or any of Shakespeare's plays would have been performed solely by males. But for Thompson, an all-female production of "Julius Caesar" provides some singular opportunities and a unique perspective. "In doing a history with one gender only, you can neutralize the male/female dynamic," she said.
"The poetry of this play is that which most women will never have the opportunity to perform," said Thompson. "It is a gift to see the way girls make this story their own and just what they feel is worth fighting for—how they are personalizing what is normally a male perspective."
During rehearsal, Thompson occasionally reminds actors to speak louder and bigger, to walk in broader steps, but, for the most part, gender emulation doesn't have a role here. "A lot of people think it's going to be girls dressed up as boys, but it's not," said Caproni. "The gender is not supposed to matter."
"Julius Caesar" opens in Caldwell Theatre the evening of March 20 and runs through March 23.