Dahlke Duo Continue a Legacy of Atheltics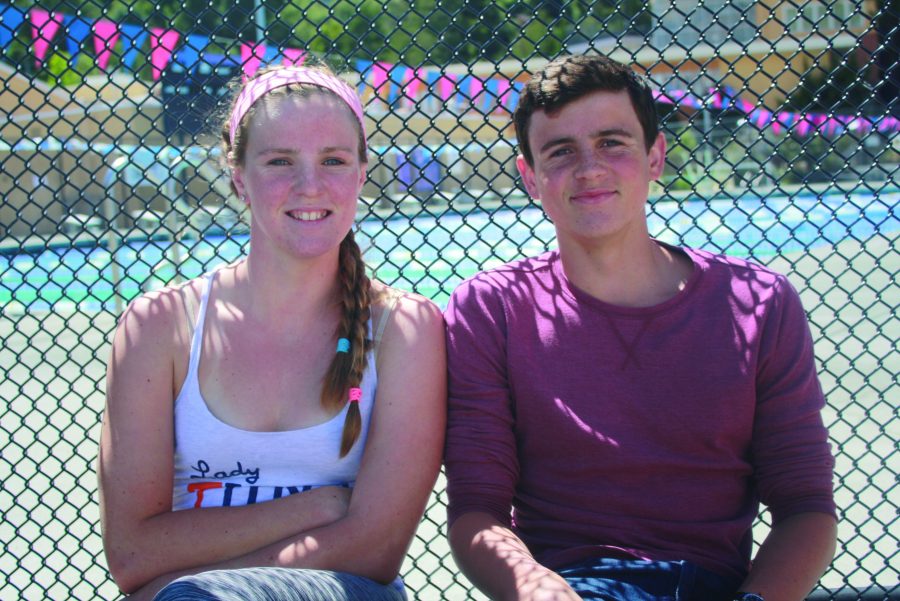 By Caroline Frost
April 27, 2015
Some parents might expect the children of a professional athlete to follow in their parents' footsteps, but that is not the case of junior Miki and freshman TK Dahlke. Instead of playing volleyball, like their father Eric Dahlke, they began swimming at an early age.
TK started out swimming when he was five, and has continued swimming since, while Miki started at the age of eight, but also participated in other sports, such as basketball, soccer, and water polo.
"Swimming is not like other sports where you have a little time to get into the groove of things," Miki Dahlke said. "In swimming, you only have a split second. From when the beeper goes, till you hit the water, and then you have to put all your energy into swimming your race."
Both Dahlkes have accomplished highly competitive times in Marin County and even out of the state. Both of TK's current times in the 50 and 100 freestyle would have placed him in the top eight at last years Marin County Athletic League (MCAL) Championship finals. At last year's MCAL Finals, Miki placed first in both the 50- and 100-yard freestyle races qualifying her for the North Coast Sections (NCS) Regional meet.
Brittney Boyd and Ken Weber, the head coaches for the girls' and boys' swim teams both expressed admiration for the two swimmers.
"Miki is a huge advantage for us," Boyd said. "She's very competitive and will score major points in our future meets against tough teams."
Weber expressed similar feelings. "TK symbolizes the future for Tam aquatics," Weber said. "He will score in the finals in both of his event and will help our potential chance to take the MCAL title."
Apart from swimming for Tam, the siblings are committed to a swim club team, North Bay Aquatics, which meets outside of school five to seven days a week with practices at least twice a day. "We swim a lot of yardage," TK said. "But as my coach says, 'work works,' so I am happy to put in the hours that will, in turn, lead to fast swimming later on in the season."
The coaches for North Bay Aquatics are Ken Demont and Don Swartz. "My favorite thing my coaches have taught me is the word 'next.' Yes, it is simple, but it is very important," Miki said. "In swimming a bad race can mess up the rest of the meet. That is when you say 'next,' because there is always another race, and another shot. On the other hand, after a good race you need to tell yourself the same thing. Just because your first race of the meet is amazing, doesn't mean you can stop trying and caring about the rest of your races."
Miki returned on March 21 from the National Club Swimming Association (NCSA) Junior Nationals in Orlando, Florida. In the 50-yard freestyle, she placed 87th out if the 288 swimmers and in the 100 she placed 29th out of 253 swimmers. In a meet against Branson, she broke Tam's record in the 200-yard freestyle by two seconds, with a time of 1 minute and 51.37 seconds.
In March, TK competed at the Juanita Allington Memorial Senior Championship, a swim meet in Clovis, California. He placed in the top 70 out of 205 swimmers in the 100-yard freestyle and the 50-yard freestyle.
For many years the siblings weren't competitive with each other. Being two years apart, there wasn't much room for rivalry. But in recent years, their times have started to get closer. "With Miki growing earlier than me she was much faster," TK said. "But as the years went on, our times started to get closer, causing a lot of competition in the household."
Both Dahlke siblings agree that swimming is more of a mental challenge than a physical one, explaining how blocking everything out and psyching yourself up gets you prepared for your race. "To pump myself up I sometimes listen to music," Miki said. Her brother agreed.
"My headphones are my best friend at a swim meet. Not only because I like to listen to pump-up songs before my races, but they also act as a great barrier from the outside world," TK said. "While I am behind the blocks visualizing my event is one final thing that gets me psyched up for my race."
Miki currently has a list of Division I colleges that she is looking at and a list of ones that are looking at her." TK, who says it's too early to narrow his options, is trying to keep his mind off of college and focus on swimming.