Ignon's Silent Struggle
The doctor told freshman Lily Ignon the lump was probably just swollen lymph nodes, nothing really, but her mother had to be sure. Soon after her exam, Ignon was given an X-ray at UCSF. She awaited her results anxiously.
During Ignon's initial exam, the Doctor was not pushing the idea of getting her an x-ray. "My doctor was like eh, if you want to. But my mom would never [pass up the X-ray]. She is one of those really cautious people." Ignon said.
Ignon, at the time a thirteen year-old eighth grader, awaited an x-ray and possibly the devastating news of cancer. But, she stayed optimistic. "When the doctor told me [that] it's probably just swollen, I thought oh okay, then it's nothing," Ignon said said. Ignon didn't even tell her friends or extended family, she kept it all to herself. "I waited until I was sure. I didn't want to scare anyone," Ignon said.
Ignon got the x-ray at California Pacific Medical Center in San Francisco, but the doctors were unable to tell what exactly was wrong from the x-rays alone. Now, they wanted a biopsy.  The lump was beginning to look more and more like cancer, and days got more and more intense for Ignon and her family.
"We went to UCSF and I had surgery. They took out a piece of skin from the lump and that was how they figured it out," Ignon said. "I was diagnosed on Halloween. It sucked, because I was in the hospital for most of the night. I didn't get to go trick-or-treating…We were in the hospital, and then I went to the bathroom and I just… I cried." 
Ignon was diagnosed with Hodgkin's Lymphoma, also known as Hodgkin's disease. This is a cancer that begins in white blood cells called Lymphocytes, part of the immune system. This cancer can eventually enter the bloodstream and spread throughout the body, including the liver, lungs, and bone marrow.
The next school day, Ignon finally told her friends everything that had happened, and what was to happen now. "They told me they would be there for me whenever… If I needed them at all, just ask and they'd be there right away," Ignon said.
Soon after the news, Ignon began her treatments, where she would have to sit for six hours at a time with tubes in her chest . "The treatments are… horrible," Ignon said. "[But] I did get to watch TV for six hours."
The cancer extended to both halves of her chest. "[The doctors] were pretty hopeful. I was part of an experiment, the ABDV. Basically all cancer patients are experiments, [as there isn't] an actual cure yet."
Ignon did not tell anyone other than her closest friends about her struggle. "I told them not to tell anyone else," Ignon said. "I didn't want anyone to treat me differently. I even told my friends that I didn't want them to treat me any differently, I [didn't want them] to give me special attention just because I'm going through this, like I'm some 'special case" 
So that was what Ignon had decided. Nobody would know. Nobody would know that she was suffering from cancer. That she was exhausted and fighting her own body every day. "It was hard though. A lot of people were asking, 'Why are you absent all the time? What are those scars on your neck? Why do you have bandages there?' I would say I'd been sick."
Lily described her experience as, "definitely dreadful… I just really wanted to get over it," Ignon said. "I would be gone every other week, so it was really hard school wise because I had to keep up with all the school stuff. Luckily, my teachers were very helpful with all that."
Finally, all of Ignon's optimism, strength and support paid off. "It was really fast. The doctors said I was really lucky." The treatments worked and Ignon was cancer-free in six months. "Thank god," was her first thought.
What helped her the most was the support of her friends and family. "I don't like the whole guppy uppy, cheesy stuff like that." Ignon explained. "My friends, they treated me the same, and I loved that. It's all I needed from them." What lifted Ignon's spirits the most were three words from a friend whom she cannot quite recall. "You're a badass."
Her parents also helped, "They didn't give up by saying you can do whatever you want now, or we'll give you shopping sprees, or we'll spend all this money on you… just because [I was going through this,]" Ignon said. "[But] my mom started giving me green juices every single day, twice a day. I don't mean this like a healthy smoothie, I mean like kale, broccoli, and the worst things you can mix into a juice. It's absolutely horrible, she still gives them to me," 
When asked what was most important to her recovery, Ignon responded, "Always be positive. I mean, this is going to sound really cheesy, but they say if you give up, you feel like you want to give up, your body will too. Staying positive with it all helps your body heal. So, I felt like that was something that really helped me through it."
She added some more advice for others. "Never-not ask for help. If you think you can just take it all by yourself, you're probably wrong. It's a lot of work, you do need help. It's fine, it's not like you're succeeding if you don't ask for help."
Eventually, after Ignon was completely cancer free, she decided it was okay to share the last six months of her life and her experiences with classmates. "Why I told other people was because I wanted to give a speech at graduation saying that this is what was going on, that Mill Valley Middle School helped me. School kept me away from all of it…kept me away from reality. [Mill Valley Middle School] wouldn't let me, though. They said my speech was too depressing and too much of a downer on this great day."
Although Ignon couldn't give her speech, and had to endure six months of suffering from cancer, she did take a few things away and learn from it. "I trust my friends so much more. Were just really close now. This whole thing has brought us much closer. I'm also a lot healthier now. I don't like the green juices, but I still drink them, because I know they're good for me. Health-wise I've really changed. I don't eat as much junk food anymore."
Even today, her classmates from middle school may be surprised to find out Ignon was ever sick. But now, it's over. Finally over.
"I don't know if you can tell, but the scar is still there," Ignon said.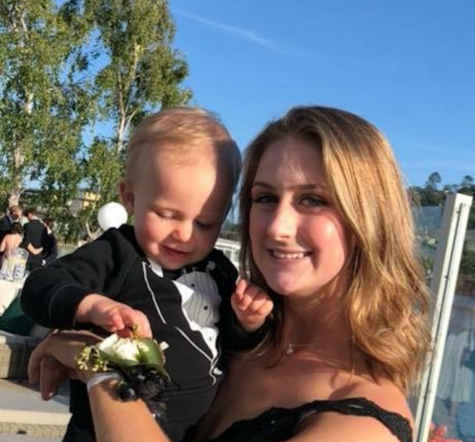 Kennedy Cook, Editor in Chief
Kennedy Cook, senior, is a current Editor in Chief and Design Editor for The Tam News. She was a Features and Design Editor during her sophomore and junior years. Her favorite sections to write for are features and news. Outside of Tam High, Kennedy enjoys working as a nanny and volunteering at AdvoKids and The Milo Foundation. Most importantly, she loves spending time with her family and friends, whether it be baking, road tripping, or laughing over a plate of waffles.